'Russia will outgun UK in artillery battle' – British defense committee uses Russia as bogeyman in apparent bid for more funding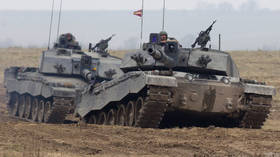 The UK's Defense Сommittee has warned that Russia would outfight British tanks in case of a conflict. But in the hypothetical event of war between the West and Russia, the UK would not need their armored vehicles at all.
"Were the British Army to have to fight a peer adversary – a euphemism for Russia – in Eastern Europe in the next few years, whilst our soldiers would undoubtedly remain amongst the finest in the world, they would, disgracefully, be forced to go into battle in a combination of obsolescent or even obsolete armoured vehicles," the House of Commons Defence Committee said in a newly released report.
Most of those vehicles would be "at least 30 years old or more, with poor mechanical reliability, very heavily outgunned by more modern missile and artillery systems and chronically lacking in adequate air defence," the report said. "They would have only a handful of long-delayed, new generation vehicles, gradually trickling into the inventory, to replace them."
Lately, potential military conflict scenarios between the West (NATO) and Russia are appearing almost on a daily basis. War is usually posited as starting over the Kaliningrad Region, the Crimea or the Arctic. Sometimes it takes place in the Far East in a dispute over the Kuril Islands.
Also on rt.com
Russia could be winner in WWIII 'nightmare scenario' by capturing northern Europe & blocking NATO counterattack – Swedish experts
It seems the authors of these scripts use the same template. First, a war breaks out (for no apparent reason), and then it immediately becomes clear that tanks, jets, artillery systems, and troops are not ready for this conflict. There is never a geostrategic or political section in this document that would explain why this is happening at all. The authors go directly to talking about the technical aspects of the problem.
Obviously, relations between Russia and the West are not at their best right now. But there are no disagreements of any kind (ideological, economic, territorial or religious) between Russia and the US that would call for a military campaign on European soil.
Anticipating a potential invasion from the East or even a drawn-out conflict between Russia and NATO involving conventional weapons – for example, as with the British discussion of a tank battle – sounds like a type of operational and strategic heresy.
At this point, Moscow is significantly behind NATO in terms of personnel and reserve materiel, as well as overall military and economic potential. For the Kremlin, a war similar to World War II, where a large number of armored vehicles were deployed, would be akin to suicide. That's why a hypothetical clash between the East and the West could lead to nuclear strikes in the early stages of conflict.
In light of this, if the UK feels that it is facing certain issues with its armored forces and needs to procure newer models of armored vehicles and increase their military spending on that, it should not cite a potential war in the East as part of the reason. In a conflict between Russia and NATO, the likelihood of which is infinitesimal, the UK wouldn't need any tanks at all.
Back in 1959, at the opening of the American National Exhibition in Moscow, Soviet leader Nikita Khruschev warned American Vice President Richard Nixon that the USSR had means available that could lead to "grave consequences" for the US. "We will show you Kuzkin's mother (an idiom that can be translated as "We shall show you what is what)!" Since then, Russia's nuclear capacity has increased significantly.
Also on rt.com
Western WWIII game plan revealed? Analysts say Poland could win Russia-NATO war by invading Kaliningrad & securing Moscow's nukes
Today, a use of WMDs would prove catastrophic not only for the parties to the conflict, but also for the entire European continent. In the blink of an eye, the UK would lose its political, administrative and economic pillars. The very first nuclear strike would lead to devastating losses among both military personnel and civilians. More losses and damage would follow, caused by secondary effects. Mutual nuclear strikes would render any kind of organized military action impossible.
So if the UK wants to upgrade its tanks, that's their own business, but if the House of Commons wants to add Russia to their mix of reasons, they need to consider the arguments presented in this article.
Like this story? Share it with a friend!
The statements, views and opinions expressed in this column are solely those of the author and do not necessarily represent those of RT.
You can share this story on social media: