Wayne Dupree: As happy Mexicans say, Biden's going to be 'a good president for migrants'. But not a good one for Americans…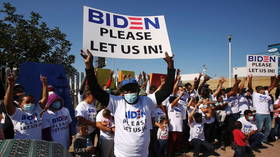 The chaos that's erupted across our southern frontier is a crisis entirely of the new president's misguided and foolish actions that have encouraged illegal immigrants to believe the borders are open. It's criminal folly.
Hey America, let's get this straight before going any further: Immigration laws have not yet changed. Only Congress can do that.
What has happened instead is, in a series of hasty executive orders, President Biden has sought to overturn and undermine Donald Trump's effective immigration policies. He's misguidedly tried to institute a 100-day moratorium on deportations – a silly move that was struck down by courts. He's also ordered a broad review of the missions of Homeland Security and US Immigration and Customs Enforcement (ICE), with a view to making them much more lenient.
The result? Chaos at our southern borders as Mexicans and other central Americans, taking Biden at his word and believing the borders to be open, rush to cross into the USA.
The numbers are stark. More than 100,000 migrants attempted to enter the US in February, more than three times the amount for the same month in 2020 and the highest level for the month in five years. There are now a record 3,500 unaccompanied minors being held in steel-and-concrete Border Patrol cells meant for adults. So much for 'no more kids in cages'.
Border security officials are being overwhelmed by the surge, trying to cope with 4,000-5,000 illegal immigrants a day.
Back at the White House, however, Biden and his left-wing comrades simply whistle Dixie. They just want their big immigration reform package – promising relaxed border controls, amnesty for millions of illegals, free health care and Covid-19 vaccines for migrants – to quickly move through Congress. Why? Because it means more votes for them.
What all this amounts to, is that the executive branch is refusing to do its job to enforce the laws of the United States.
Is there any recourse? Yes. I think that if the federal government keeps refusing to protect border states from illegal entry by aliens, then the states should step forward and get the job done. I believe that Biden's executive orders, effectively instructing agencies not to enforce federal law, are themselves illegal. Where does the Constitution give him the power to do that?
States need to do something when there is such weak leadership in Washington. The time has come for the citizens of the states on the southern border to sue the federal government and the Biden administration for putting their residents in physical danger.
Every state attorney general needs to file a class-action lawsuit on behalf of their constituents against the federal government for aiding, abetting and contributing to the criminal, unconstitutional, purposeful endangerment of the legal citizenry of the United States.
In my opinion, not only are Texans endangered by the way Biden is allowing thousands of migrants to cross the border, but the whole country is put in peril. He is allowing people into this country, many of whom will have different strains of Covid-19, and he is releasing them into the population, which could lead to another pandemic.
Also on rt.com
Biden administration directs FEMA to help shelter child migrants amid claims it denied lawyers access to cramped border facility
Additionally, the people are unvetted for other viruses, such as having been members of criminal gangs like MS-13, or being drug traffickers or sex offenders. There was no reason, even if you disagreed with Trump's policies, to do this now in the midst of a pandemic. This could all have been done gradually on a bipartisan basis.
A country without borders weakens its security. Does it make sense that we have virtually no strong southern borders, but have a barbed wire fence and the National Guard surrounding the nation's Capitol four months after a presidential election? Walls are good for the Senate and House of Representatives, but not for the country?
I don't know why most Americans can't get it through their heads that this is intentional. Democrats want to destroy America. They have to destroy the old country before they can make a new one.
Trump had this all worked out. The countries south of the border were fine with keeping the illegals on the south side until their day in court came up. Biden, being the 'progressive' stooge that he is, scrapped that simple solution, which is self-defeating madness.
Biden inherited the safest southern border ever. Now, in just over a month, it's gone, thanks to him. Liberal Democrats put their thirst for power ahead of our safety. It's not just Covid infections coming across the southern border – radical Islamic terrorists are probably waiting in line also.
If Biden's family lived near the border, he wouldn't have thrown them under the bus in this way. He is okay with doing it to everyone else, though. As one Honduran immigrant tellingly told the New York Times: "Biden promised us that everything was going to change... he is going to be a good president for migrants."
A good president for migrants, yes. A good one for Americans? No. Good ol' Biden the Benevolent – too bad it is not towards his own people.
Are Joe and Jill, or his brother, Jim, or his son, Hunter, taking in illegal immigrants into their homes, or are they happy to accept an extended family or two moving in next door? Biden's home in Delaware is empty now, no? The President wears two masks to protect himself, but puts in harm's way his fellow Americans he was entrusted to protect.
What do you call a president who, during a pandemic, has opened the doors and put out the welcome mat for illegal immigrants to spread throughout our communities? I have a name for it, but it won't pass the censors.
There is a great deal of anti-American activity occurring these days at the highest echelons of power. Let us hope it is eventually (and soon) followed by its natural and logical consequences.
It's obvious Biden is going to remain holed up in the White House, afraid to come out and face Americans as he systematically destroys all that is great about our country. Our only salvation is to hang on until next year's midterm elections, and hope that Democrats don't have time to pass legislation that changes the Constitution by then.
On their agenda are new rules to flood the Senate and Supreme Court with liberal Democrats to make this a one-party country forever, ruled by a committee as was done in the old Soviet Union. Higher taxes, increased crime, homelessness and helplessness are what we have to look forward to as the elite Democrats skim the wealth and sell America piece by piece to foreign interests.
Hold on to your seats.
Think your friends would be interested? Share this story!
The statements, views and opinions expressed in this column are solely those of the author and do not necessarily represent those of RT.
You can share this story on social media: