Ex-Trumper & Hollywood outcast Stacey Dash is learning the hard way: apologies don't make up for a conservative scarlet letter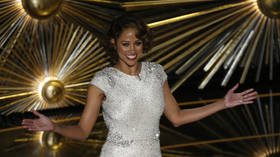 The actress and former Fox News contributor, once a vocal supporter of the former president, has apologized for past controversial and conservative comments, but liberals are spitting on the attempted rebranding.
If one knows the name Stacey Dash, it's either through memories of hit films like 'Clueless' or the almost-always controversial appearances she made on Fox News from 2014 to 2016, during which time the Hollywood starlet revealed herself to be an unapologetic conservative.
Dash triggered liberals for criticizing everything from Black Lives Matter to transgender bathrooms. She was even briefly suspended from Fox in 2015 for vulgarly referring to Barack Obama (saying he "didn't give a s**t" about fighting terrorism).
The actress was also an early and consistent supporter of Trump, and described her journey to right-leaning politics in a 2016 book titled, 'There Goes My Social Life: From Clueless to Conservative.'
All of that is in the past though, according to Dash.
Appearing on DailyMailTV this week, the actress attempted to reconcile her political past, distancing herself from both Fox News and Trump.
Also on rt.com
From rockstar to woke star: Rock 'n' roll has truly gone to the dogs when a band member cancels himself...for reading a book
"I've lived my life being angry, which is what I was on Fox News. I was the angry, conservative, black woman. And at that time in my life it was who I was," she said, adding that she would "never work for Fox" or any other news network today.
She also revealed she was "done" with Trump after the January 6 US Capitol riot.
"Being a supporter of Trump has put me in some kind of box that I don't belong in. But he's not the president. I'm going to give the president that we have right now a chance," she said.
The 'Mo' Money' star, who was previously blasted by some of her peers for her views, claimed she is now a person of "empathy" and "compassion."
"There are things that I am sorry for. Things that I did say, that I should not have said them the way I said them. They were very arrogant and prideful and angry. And that's who Stacey was, but that's not who Stacey is now," Dash said.
While one would think a Trump supporter begging for forgiveness from the liberal culture at large would be catnip to the left and something they could capitalize on, one look at social media shows that Dash's critics have zero interest in embracing the star and instead are disparaging her for daring to try and get back in their good graces.
"Stacey Dash wants to be invited back to the cookout," a headline from News One read.
Others on social media also used the "cookout" as a reference and even got "#BlackTwitter" trending as different users took turns sharing memes and messages mocking Dash – with some getting downright racist.
The truth is if Dash had gone through her 'aha' moment while Trump was still in office, this rebranding actually may have worked – at least temporarily. Just look at the Trump-hating Republicans behind the Lincoln Project. Controversies had swirled around the group ever since its inception over its fundraising and the past personal views and comments made by many involved, but it wasn't until Biden was taking office that these pesky Republicans suddenly had a negative light shined on them by the mainstream media – all kicked off by a John Weaver sex scandal that still took many mainstream outlets days to even take notice of.
Even then, however, you lose value as a token 'conservative' once there is no use for you. Look at Van Jones' fiery interview on 'The View' this year. After spending years shedding tears on CNN and blasting Trump publicly, Jones was still admonished for daring to ever say anything positive about the man.
Dash is now going to learn the hard way: these apology tours don't work. Being branded a conservative or even just 'not liberal' in today's culture is a scarlet letter you carry everywhere. The collective response to her 'apology' is just the latest proof that there is no path to forgiveness from liberals. Once you leave the tribe, you're out, shunned, gone for good.
Also on rt.com
'You don't need our vaccine': Michael Moore, other libs rage at Texas for daring to fight Covid-19 without authoritarian lockdown
Whether Dash is sincere in her comments or not, she will quickly learn it's a long road to get any acceptance from the left when you have broken from their ranks, especially as an artist, and you will never be fully re-embraced.
Dash revealed in her interview that her acting career has struggled since she came out as conservative and a Trump supporter, which should not come as a surprise, and her upcoming work suggests liberal Hollywood is still treating her as an outcast. She is starring in the upcoming right-leaning abortion drama 'Roe v Wade,' which comes out April 2 and stars other conservative performers like Jon Voight, as well as the Western 'Corsicana,' which is being directed by Isaiah Washington, another Trump-supporting actor who has been open about backlash within the industry for daring to have opinions that break from liberal groupthink.
Dash's apology being accepted would require a middle-ground in today's culture, but middle-grounds have been exchanged for chasms between political tribes, and the continued attacks on her just prove those chasms are going nowhere, even with Joe "Unity" Biden as president.
If you like this story, share it with a friend!
The statements, views and opinions expressed in this column are solely those of the author and do not necessarily represent those of RT.
You can share this story on social media: