Donald Trump is wrong on trans athletes… it's the 'supermen' with ovaries we should really be worried about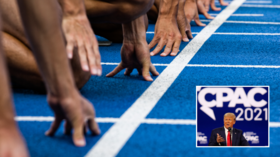 The former president caused a storm when he queried the fairness of biological males competing against women. But RT spoke to some competitors and found it's actually cis males who are under greater threat from trans athletes.
Sporting integrity lit up the recent Conservative Political Action Conference.
Following Joe Biden's issuing of an executive order in January, Trump waded into the trans athlete debate in bombastic style, saying, "I hate to say it, ladies, but you've got a lot of new records that are being shattered. Young girls and women are incensed that they're now being forced to compete against those who are biological males. That is not good for women."
While many agreed, others say Trump was misreading the situation.
Kirsti Miller is a trans female and previously, as Warren, represented Australia in the aquathon (5km run/800m swim), and also competed in the Pentathlon World Championships and Pan Pacific Masters Games. As Kirsti, she became the first transgender player in the Broken Hill Women's AFL (Australian Rules Football League).
Refelecting on Trump's comments, she said, "It's fearmongering from him and the Republicans. Trans women have been in sport for 45 years [but] we've never held an elite world record or title in any sport."
Trump's fears have been echoed by many. There is a belief that stronger, more muscular men will identify as women and beat cis females.
However, anyone competing at any serious level of female sport must meet certain criteria. Miller continued, "There's so much ambiguity, and the global sports have done no educating [on the rules] – they've left it to people like me. We need people to understand what is happening, so if girls like me win they don't say 'she's a cheat'."
Also on rt.com
'Sad day for women's sports': Row erupts after Joe Biden signs gender discrimination order paving way for transgender athletes
The hormone testosterone (T) is a key part of the confusion. A trans female is chemically castrated to reduce their T level and allow them to compete in women's categories. There are no such issues for a trans man, because there is no measurement of endogenous testosterone. While males have a higher amount, there is no T level that applies to everyone; it varies significantly. A 2014 study of elite athletes showed 16.5 percent of males had low T levels, while 13.7 percent of females had high T levels.
Testosterone impacts the body via the androgen receptors in the testicles and ovaries. The twist is that a woman's receptors are eight to 10 times more sensitive to it than a man's. That means that any non-surgically transitioned trans athlete competing as a male has a huge advantage, as they will have ovaries that can potentially boost any testosterone they take by a factor of 10.
Miller said, "That's why the main benefit of drug-taking in sports is for women. Look at all the Chinese swimmers who were caught.
"These trans men are going to be absolutely super at the endurance sports; they're going to be dominating the Olympics in the men's category.They will be unbeatable.
"So, while all these people think that trans women are the danger in sport, it's the polar opposite."
Miller feels that, if the rules remain as they are, by 2030, we could see a trans-man stranglehold in events such as the marathon, triathlon, and 3,000-metre steeplechase, where endurance and power are paramount.
Conversely, in the female events, a trans woman would actually find it harder to compete. Even if they do surgically transition – have their testicles removed – they still have XY chromosomes, which require a higher level of testosterone to maintain a healthy body than those with XX chromosomes.
To try to ensure fairness, the sporting authorities mandate they must have an amount that an XX person would. And that means they are hugely disadvantaged, as their body is unable to function normally.
Also on rt.com
Biden's executive order that prioritises transgender people is a DISASTER for ordinary women and girls across America
As a case in point, Miller was able to swim 100 metres in 59 seconds. A year later, that had dropped to 71 seconds, due to the lack of testosterone.
She continued, "No female categories allow women to take exogenous T. It's illegal and you'd be caught by drug testing. So, someone like me has to choose whether to try to compete or be healthy."
Men can top up their T level via what is known as a therapeutic use exemption or TUE. Women are not allowed to, hence why trans women are the real losers in the sporting arena under the current regulations.
Another part of what is a complicated issue is that those who are transitioning into men do not want to compete with women, as some rules might allow. Take, for example, the experience of Tyler, from Georgia, in the US, who played softball as a female in high school, before starting the transition to a man and playing baseball.
He told RT, "It was pretty hard at first. The boys would pitch differently and hit the balls a lot further and faster. To play against men before I was on hormones was really challenging.
"The first time I hit the ball on T shocked me. It went a lot further than it would have gone pre-hormones. Before I took T, I could barely lift 15 or 20 pounds. After I began taking it, I was immediately able to up my weight, and 15 pounds felt super-light."
But he wouldn't want to use it to compete against females. Tyler continued, "If I were to play on a female team, I feel it wouldn't be fair to the cisgender women because I'm a lot bigger. I have a lot of transgender friends and athletes, and they wouldn't play on a female team, not only because they don't identify as a female, but also because, being on hormones, they have an advantage."
Also on rt.com
Ideological virtue signalling does not advance trans rights or battle transphobia...it trivialises them
To try to avoid the potential for controversy, some have suggested creating a third category: men, women and trans. But there are relatively few trans people and even fewer at elite sporting level. There are other proposals to introduce weight classes or even muscle-mass categories.
Victoria Di Castro-Horn is a cisgender female who was the 2019 Italian National Champion in the +87kg Olympic weightlifting category and feels restrictions on trans athletes should apply only at elite level.
She said, "To bar trans women from local or even national level competitions is ludicrous.
"It denies them their humanity and right to compete in sport, which is extremely important [if they are] to lead a healthy lifestyle, both mentally and physically. It has [innumerable] positive benefits for trans women."
The reality is that there are no easy answers or quick fixes. To transition takes years: medical opinions must be obtained, and then there are evaluations before any surgery or hormones are administered. The public shouldn't assume from Trump's comments that a man could identify as a woman and be competing within weeks.
As Miller said, "If Donald Trump wants to try it out, I'll give him 12 months of chemical castration drugs. He'll end up with balls the size of pea, he won't get an erection, and he won't even want to watch women's sport, never mind win it.
"My dream is to divide sport by categories of physical ability, and not have one or two categories, so athletes are celebrated for being humans, not male or female."
Think your friends would be interested? Share this story!
The statements, views and opinions expressed in this column are solely those of the author and do not necessarily represent those of RT.
You can share this story on social media: