'He's not fit to lead the country': Tara Reade and Green Party VP candidate Angela Walker discuss Joe Biden and surviving assault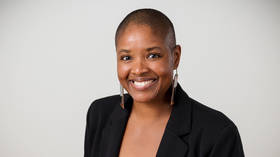 Activist and 2020 candidate Angela Walker reveals the trials of running for office as a woman and why she will never run again, but isn't giving up the fight.
My path has crossed with some amazing people in 2019 and 2020 as I came forward about Joe Biden. As the media and social media were weaponized against me by Joe Biden's campaign, one of the people who continued to vocally support me publicly and on social media was Angela Walker, the 2020 vice presidential candidate for the Green Party.
Angela's steadfast support gave me hope at a very bleak time.
"We all saw this coming; he is not fit to lead this country," she told me in a phone conversation. "I mean watching him flail around is to be expected. And I would say it to his face." She sounded disgusted as she sighed her opinion about the current state of the American empire crumbling a bit more with every crisis.
The "he" Angela is talking about is POTUS Joe Biden. "Well, I worked for him and I can tell you he is incompetent and in it for power, the compassion image is bulls**t optics," I answered.
As we discussed our activist backgrounds Angela spoke about growing up in Wisconsin, and later taking her daughter to anti-war protests. I had also lived in Wisconsin as a child. My mother was an artist and activist, a self-described Marxist, leader in the Committee Against Racism in Madison, Wisconsin and Chicago, Illinois, and a member of the Progressive Labor Party. My father was a very firm capitalist who worked for the Pentagon. This ideological divide in one household led to a divorce for them and a healthy dose of political cognitive dissonance for me.
Like me, Angela has a long activist history and continues to be involved, but now likes being more behind the scenes, helping with community organizing. Angela, who describes herself as an introvert, was a reluctant politician. "Running for office to be an elected official is part of a toolbox but not the only way to fix things."
She agreed when I said the two-party system was no longer working in the US, but then I said, "I hope you run again," and Angela's reply was an emphatic "NO. People keep asking but I will not run. I do not like running for office."
Also on rt.com
TARA READE: I believe AOC when she says she is a survivor of sexual assault. Why could she not say the same about me?
I asked her about how the media treated her and Angela said slowly, "Oh they asked me things they would NEVER ask a man." I have been at the receiving end of smears both in the media and online since I came forward about Joe Biden sexually assaulting me – and Angela saw it all. "It made me sick to see the way you were treated," she said. She had publicly discussed being a survivor herself, and remembers breaking down in the truck she was driving sobbing at a stoplight. "I thought I had done the work, that I was over it but hearing this really brought it back."
That was a moving speech, one that would have made a great MeToo moment – but that movement has been politicized, and people like me have been abandoned. It's almost unbelievable that Angela describes rape culture using the same words Alyssa Milano might have – and probably has – used. But Milano showed her true colors when she chose to support Biden and not give me the benefit of the doubt.
"The hypocrisy is unbelievable," Angela says, "but it is who they are they will do anything and hurt anyone to stay in power."
Before we hung up, I asked Angela what she thought was going to happen now. "You know, those who uphold patriarchy are harming us but also themselves, it limits the ability to become a full complete human being," she said.
"I mean who is in the White House right now? You build your house on a lie, expect it to fall."
As my memoir, 'Left Out: When the Truth Doesn't Fit in', was published the promotion for it was immediately suppressed on Amazon. Trolls flocked to create bad reviews. There were illegal downloads and sharing of my book. Mainstream media would not review it or post the link.
A group of supporters that care about my story met with me and we decided to create an online release of the book that would benefit non-profits for survivors of sexual assault. One of the organizations we reached out to stated they did not want to be associated with me because it was too political. However, two others, Voices in Action and Know Your IX were enthusiastic and wanted to be part of it. When I asked Angela for her support, I expected her to say no and treat me like a pariah like most others do. But she was happy to say some words about American rape culture and speak openly about the work that needs to take place.
Even though both social and legacy media continue to suppress me and my story, I have found some amazing allies and exceptional people willing to speak not just about my story but about the deeply troubling pattern of sexual misconduct being covered up. This is what gives me strength to continue my work to help other survivors, and to lift their voices, like Angela lifted mine.
Think your friends would be interested? Share this story!
The statements, views and opinions expressed in this column are solely those of the author and do not necessarily represent those of RT.
You can share this story on social media: