The fuss over Palestine at Bristol University just proves how bourgeois and out of touch academia is with real Britain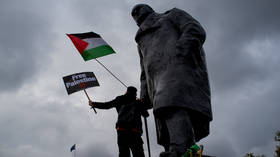 A row has broken out over professor David Miller sounding off about Jewish students being 'pro-Israel propaganda' with some accusing him of antisemitism. Why are they more obsessed with Palestine than all our problems at home?
Cards on the table, I am an advocate of free speech and I don't buy the recent rhetoric from sections of the left that the new public and political interest in free speech is a right-wing conspiracy. Instead I think the raised temperature of the debates on free speech from all sides is a consequence of the fact that legitimate platforms and spaces to be heard are becoming increasingly narrow.
I work in the university system and I strongly believe the university as an institution needs to have the independent right to speak, argue, debate, and disagree freely without any state or political intervention. This needs to be protected and, therefore, I do not support calls for Professor David Miller to be sacked. That said, I do not agree with the way he frames his arguments around power and where and to whom he apportions accountability. I am not an expert in the politics of the Middle East and, if I am being absolutely honest, I don't understand the British left's obsession with Palestine, or why it is that British student unions put Free Palestine on the top of their agenda above free tuition, housing, and access to higher education.
Also on rt.com
Ex-MP Williamson slams University of Bristol for failure to defend anti-Zionist professor from 'lynch mob' demanding his firing
I first encountered this when I arrived at The University of Nottingham in my first few weeks of term. I was a working class mother from one of the local council estates speaking the only local accent heard on campus apart from the cleaners. The student union had staged an occupation of one of the lecture theatres where I was due to attend a class on Women and Inequality. They had done this in order to bring attention to the Palestinian cause. I thought it odd at the time that these very middle class and very white students were so passionate about Palestine but knew nothing about the people living in the council estates in Nottingham.
I still find this puzzling. In response to the Labour Party's interminable internal arguments, I tweeted that the Palestinian cause would not be in the top 10 of British working class concerns. I thought that was a reasonable statement, but within 20 minutes I ended up having to block 500 accounts for being threatening and abusive towards me. I understand there is passion. I just don't understand why it is so prevalent amongst the university left. I think the people of Palestine should live their lives in freedom and in safety. I also think the same of the people in Yemen, and in the Congo and in Syria and Iraq and Hong Kong.
Also on rt.com
'Not consistent with our objectives': Harvard plans event featuring expert on cancel culture… then cancels it
When you arrive at any British university to study politics, sociology or philosophy, you will be challenged with the questions of key dialectical debates, the building blocks of all critical thinking: nature versus nurture, the structure and agency debate, the questioning of who we are, how we know ourselves and how we know each other. What are the power network structures in place for us to know who we think we are?
Another dialectic is that of freedom and rights, and the balance between personal freedom and impinging on the rights of others to be free – how our freedom to speak should not prevent another's right to be heard and how our speech does not make others unsafe. These are complex and difficult debates about the very essence of society and the human condition. In the past, universities have taken seriously their role in protecting that debate.
These debates are important and complex, so each university needs to be an independent place where they can happen. Students, lecturers and the wider public must be able to engage in them without fear. This means they must be allowed to sometimes get them wrong without jeopardy because we have a safe and fair system to manage them.
Sadly, this is not where I feel universities are because we live in a hyper-capitalist era which is top heavy and unstable. Higher education is a business that brings in billions of pounds of revenue for the local and national economies, meaning they have real institutional power. For the global middle class, the stakes of holding their place of privilege have become so high they must ensure they get into the 'right' university to ensure they have access to the cultural and social capital necessary to enter the political, media, business, and culture industries.
Also on rt.com
France okays dumbest ideas from the left, bans dumbest from the right – and complains US wokeness threatens its values
This has made universities places where enormous amounts of power are at stake, with capitalism increasingly narrowing their intake so cliques and cults can flourish. Those cliques and cults have expanded out into culture wars and cancel culture – none of which is conducive to a good education but may ally you with the ideas needed to get you into a company internship, or onto a post-graduate programme at the 'right university'.
As these ideas become more polarised and more specific around identities and political allegiances, there will be more people who are forced out or not even invited in the first place. I don't want to see a freedom of speech Tsar appointed by the government, I don't want to see academics behaving like the Stasi, screenshotting each other's tweets and informing on each other to get that person removed. I don't want any student or lecturer because of their minority status to be afraid for their place, their safety or their job. I want a robust system of debate and argument. But mostly I want to see the universities and the lecturers and professors be brave enough to accept that they are getting it wrong, and that it is bad for education and bad for society to have a narrow student body from similar economic and class backgrounds, with the same skills, all reading from the same hymn sheets with similar stakes.
Think your friends would be interested? Share this story!
The statements, views and opinions expressed in this column are solely those of the author and do not necessarily represent those of RT.
You can share this story on social media: