Cancel culture refuses to stop coming after Woody Allen, despite having no new ammunition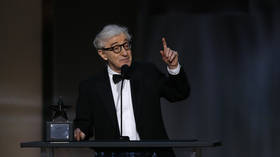 Thanks to a new documentary, filmmaker Woody Allen is once again answering to cancel culture advocates over allegations he molested his daughter, despite the issue already having been investigated and dismissed.
HBO Max's new docuseries 'Allen v. Farrow' has the world asking yet again: Is Woody Allen a sexual predator? It's a claim that's been bandied about for decades now, but which has really only led to professional consequences for Allen in recent years, as his work has struggled to find distribution support in the US in the wake of #MeToo.
'Allen v. Farrow' doesn't technically provide a lot of new information in the case of Allen, 85, as it's been so well documented over the years. It does, however, provide access and insight from Mia and Dylan Farrow. Mia, Allen's ex-partner, was left by him for her adopted daughter, and Dylan has accused her father of molesting her when she was aged seven and younger.
Friends and family members also discuss their feelings about Allen and his relationship to a young Dylan in the series, but none of this is concrete or damning enough to truly sway the guilt meter in either direction. It's people sympathetic to Farrow speaking not so fondly about a man they have every reason to dislike, even putting aside any allegation from Dylan.
It is this access, though, that undoubtedly gives the docuseries, which aired the first of four parts on Sunday, at least some emotional weight. Critics have already been hailing it as a "nuanced reckoning" and victory for "consequences culture" – which is just cancel culture wrapped in a prettier bow for an increasingly weary public.
Even Allen fans who tune into 'Allen v. Farrow' will walk away finding it difficult to completely defend the man. The lovable neurotic New Yorker who has won over audiences for decades is shown to also have a cold and calculating side.

This account, however, is also very one-sided, and taken from a time in Allen's life when he was clearly in a relationship that became toxic, something that was undoubtedly partly his doing thanks to his affair with Farrow's adopted daughter Soon-Yi; she was over 18 at the time, for whatever that is worth.
Allen has already called the series a "hatchet job" and revealed that producers did not contact him or Soon-Yi (to whom he remains married and shares two children with) until the movie was already completed and they had only days to respond.
"These documentarians had no interest in the truth. Instead, they spent years surreptitiously collaborating with the Farrows and their enablers to put together a hatchet job riddled with falsehoods. Woody and Soon-Yi were approached less than two months ago and given only a matter of days 'to respond.' Of course, they declined to do so," the director said via a public statement, adding that the allegations are "categorically false."
No outsider to the situation can say whether or not the molestation claims against Allen are "categorically false." We can only go by the facts – and, quite frankly, the facts are not there to support the allegations.
There were twoinvestigations by authorities in the '90s into the claims against Allen, both in New York and Connecticut, and neither came away with even enough evidence for an indictment. They came up empty-handed, and while the docuseries has teased that it will critique these investigations, it can also be argued that such critiques stem from receiving an inconvenient result. This is the problem with many of Allen's critics, especially ones newer to this whole sordid, American affair: they think his innocence is "categorically false" without having the facts to back up such confidence.
Besides the investigations, there is also the issue of Moses Farrow, an adopted sibling of Dylan's, who said last year that he trusts Allen never did what his sister has accused him of, and that Mia Farrow planted the story in her daughter's head as a way to get back at Allen for his transgressions.
While numerous other Hollywood abusers have been exposed by just one brave soul opening the floodgates against them and coming forward with their story of trauma, Allen has only faced an accusation from Dylan. She has remained committed to her story, but she is also the only person to claim such extreme abuse from the man. For someone who allegedly abused a child, this is an odd fact for anyone supportive of the allegations, as child predators are not typically known as one-time abusers.
This is not to discount Dylan's story. It may very well be true, but the simple existence of an accusation should not be enough to destroy a man's career and smear him. For Allen, this has led to both career setbacks and years of him being blasted in the press – never with new information, mind you, but always with revisits to this one story.
Only in a world where cancel culture has been put on steroids by the gatekeepers of all things moral and liberal can one be legally cleared of wrongdoing twice, but decades later still pursued and facing consequences from the lynch mob media and eager social justice warriors.
Also on rt.com
Spike Lee defends Woody Allen from 'cancel culture,' then backtracks & attacks his 'friend'
HBO Max, by the way, is still comfortable enough to be in the Woody Allen business. Despite being behind the new documentary, one of the streaming service's draws remains multiple Allen movies. They defended the decision to keep streaming films made by a man their own documentary accuses of being a sexual predator by saying they want"viewers to make their own informed decisions about screening the work."
The Allen saga is a complex and, quite frankly, disturbing one, no matter if you believe he is innocent or guilty. After all these years, though, his critics have overemphasized their feelings for his betrayal of Mia Farrow and support of Dylan Farrow's accusation, and let feelings outweigh any and all evidence that points to the man's innocence of that horrible crime.
This is the issue that poisons 'Allen v. Farrow'. It has one goal, and one target: a man whose guilt has been decided before the first credit comes up. They had no interest in getting Allen's side of the story, and they provide no context to the troubles in the Farrow/Allen relationship, like the fact that son Ronan Farrow is rumored to not even be Allen's son, but rather Frank Sinatra's, the "love" of Farrow's life. The resemblance between the two has been fodder for comedians for years, and interviews with mother Mia have not exactly cleared up the matter. It was shortly after Ronan's birth, according to the docuseries, that Allen's behavior became a problem.
Innocent or not, Allen's guilt has been decided by the court of wokeism and public opinion, and this new docuseries provides nothing new on the matter. Its makers are simply jumping on a popular bandwagon that is more and more fueled by outside politics and a hunger to cancel someone convenient, rather than any actual suspicion of supposed abuse.
Think your friends would be interested? Share this story!
The statements, views and opinions expressed in this column are solely those of the author and do not necessarily represent those of RT.
You can share this story on social media: