The media's Valentine's Day love-in for Joe & Jill Biden was so saccharine it made the Hallmark Channel look gritty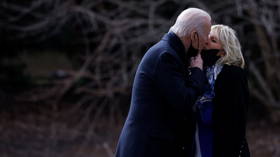 Joe Biden's love for his wife is scientifically proven to have restorative qualities, and the first lady's hair scrunchies have the power to heal. In Joe Biden's America, every day is Valentine's Day for the mainstream media.
The masturbatory media coverage that accompanied Joe Biden's inauguration was not, it seems, a brief lapse in objectivity from America's normally upstanding news industry. No, it was just a taste of things to come, and Valentine's Day gave journalists another excuse to don the kneepads and service Joe and Jill Biden with some grade-A lickspittle reporting.
Jill Biden (whom the media also loves reminding you is an actual Doctor, completely deserving of her title), went shopping for some Valentine's Day treats last week, while wearing a scrunchie in her hair. "People felt so seen," Glamour magazine gushed, in a story that made it to Yahoo News.
The Washington Post, which wants you to believe it is a serious newspaper, praised the first lady for her "radical normalcy." The scrunchie, her love for her two dogs, and her "successful attempt at putting on gloves while holding her coffee cup" were "avant-garde compared to the inscrutable relationship between Melania and Donald Trump," the newspaper continued.
Not since Jason Momoa has a scrunchie generated such excitement. Not since the trial of OJ Simpson have the media been so enraptured by someone putting on a glove.
But anyone worrying about Jill hogging the limelight had their fears swiftly allayed. Newsweek revealed on Tuesday that Joe spent the weekend playing Mario Kart at Camp David. For the curious, the magazine revealed that he played as Luigi, and "came out victorious" against his granddaughter.
After the Bidens took a cosy morning stroll in front of Jill's arts-and-crafts class decorations last week, the team at Politico were so moved that they called up experts and published an article with this headline: "Historians and relationship experts agree: The first couple's romantic gestures aren't just genuine – they're restorative."
Sure, Politico... And Kim Jong-Il's zip-up suit also made him a "global fashion icon," according to the Pyongyang press.
Just imagine any of this content being published during the Trump years. Not even Breitbart would dare. Not that they should avoid it as a rule, mind. The first lady's choice in hair accessories is safe, non-political content, and if the audience wants it, then fire ahead. But Melania Trump's style was never non-political, at least in the eyes of the media.
Also on rt.com
GQ Magazine gives Joe Biden the virtual 'makeover' nobody asked for
When the former first lady wore a military-style suit, she was compared to Benito Mussolini. When she wore a safari-style getup to Kenya, it was a "symbol of colonial rule." Her white suits were racist and her black dresses inappropriate next to the white worn by Democrats. Ignore the hypocrisy and hate Trump, they demanded for four years.
President Trump's trips to the golf course weren't treated the same as Biden's downtime playing Mario Kart, no matter how he scored against his family. Trump was fiddling while Rome burnt, yet in covering Biden, Newsweek didn't mention the ongoing coronavirus pandemic or the fact that millions of Americans are waiting on overdue stimulus checks as background, something they never overlooked when Trump took some time off.
At the end of the day, none of this matters. Jill Biden could shave her head bald and it wouldn't make a lick of difference to the average American. Joe Biden could run around on all fours with his dogs, but it's his executive actions that actually impact these Americans' lives.
Also on rt.com
'A love as real as climate change': Tucker Carlson sparks outrage after saying Joe & Jill Biden's marriage a 'slick PR campaign'
But if there's one take-away from Scrunchiegate, it's this: never take anything the mainstream media tells you about Biden or his administration at face value, from the frivolous to the serious. With a few exceptions, the press has no interest in holding Biden's feet to the fire the way it did Trump's. They're already deleting reports letting Trump off the hook for Biden's slow vaccine rollout, and even before the election they buried stories that could have damaged Biden's shot at the White House. They even boast about the "conspiracy" they took part in to swing the election for Joe.
The puff pieces about the new first family are just a few examples of the curated reality the media is constructing around Biden and his administration. They're relatively harmless, but symbolize the tone with which Biden's stewardship will be discussed. The kid gloves are back on, and the fourth estate is free to fall asleep at the wheel again.
Do you feel healed yet? Do you feel "so seen?"
Think your friends would be interested? Share this story!
The statements, views and opinions expressed in this column are solely those of the author and do not necessarily represent those of RT.
You can share this story on social media: