Hello darkness my old friend...Peter Mandelson is back advising Labour, why not just go the whole hog and bring back Tony Blair?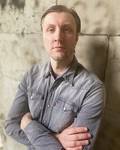 Chris Sweeney
Chris Sweeney is an author and columnist who has written for newspapers such as The Times, Daily Express, The Sun and Daily Record, along with several international-selling magazines. Follow him on Twitter @Writes_Sweeney
Chris Sweeney is an author and columnist who has written for newspapers such as The Times, Daily Express, The Sun and Daily Record, along with several international-selling magazines. Follow him on Twitter @Writes_Sweeney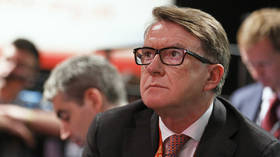 Keir Starmer is so devoid of original ideas he is bringing back the Prince of Darkness to help him crowbar his way into Number 10, but if the plan is Blair 2.0, why settle for an impersonator when the original is still available?
Lord Peter Mandelson is not a name that will resonate beyond the UK, but he is one of Britain's most infamous spin doctors. The type of character who has seemingly exerted an extended sphere of influence without it ever being clear exactly what he does. He arrived into the Labour Party in 1985 and it's now been revealed he is still pulling strings today, 36 years later.
Tony Blair adored his style but some of the left-wing union devotees had no time for the man who became known as 'The Prince of Darkness'. So to appease them and to keep his involvement in Blair's leadership campaign secret, he was issued a code name – 'Bobby'.
Also on rt.com
If Keir Starmer thinks flag-waving and a smarter suit is going to help him win back the north, Labour really is doomed
Since then, he's inhabited a range of roles; minister without portfolio, secretary of state for Northern Ireland, European commissioner, business secretary, and then Baron Mandelson as he entered the House of Lords. After Blair left and was replaced by Gordon Brown, Mandelson retained an iron-grip on the levers of power. During that period, he was a member of 35 cabinet committees and some referred to him as the "unelected prime minister."
Mandelson likes a frontman, a lead singer to shield him while he writes the lyrics. So it's business as usual now that's he back in alongside current Labour leader Sir Keir Starmer. There is only a decade or so in age between the two, but the level of experience in the dark arts of politics is heavily tipped in Mandelson's favour. That notoriety is why he chooses to remain in the shadows, as a lot of voters detest him. He represents the backroom dealmaking and media manipulation that turns so many off politics.
Mandelson is like a lightning rod, he takes the surge and allows his 'stooge' to carry on. He ended up in the public court of shame for spending a New Year's Eve on Paul Allen's yacht, while Microsoft was at the centre of an EU investigation.
Another yacht trip got him in hot water, this time with oligarch Oleg Deripaska, as Mandelson had been part of a decision to cut aluminium tariffs. At the time Deripaska owned United Company Rusal, one of the world's biggest producers of the metal.
Mandelson was also friendly with Jeffery Epstein and has been pictured with the disgraced financier.
Also on rt.com
RT's The Wokies: Top-10 BRITISH virtue signalers of 2020 (including a cop and a cleric)
So for Keir Starmer to bring in a man with that amount of baggage, proves how desperate he must be. Starmer replaced Jeremy Corbyn, the most socialist mainstream figure seen in British politics for decades, but has as yet done nothing of substance. He's a more centrist figure, but Boris has that sewn up, he won the last election with an affirming 80-seat majority. The so-called Red Wall fell to the Conservatives, proving the working class heartlands no longer had faith in their old ally Labour. And still there's no spark or idea from Labour to turn that around.
Since Blair left office, the party hasn't won an election. Their last victory was in 2005 and before Blair led them to victory in 1997 they hadn't won an election since 1974. Blair is the only person who has led the Labour Party to victory in the last 47 years, and it seems they've simply decided to revert to what worked then and hope it does now.
So welcome back Mandelson, who is right in his sweet spot, without an official position but is there to "broaden the party's appeal." It seems a redundant mission, as you're asking Mandelson to recreate the old magic. For that, he needs his protege and the man who brought those ideas to life – Blair. Why bother trying to copy him, when he is still out there, sitting around not doing very much? Blair has been quite vocal and made quite a few public interjections into the Covid-19 effort. It was his idea to stagger the two vaccine doses, which Britain and other countries are now actually doing.
If Labour's desperation is so great they need to face facts. Starmer is keen to paint himself as a paragon of the good and just. He created a big spectacle over the investigation into anti-Semitism within Labour and also fired a member of his shadow cabinet for making a remark that was judged to slight the Jewish faith.
Starmer's previous profession was as a barrister where he worked on human rights cases before becoming a QC and the Director of Public Prosecutions. He also spoke out and protested against the Iraq war.
Also on rt.com
The government has become the biggest advertiser in Britain's already struggling newspapers, so how 'independent' are they really?
Yes, the same war that Blair led Britain into after years of working with Mandelson. So if Starmer is so willing to embrace Mandelson, is he really as principled and motivated by integrity as he'd like to have us think?
All of this also reflects an extremely depressing facet to British politics. The country has suffered the most deaths in Europe due to incompetent leadership.
The list of ludicrous decisions has been recounted many times and if the opposition cannot muster up a feasible counter after all these months they really are beyond hope.
The vaccination rollout is the only thing Boris has handled well, but it won't erase the number of families left to rue the unnecessary loss of loved ones. There is also the much-covered resurgence in support for independence in Scotland and a growing movement in Wales. Brexit was another shambles, with a deal agreed days before everything went into meltdown. How is it possible that an allegedly well-run, professional, perceptive political party can't muster up a credible opposition?
Winding the clock back 20 years and hoping that the same things will work is, in my view, a fantasy. Society and attitudes have changed, there was no social media in 1997 and simply looking plausible and playing 'Things Can Only Get Better' on a loop isn't going to win you 80+ seats. But let's suppose for a minute that it might, if the Labour party and it's leadership really believe that's their greatest hope and the best plan they have for the British people is New Labour 2.0, then why isn't Blair involved?
Also on rt.com
'Those protests were dreadful': UK Home Secretary says she 'wouldn't kneel' for BLM, kicking off online slugfest
Starmer talks a bit like him, has a similar presence, they were even both barristers before entering politics, but trying to 'out Blair' Blair is futile. If Starmer isn't able to lead and create his own vision, then why did he put himself up for the job? Trying to get Peter Mandelson to Svengali you into some sort of Blair tribute act is never going to work. As Queen fans know, Adam Lambert is no substitute for Freddie Mercury.
Step up or step aside, don't be a downmarket copy of your predecessor.
Think your friends would be interested? Share this story!
The statements, views and opinions expressed in this column are solely those of the author and do not necessarily represent those of RT.