Isn't it strange how some Black Lives Matter activists become overtly racist when Priti Patel says she won't take the knee?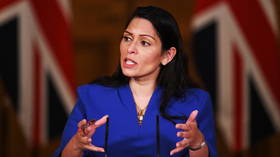 For an organisation supposedly built around respect for others, supporters of BLM in the UK are very quick to take offence and launch vile insults at those who disagree with them – most notably the ballsy home secretary.
Tough-as-nails Priti Patel has not only stirred up a wasps' nest, she's kicked it over, stomped on it and challenged the vicious insects to a fight. Now all we have to do is sit back and watch.
Because, this time, her target is the Black Lives Matter movement. Asked in a radio interview whether she would ever take the knee, she promptly replied: "No, I would not. I wouldn't have at the time, either. There are other ways in which people can express their opinions."
Also on rt.com
'Those protests were dreadful': UK Home Secretary says she 'wouldn't kneel' for BLM, kicking off online slugfest
To further incite the intolerant, the Home Secretary described the BLM riots that swept across Britain last summer as "dreadful". That was enough to make the lid blow off.
"Protesting in the way which people did last summer was not the right way at all," she said."I didn't support the protests. Those protests were dreadful."
It's a typically unequivocal position and not derogatory of the BLM movement or its goals at all – just the way some went about showing their fervour for the cause.
There have been accusations online that the home secretary is against all protest, but that's a clear manipulation of her comments on an issue that she has addressed before, when she told her party's autumn conference, "This government will always defend the right to protest. That right is a fundamental pillar of our democracy, but the hooliganism and thuggery we have seen is not – it is indefensible."
Patel continued, "There is no excuse for pelting flares at brave police officers, for throwing bikes at police horses, for disrespecting the Cenotaph or vandalising the statue of Sir Winston Churchill – one of the greatest protectors of our freedoms who has ever lived."
Today, she simply reinforced that view when she was pressed for a comment on the mania for tearing down statues that manifested itself last summer and that continues to split opinions.
"There are other ways in which those discussions can take place and, also, quite frankly, I didn't support that attempt to rewrite history. I felt that that was wrong," she stressed.
And you don't have to be a fan of the home secretary to see the sense there.
What makes Priti Patel such an effective weapon in the government's armoury on sensitive cultural issues such as this, and on immigration, is her background. Born to Ugandan Asian parents who migrated to the UK, she has genes on her side. As well as cheekbones on which you could sharpen a kitchen knife, and a stare that could freeze hot lava at a thousand paces.
And it's the colour of her skin that really gets under the epidermis of others. Particularly those BLM supporters who live the life of perpetual victimhood and maintain a default position of insanely high dudgeon.
Sure enough, it didn't take long today for these individuals to take offence at Ms Patel's dismissal of their whole reason for being.
"What a f***ing disgrace," tweeted one enlightened activist. "She's a coconut, she's a racist to her own community and serves only white and rich people. Of course she doesn't support blm and taking the knee!!!!"
Ooh, look at all those exclamation marks. That's someone who's really angry. And, unfortunately, not that original. The 'coconut' accusation – a hugely offensive, racist slur used to denigrate a person with a brown skin who is perceived to be white at heart – was hurled at Patel elsewhere online, as the mainstream media picked up the comments in record time and word spread that a target was ready for abuse.
Disgusting. Of course Priti Patel finds the BLM movement "dreadful: she's a coconut whose hitched her political career to the singular cause of furthering whitenesshttps://t.co/KlMTWbXrx6

— Aditya Iyer (@Thatadityaiyer) February 12, 2021
Priti Patel is the epitome of a coconut.

— zaynahhh (@zaynah56122249) February 12, 2021
But she's not alone. Just a couple of months back, her colleague, the black Foreign Office Minister James Cleverly, said he wouldn't take the knee and neither should others feel bullied into doing so. It was strange that he attracted only a fraction of the attention or online abuse afforded the home secretary.
There were also no insulting comments about his height, his weight or his body shape, or any suggestion that he took to both knees in order to sexually favour his superiors.
Also on rt.com
Church of England launches investigation after clergyman calls fans of WWII hero Captain Tom a 'CULT OF WHITE BRITISH NATIONALISM'
These insults are reserved for the home secretary because she's a woman and because social media nitwits who spew them think it helps their cause by making them look superior and giving them the moral high ground over a politician. This is not the first time she's drawn fire. It happens frequently.
The fact that Priti Patel seems unfazed by such rubbish must drive them insane. It also gives the rest of us a laugh at their expense.
Like this story? Share it with a friend!
The statements, views and opinions expressed in this column are solely those of the author and do not necessarily represent those of RT.
You can share this story on social media: