Biden is finding out the hard way that promising free money might mean quick wins, but causes a lot of long-term grief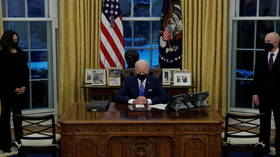 The ongoing furor over how much people get by way of stimulus checks and who is eligible for them could have serious repercussions for Joe Biden. Backtracking on financial commitments won't be forgotten by hard-up Americans.
One easy way to get someone to pay attention to what you're selling is to tell them that it's free. If a coffee shop offers a free bagel with your latte for example, that latte suddenly becomes a bit more appealing.
It's not much different in politics, and Joe Biden knows that. Another round of stimulus checks was a big promise from him, especially given how much people are suffering financially because of the pandemic.
But confusion has engulfed that commitment. While many thought that $2,000 checks were on the way, as per Biden's apparent promise, it transpired what he actually meant were $1,400 checks to top up the $600 granted previously. Because $1,400 plus $600 equals $2,000, right? Well, no, not in everyone's eyes.
There's a simple lesson to be learned here. And much as I hate to say it, congresswoman Alexandria Ocasio-Cortez is correct in saying that since a certain amount – in this case $2,000 – was promised, it's going to have to be fulfilled.
Given all this, it was no surprise that the hashtag of #BidenLied started trending in the US pretty quickly. Clearly, many of the people who voted for Biden felt betrayed by him. And now he is between a rock and hard place.
This is the trap of promising free money. On one hand, giving out any sort of stimulus hurts the government's budget in the long run. It causes tax increases that will anger voters and tarnish a president's legacy. George H.W. Bush's "read my lips, no new taxes" is a prime example of this, given that new taxes were what cost him his election loss to Bill Clinton, among other things.
On the other hand, let's say Biden closes the gap on who exactly can receive the stimulus, as has been suggested, by reducing the household income threshold of those eligible. Again, there will be Biden voters who miss out and feel betrayed. These same people may very well not show up to vote during the midterms, and given how things look at present, this could see the House and maybe even the Senate flip back to Republicans.
What makes it even worse for Biden is that Senate majority leader Chuck Schumer is saying that the rollout for payments once the bill passes might not be until mid-March. Meaning you have an entire month and a half for people to get even angrier. This is another problem that you encounter in politics when you promise something free: people get impatient.
Put simply, every day that a person who has been badly affected by this pandemic looks at their checking account and doesn't see the numbers move increases the chance that they vote Republican in 2022, or don't vote at all.
Also on rt.com
'Not what we were saying, Joe': Progressives angry as Biden's $1.9 TRILLION coronavirus plan offers $1,400 instead of $2k
Because when you promise free money, people expect it immediately. They expect that what you are doing is going to be the solution to their financial woes, and that everything is going to be hunky-dory. But no government, whatever its color, is ever able to deliver this.
As things stand, I believe the Democrats will pass a bill that guarantees the stimulus that they promised, but I have a feeling that they will close the window to some families and individuals. This will almost certainly cause strife, because anyone who doesn't get the money they expected is going to make a noise about it, on social media or elsewhere.
This is the irony of Biden's administration even before it's a month old: It looks like the table has already been set for Republicans to pounce on the Democrats and take back control of the legislative branch within a couple of years.
And it's all because another politician made another promise that he couldn't keep in the way that he was expected to, which is always a dangerous game – but particularly when free money is involved.
Think your friends would be interested? Share this story!
The statements, views and opinions expressed in this column are solely those of the author and do not necessarily represent those of RT.
You can share this story on social media: