As a report damns Cuomo's handling of nursing homes during the pandemic, the celebs who endorsed him owe New Yorkers an apology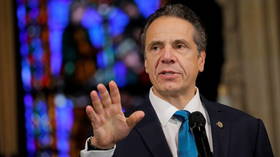 New York Governor Andrew Cuomo has managed to skirt numerous controversies during the Covid-19 pandemic thanks to his 'buddy-buddy' relationship with celebs and the media, but now the evidence is too great to ignore.
Covid-19 shone an unflattering light on many political leaders, mainly thanks to the numerous revelations that the same strict lockdown protocols many of us have been told to live by have been outright ignored by the very people shaming us into following them.
Andrew Cuomo, however, sits in a class all his own. The governor's leadership has arguably been the most troubling of the lot during the pandemic, his questionable decisions amplified by the fact that he leads New York, the state hardest-hit from Covid, with over 43,000 deaths.
On top of his troubling leadership, Cuomo is also arguably the most privileged governor in the country, having to answer for almost nothing, thanks to an adoring, compliant media and the cultural acceptance of celebrities slapping him on the back and accepting him as part of the 'in' crowd.
Also on rt.com
That AOC cares more about slamming Ted Cruz than Wall St trying to rig the market shows Democrats aren't about the little guy
Even amidst businesses crumbling due to lockdown orders and an early order forcing nursing homes in the state to accept positive Covid-19 patients, which critics say led to as many as 6,000 unnecessary deaths, Cuomo has continued doing fluff piece interviews with everyone from his brother, CNN's Chris Cuomo, to Howard Stern, talking more about his dating life than the actual crisis at hand.
Add on to that sexual harassment allegations and a very questionable book on leadership during the pandemic, released in the middle of it, yet Cuomo is still a darling to the media and Hollywood. He's rolled out celebrities like Chris Rock and Rosie Perez at press conferences, hosted expensive Hollywood fundraisers, and had artists like Ben Stiller and Patricia Arquette directly defend him on Twitter against critics. Heck, Chelsea Handler has openly fantasized about dating the guy.
It's truly been a disgusting sight. Cuomo was even bizarrely been awarded an Emmy and then quarantined himself from the press – reportedly hand-picking reporters at each press conference and rarely answering follow-up questions.
A new damning report, however, solidifies not only Cuomo's flimsy leadership, but the complicity of media talking heads and Hollywood liberals who have worked so hard to write a new narrative for Cuomo over the last year.
According to findings from New York's state attorney general released this week, nursing home deaths have been underreported by over 50 percent in the state. A sampling of 62 of the state's 600 nursing home establishments found major discrepancies in the information given to the public. The report also found, unsurprisingly, that the early controversial order from Cuomo forcing positive cases into these establishments likely led to many of the senior deaths in the state.
Also on rt.com
Cuomo under fire as probe finds Covid-19 nursing-home deaths in NY were undercounted by up to 50%
If that data holds true across all New York nursing homes, that would mean the reported 8,700-plus deaths would be closer to 13,000.
It's not new information for anyone who has been paying attention. Through protests and social media, Cuomo's fiercest critics have cried the truth loud and clear, but Cuomo's cohorts have refused to listen.
Janice Dean – who lost both her in-laws to Covid-19 while they were staying in New York nursing homes but has somehow been dismissed by the governor's spokespeople and debated the governor directly with celebs like Stiller – has seen the report as confirmation of the corruption she has long been pointing out.
"It's finally happening. @NYGovCuomo is going to have to answer for his role in the nursing home tragedy and the cover up. The angels won," the Fox News meteorologist tweeted this week.
The report makes the gushing over Cuomo from the press look all the more embarrassing now:
Cuomo has been playing his usual games when it comes to the report, acting as a man without a worry in the world, placing blame on everyone but himself, calling it a "political attack" on Friday and blaming the federal government for Covid patients being placed in nursing homes.
"Federal guidance said that people who were in hospitals, but who were presumed not contagious could go back to a nursing home which could handle them, not all nursing homes can handle them. And the nursing home had to, by law, say that they could handle those people," he said, deflecting blame.
He added that he wished "none of this happened," simply chalking perceived mistakes up to Covid and offering no apology. Cuomo spoke like a man who has long been protected by media talking heads and celebrities with major platforms.
The governor even tried to allege at one point that patients dying in nursing homes was irrelevant.
"Who cares where they died?" "They!" Really, governor?
While celebrity support does not mean what it once did to a politician, it has certainly helped Cuomo, solidifying him in the culture as a solid and reliable leader. What motivated this? It clearly wasn't his actions, which have been questionable at best and downright despicable at worst.
It's a complicated answer, for sure, but one that has a lot to do with the man no one can seem to stop talking about despite him being out of the White House: Donald Trump.
Thanks to several public feuds and biting comments, Cuomo was thrust into the national spotlight last year as an enemy of Trump, which is enough to win one the accolades of both a weaponized media and Hollywood, which has long been ruled by aggressively liberal artists who feel threatened by anyone who bucks political and cultural norms.
Aligning themselves with Cuomo meant aligning themselves against Trump, which has clearly meant more than anything else to political celebrities who saw red each and every time the former president spoke.
Also on rt.com
'F**k every single Trump voter': Biden may be in, but Hollywood's & media's crusade to destroy conservatives is just beginning
Let's also not forget the special treatment entertainers have received in New York. Even with some of the strictest lockdown restrictions in the country and small businesses being fined left and right for not following state guidance to the letter, the Video Music Awards in August were allowed to go on - with quarantine travel requirements lifted - and 'Saturday Night Live' got back to business in October with a live studio audience, even while many restaurants in the very same New York City could not allow people to dine in their establishments.
This anti-Trumpness and special treatment put Cuomo in the perfect position for Hollywood to do its best to paint him as what he is so clearly not: an effective leader.
This year, however, presents a different landscape for Cuomo. Trump is gone, and the facts about his handling of the pandemic are coming to light in a way that cannot be so easily dismissed. While there's little hope anyone in the media will suddenly wake up and admit their mistake in not holding his feet to the fire when they could, people who claim to be artists and claim to care about New Yorkers should look back at their celebration and validation of the man in shame. If they had any backbone and integrity, they would apologize and use their voices to highlight political elitism run rampant. Cuomo's actions deserve attention, New York and the country deserve apologies.
Like this story? Share it with a friend!
The statements, views and opinions expressed in this column are solely those of the author and do not necessarily represent those of RT.
You can share this story on social media: