Money tops human rights as the UK flogs £2.6bn of sniper rifles, riot shields, tear gas and guns to 'dodgy' regimes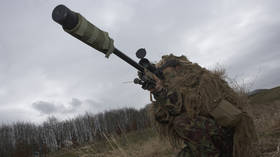 A new report reveals how Britain is stealthily engaged in selling military equipment to countries subject to arms embargoes and trade sanctions, such as Pakistan, Nigeria, and Kyrgyzstan, and to the authorities in Hong Kong.
The promotion of human rights overseas is one of the most frequently and fervently avowed objectives of the UK Foreign, Commonwealth & Development Office (FCDO).
The rhetoric of humanitarianism runs rife in official mission statements setting out the prime concerns of the department, and those of Whitehall more generally. To this end, an official report on FCDO "activities to promote human rights abroad" is published annually, along with a list of human rights "priority countries".
A "priority country" is one in which "we are particularly concerned about human rights issues, and where we consider that the UK can make a real difference", the gov.uk website explains.
However, such high principles evidently fade into insignificance when and where there's money to be made, for, as a shock report starkly exposes, in just over five years, London not only sold weapons to 14 "priority countries", but five of those states also feature among the Department for International Trade's (DIT) "priority countries" for such exports.
Also on rt.com
George Galloway: Britain's £1bn in "aid" to Yemen as it sells bombs to Saudi is the very definition of blood money
'Import, export, transfer'
The analysis, produced by Action on Armed Violence (AOAV), makes for staggering reading. In all, the UK approved exports of military goods to 80 per cent of the countries on its own embargoed, sanctioned or trade-restricted lists between January 2015 and June 2020.
There are 73 countries "subject to arms embargo, trade sanctions and other trade restrictions", according to the DIT, of which 58 were sanctioned to receive 4,800 "military use exports" worth £2.6 billion over this period.
The vast bulk of these licenses – 69 percent – were for exportation of big-ticket weaponry including aircraft, helicopters and drones, although in excess of £300 million in small arms, explosives and crowd-control equipment also flowed to governments the world over, both allies and adversaries.
The embargoes directly and indirectly broken by the UK in the process are unambiguous, and extensive. The Department's own website states these restrictions cover "import, export, transfer, movement, making available and acquisition of goods and technology; the provision and procurement of services related to goods and technology; the provision and procurement of certain other non-financial services; [and] the involvement of UK people in these activities."
As AOAV records, countries can be subject to restrictions on UK weapon exports for a number of reasons. Some are subject to specific UN or EU embargoes, others regional restrictions such as the Convention on Small Arms and Light Weapons, others still UK-specific. Yet, in all cases, "inclusion on the 73-strong list signals the UK government's distrust of the security or human rights situation of that country."
A recurrent feature of EU or UN arms embargoes is the prohibition of any and all equipment that could be used for internal repression, but many police forces implicated in the assault and/or killing of protesters in recent years – including those in Georgia, Kyrgyzstan,Moldova and Mali – have received items such as sniper rifles, riot shields, tear gas, projectile launchers and small-arms ammunition from the UK.
That these weapons have been, are and will be used to perpetrate the very abuses about which the UK government professes to be "particularly concerned" and committed to preventing is almost inevitable.
In some instances, ministers could perhaps claim with some degree of plausibility that the sales were licensed to customers without knowledge of the internally repressive use to which they would be put. For instance, sales of various forms of crowd control equipment to the government of Hong Kong were repeatedly licensed over several years – the last in March 2019.
That same month, protests against the administrative region's highly controversial national security law commenced. Sales of crowd control equipment to Hong Kong were suspended in June that year, due to allegations of police brutality – but references to London's central role in facilitating such viciousness were unsurprisingly absent from the announcement.
Since then, more than 10,000 Hong Kongers have been arrested, and Prime Minister Boris Johnson has outlined plans to offer up to three million residents the opportunity to settle in the UK and apply for citizenship, due to the threats to their "freedoms and rights" posed by the national security law.
Similarly, in 2015, the Lebanese armed forces spent £2.3 million on 48 British sniper rifles, complete with silencers and night sights. Four years later, the military played an instrumental role in suppressing anti-corruption protests, allegedly firing even on peaceful activists.
Also on rt.com
'Moral cost is too high': Legendary war reporter Martin Bell calls on UK to halt Saudi arms sales over civilian bombing in Yemen
'Government end use'
In other cases, licenses were granted to countries when the likelihood that purchases would result in extreme violence and repression was extremely high, if not certain. Around 30 nations subject to arms restrictions have received licenses for military items specifically designated for use by militaries or police forces.
In April 2020, weapon-sight exports were approved to law enforcement in Nigeria, despite a long and troubling record of fatal police brutality in the country. That same month, it was reported that at least 1,476 people had been killed by Nigerian state actors over the past year.
The sale also came as the End SARS movement was well into its third year of operation. A grassroots uprising that has staged repeated mass protests against police brutality in Nigeria, it calls for the disbanding of the Special Anti-Robbery Squad (SARS) – a notorious Nigerian police unit with a long record of abuses. The flagging movement was revitalized in October that year, when an inquiry into SARS was convened in Lagos, and immediately began hearing graphic testimony from witnesses.
In 2017, 3,000 assault rifles worth £9.5 million were authorised for export to Kenya for "government end use". Amnesty International had documented a variety of abuses committed by the security forces the previous year, including enforced disappearances, extrajudicial executions and torture with impunity, with at least 122 people having been killed by October 2016. The police were also alleged to have employed excessive and lethal force to disperse demonstrators calling for fair election practices, while families in informal settlements and marginalized communities were forcibly evicted from their homes.
Also on rt.com
Where's the outrage over Britain providing training on 'how to be a better despot' for some of the world's dodgiest regimes?
'How to do business'
AOAV also documents the British state's quite astounding overt efforts to drum up and facilitate international trade between the country's homegrown coterie of arms dealers and countries under trade restrictions – for instance, Serbia, which is subject to UK controls on small arms and drone imports.
In 2013, the then UK Department of Trade & Investment (UKTI, now the Department for International Trade) produced a detailed market brief encouraging traders to enter the market, offering advice on how, and more. It commences with an overview of the Serbian armed forces – its branches, and general services – then runs through "defence and security opportunities" in the country, replete with a lengthy precis of the defence market and "how to do business" there.
"Selling into the Serbian market requires a specialised partner, with good business connections and a track record in the defence sector. Most contracts are tenders, and call for product testing and demonstrations, which can only be achieved with a permanent local presence, and a good understanding of the decision-making process," the document states.
Elsewhere, the brief lays out "security issues" traders may encounter, which include Serbia being "a transit country for the trafficking of drugs, illegal weapons and people."
Arms dealer Slobodan Tesic, sanctioned by the US Treasury, is responsible for the vast bulk of the illegal weapons trade in the country. It's been said merchandise he supplies can be found on "most modern battlefields", and, in 2019, the US embassy in Belgrade warned Tesic exerted "potential influence over Serbia's export control system."
UK arms dealers' main competitor in Serbia, the document continues, is Russia, although China "may become more active", and Ukraine and Serbia have a Treaty of Military Cooperation "that may lend itself to defence exports both ways."
Companies "interested in opportunities in the country's defence and security sectors" are encouraged to contact the UKTI team at the UK Embassy in Belgrade "for advice and practical support" , which, "with its wide local knowledge and experience, can provide a range of services to British-based companies wishing to grow their business in global markets."
These services include contact introductions, privileged market information, presentation of a company's products and services hosted either at the UK Embassy or at the UK Ambassador's residence, business lunches, dinners or receptions "with targeted top management from government and/or private entities", and more.
This support is available to private operators via the UK's Overseas Market Introduction Service – "a chargeable service". In other words, for a fee, arms dealers can get a privileged foot in the door with top-level Serbian government and arms industry procurers and decision-makers.
AOAV reveals that since the brief was published, licences worth over £84 million for drones, equipment for military aircraft and missile launchers have been approved for Serbia, making Belgrade the third-largest spender among the organization's list of 58 restricted importers.
Also on rt.com
Report finds UK enabled 'unlawful' Saudi-led naval blockade of Yemen, as London resumes arms sales to Riyadh
More questions than answers
A highly illuminating document indeed, but the specifics on display stand in stark contrast to the DIT's own records. It's somewhat amazing that AOAV was able to piece together its comprehensive survey. Throughout its investigation, the organization consistently found publicly available files on UK military exports to be "opaque and inconsistently labelled".
"Such arbitrary categorisation on the part of the UK government means that meaningful public scrutiny of the type and intended use and end-user of arms exports is inhibited," the report contends. "Analysis of the government's export data often leaves one with more questions than answers."
One need hardly be a cynic to suggest this murkiness is no accident or coincidence. After all, a determined lack of clarity shields London from accountability as to where and how its arms exports are used, and by whom, and also allows government ministers to continue their thunderous moralising on human rights and maintain the fiction of a firm commitment to promoting such values abroad.
As a leaked May 2017 US State Department document amply underlines, the true motive behind such international humanitarian evangelism – particularly in regard to "enemy" states such as China, Iran, North Korea and Russia – is to "impose costs, apply counter-pressure, and regain the initiative from them strategically."
Much has been made of the advent of "global Britain" in the wake of the UK's withdrawal from the European Union – however, with questions hovering over the shape and maintenance of numerous vital trade agreements, Whitehall cannot afford to be fussy about which governments it does business with.
The UK's largely ravaged manufacturing base has left "defence" the country's last remaining truly international export, and official figures indicate London consistently ranks second behind Washington in terms of the world's largest arms dealers.
It's anyone's guess where these wares eventually end up, and to what use they are put. In February 2020, the United Nations issued its biennial report on the proliferation of small arms, finding approximately one billion rifles, pistols and light machine guns are presently in the hands of terrorists, parties to intra-state conflict, organized criminals and warring gangs.
From 2010 to 2015, these weapons contributed to some 200,000 deaths every year, both in conflict or non-conflict settings, from the Americas to Africa to Southern Europe. How many of these arms were UK-made isn't clear, and potentially by design – although AOAV's groundbreaking research suggests the figure could be sizeable.
Think your friends would be interested? Share this story!
The statements, views and opinions expressed in this column are solely those of the author and do not necessarily represent those of RT.
You can share this story on social media: