A UK police force is accused of lying about a black man's death in a case as shocking as George Floyd's. So, why are BLM silent?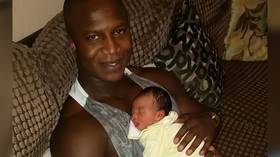 The streets of Britain raged last summer as Black Lives Matter protested the death of George Floyd in America. Why the ambivalence, then, to the police's alleged conduct in the strange case of Sheku Bayoh in Scotland?
Outrage and fury were expected to follow the explosive revelations broadcast in Britain on Monday night. This column was deliberately delayed to allow the news to spread and await the inevitable backlash. But it hasn't come.
Allow me to fill you in. The BBC's flagship investigation show 'Panorama' broadcast I Can't Breathe: Black and Dead in Custodyon primetime TV at 7.35pm to their biggest audience, on BBC One.
The documentary looked at two men who lost their lives following encounters with the police: Kevin Clarke in London, in 2018, and Sheku Bayoh in the small Scottish town of Kirkcaldy, in 2015.
Their fate had long been known, but not the details. The key case was Bayoh, seen walking around after taking drugs and carrying a knife.
Calls were made to police by members of the public, but when they arrived, he no longer had a knife. As officers tried to detain him with batons and CS spray, it was claimed he punched a female officer, then kicked and stamped viciously on her back. Colleagues thought PC Nicole Short was dead, so severe was the beating Bayoh gave her. He was finally wrestled to the ground, fell unconscious and was pronounced dead in hospital a short time later.
Also on rt.com
As lockdown loosens, more black men are stabbed in London. But Black Lives Matter has nothing to say
Big-selling tabloid the Scottish Sun ran a story claiming he had taken a legal high called flakka, which the newspaper said is believed to give the user "superhuman strength".
Another piece it ran featured the headline: "A petite female police officer was punched, kicked and stamped on by a large man – Force union chiefs speak out".
Her fellow cops backed up this account to investigators. PC Craig Walker said, "I had a clear view of him … he had his arms raised up at right angles to his body and brought his right foot down in a full-force stamp on to her lower back." And PC Ashley Tomlinson added, "I thought he had killed her. He stomped on her back again."
But according to Monday night's broadcast, that isn't what happened. 'Panorama' presented an eyewitness who had never spoken publicly about the case before. He had decided to make his voice heard due to the one-sided reporting.
Kevin Nelson watched the incident happen over a garden hedge. Asked about the flurry of violence after Bayoh punched the female officer, he replied, "No. He was running off … after the punch, there was no more attack on her at all."
But what about the statements from the other officers about stamping and kicking? Nelson continued, "That never happened. I didn't see him stamping at all or, other than the punch, any raised arms. After the punch, that was it. There was no more attack on her at all. That's not right."
Also on rt.com
Forever Family protestors dressed as black paramilitaries look like Britain's NFAC, and are not helping the fight against racism
Bayoh's post-mortem revealed he had sustained 23 injuries, including a broken rib. But in 2018, the Crown Office in Scotland decided not to prosecute any of the officers involved.
The really shocking thing is that investigators had heard from Nelson. He told them what he saw two days after Bayoh's death, while the cops gave their accounts 32 days later. This revelation is hugely significant.
The death of yet another black person in police custody is appalling enough. But now the officers have been accused of making false statements by a member of the public with no motivation other than to see justice done.
So, where is the fury?
Last summer, hundreds of thousands of people marched across Britain as part of the Black Lives Matter movement. Groups such as Forever Family got dressed up in paramilitary style clothing and held protests. Politicians were taking a knee and the term 'white privilege' became familiar to the entire country.
Wh the silence now?
BlackLivesMatterUK's official Twitter account posted one message about the show: "BBC Panorama asks why [is] the Metropolitan Police three times more likely to use force on Black people in comparison to white people? Also looks at the death of Kevin Clarke, a man who died in Lewisham in police custody in 2018. This is why we organise." It got 184 likes, while they have 79,500 followers.
BBC Panorama asks why does the Metropolitan Police three times more likely to use force on Black people in comparison to white people? Also looks at the death of Kevin Clarke, a man who died in Lewisham in police custody in 2018.This is why we organisehttps://t.co/XKxtWQLGGF

— #BlackLivesMatterUK (@ukblm) January 18, 2021
The fact that BLM failed to mention Bayoh suggests either they didn't watch the show or simply ignored an incident that didn't happen in London, where much of Britain's black population lives. Even unintentionally, that indicates they place a greater degree of importance on a black London life.
At least with George Floyd, the truth was shown to the world. So, why are details about the death of a married father-of-two in Scotland ignored?
Part of the issue is the London-centric nature of the movement. The other is that the British BLM movement seems completely rudderless.
What happened in the summer was a reaction to shocking scenes in the US. It almost felt as if some people simply wanted to copy what was happening on the other side of the Atlantic. Black people make up only 3.3 percent of the population of England and Wales, 1 percent in Scotland, and 0.2 percent in Northern Ireland. But the black population in America is far larger, at 13.4 percent.
Britain's BLM movement needs to plot its own course and not simply follow a social media hashtag campaign. One of the criticisms it faced last summer was that some believed the anger on display was forced. It's hard to argue there isn't some merit in that stance, when the shocking revelations around the circumstances of Bayoh's death barely seem to trouble anyone.
His family's lawyer, Aamer Anwar, received a measly 12 retweets of his post "#ShekuBayoh died in police custody on the 3rd May 2015, his family fought for justice & now through a public inquiry fight for the truth – watch @BBCPanorama investigation."
Those who march under the BLM UK banner and identify as the seekers of racial justice in Britain need to ask themselves what their inconsistent approach says about them, and what their true motivations are.
Granted, I'm a white man. But then so is Kevin Nelson, and he seems to be the only one taking a stance over the shocking death of Sheku Bayoh.
Think your friends would be interested? Share this story!
The statements, views and opinions expressed in this column are solely those of the author and do not necessarily represent those of RT.
You can share this story on social media: