The British establishment has always made a dog's dinner of food, no wonder it's made such a hash over free school meals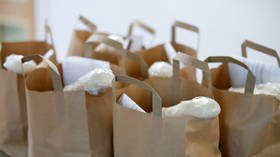 Pig's ear, anyone? I suppose we shouldn't be surprised that the Tory government is allowing its rich business mates to profit by providing meagre food parcels to hungry kids, but it really does leave a sour taste in one's mouth.
British food: It's so god awful that even flag-waving jingoists find it indefensible. Other than Jamie Oliver, who's made a small fortune from basically adding salt and pepper to traditional slop, and George Orwell, whose In Defence of English Cooking is an ode to such 'delicacies' as potato cakes, bread sauce and haggis, to mix a metaphor, British cuisine has the face only a mother could love.
This love-to-hate relationship with food now has the nation fulminating over the viral image of a Tory government-funded, £15-a-week per child free-meals ration, received by a desperate Twitter user nicknamed 'RoadsideMum'. But as with most things Anglostani, the issue isn't about the thing itself; most Brits couldn't give a rotten fig about the plight of millions of starving children – especially, their own. No, food is just another cudgel with which to wage war over our number one national obsession:class.
Also on rt.com
'Just not good enough': Manchester United football star Marcus Rashford slams 'unacceptable' free UK government school meal packs
Reminiscent of a refugee camp food aid parcel, the government's paltry offering is an example of the junk served up to countless starving kids who are part of the 4.2 million British children living below the poverty line – a figure widely accepted as conservative, given the impact Covid has had on Britain's poorest families. Some 17 percent of the country's pupils – 1.4 million – get free school meals, served when schools are fully open, which, in our virus lockdown, they're not.
#FreeSchoolMeals bag for 10 days:2 days jacket potato with beans8 single cheese sandwiches2 days carrots3 days apples2 days soreen3 days frubesSpare pasta & tomato. Will need mayo for pasta salad.Issued instead of £30 vouchers. I could do more with £30 to be honest. pic.twitter.com/87LGUTHXEu

— Roadside Mum 🐯 (@RoadsideMum) January 11, 2021
Hence the alternative supplies being distributed by catering firm Chartwells – part of the Compass Group, whose shareholders reportedly oversee £3 trillion in assets. The meagre food packs are designed to feed one child for a week, outside of term time. But what makes them really galling is the disparity between the taxpayer-funded gruel served up by Chartwells and the fine dining it offers fee-paying punters.
While the state-educated poor must survive on handouts of cheap bread, a handful of cheese slices, two carrots, a mini tin of baked beans, three apples, a serving of pasta, two small Soreen loaves, and three yoghurt tubes, as the Sun reported, Chartwells' sister company, Chartwells Independent, served £17,000-per annum Norwich School students with "a selection of canapés." Chelmsford's New Hall pupils, "ate coconut, lemongrass and banana leaf wrapped salmon" and students at Chigwell School, Essex were said to have "enjoyed bouillabaisse."
Not to be outdone by the Sun, the Daily Mail despatched a reporter to "see exactly how far a food budget of £15 could stretch... and whether their purchases could be transformed into healthy, child-friendly dishes."
The result?
"Here we reveal how £15 can create filling lunches to last for a week, including pasta with beef meatballs and an omelette, with fruit and snacks for dessert, shopping at Aldi and a local greengrocer," cooed Jo Tweedy.
The Mail could be dismissed for suggesting that plebs can and should be living on £3 a day, and not begging for "more" like so many Oliver Twists. However, while Prime Minister Boris Johnson has faced another dressing down from footballer and food activist, Marcus Rashford – and was forced to admit that the food parcel scandal was "appalling" and "an insult" – as the primary chef in my household, I know how easy it is to cook simple, low cost, delicious and nutritious meals, something the junk food, microwave and Deliveroo-addicted Brits equate with reaching the final of Bake Off.
To be fair to Chartwells, it's merely doing the Tory government's bidding while trying to make an honest buck. Where the company really screwed up, though, was over the optics of producing a food parcel that lacks any imagination while colluding with a British state that sees fit to feed its poorest children what amounts to prison food. Did no one in Chartwells' PR department, or heaven forfend, the government itself, stop to question the content of these food packs – from a semiotic if not gastronomic perspective?
Also on rt.com
UNICEF feeding our children is a humiliation that lays bare a broken system – is the UK a 3rd-world country now?
The Tories, and of course by extension, the bourgeoisie, have form going back centuries when it comes to weaponizing food, through economic torture, psyops or scorched earth policies.
Take milk, for example. In 1971, the then education secretary, Margaret Thatcher was dubbed "Thatcher, Thatcher the milk snatcher" by Fleet Street for introducing legislation to end 30 years of free school milk for seven to 11-year-olds. From 1940, shortly after rationing started in Britain, children and pregnant women were issued with free milk to deal with the malnutritional consequences of food shortages. But by the early '70s, with Britain in dire straits, the future PM argued that free milk had become too expensive, and the programme was abolished.
To recap on rationing, when it ended in 1954, gangsters such as Jack 'Spot' Comer and Billy Hill had made a mint from the black market racketeering it gave rise to. Thanks to the Brits' legendary sense of irony, the likes of Comer and Hill (who went on to mentor East End gangsters par excellence, the Kray twins) were parodied as classic 'spivs' or 'wideboys' in countless films and TV shows, such as The Ladykillers, The Belles of St Trinians, Dad's Army and Minder, rather than the out and out crooks and violent thugs they were in reality.
In the early days of rationing, only bacon, butter and sugar were under the cosh. But by 1942, many other foodstuffs, including meat, milk, cheese, eggs and cooking fat were also being controlled. With demand far outstripping supply, a black market naturally evolved. The penalties for breaking rationing rules could be severe, including hefty fines or jail.
Ration books were distributed across the social spectrum, which meant that even the royal family had them, providing a handy propaganda tool for encouraging the great unwashed to comply with the system. Given Boris Johnson's penchant for Churchillian rhetoric, I bet he'd love to sublimate the politics of WWII rationing in the minds of credulous Brits, so as to "rally the troops."
If he does, there's a banana skin waiting for him.
As rationing only applied to store bought goods, Britain's land-owning classes, with their vast capacity to grow, farm, fish and hunt to their hearts' content, literally lived off the fat of the land while lumpen proles got by on bread and dripping. The working classes thus forgave the spivs, shysters, gangsters and other light-fingered types their sins in return for a little extra meat and two veg – and for sticking two fingers up at the ruling elite. Consequently, the old school British gangster still holds a Robin Hood-type mythical status as opposed to being seen as, well, just another greedy psychopath.
However, the legacy of wartime food rationing isn't just romantic.
Having sustained 454,000 military and civilian casualties during WWII, Britain, in economic as well as human terms, was on its knees. Between 1948 and 1970 nearly half a million people left the former British West Indies as part of what we now call "the Windrush Generation" – trading their manpower and skills against a yawning gap in Britain's labour market. Once again, food here is a highly contested, and emotive issue, as those West Indians were part of a corporate colonial enterprise which was itself borne out of a transatlantic slave trade that saw 3.1 million Africans trafficked across the Atlantic Ocean between 1662 and 1807.
From a plantocracy that continues to generate obscene amounts of wealth from the trickle-down effects of its former slave owning 'interests' (which include, quelle surprise, significant involvement in the multi trillion dollar global food industry), to the genocidal Irish potato famine of 1845-1852, which resulted in the death of an estimated one million people, and another million forced out of Ireland as refugees, to the Scottish clearances of the 18th and 19th centuries, the British establishment has always made a dog's dinner of food and human rights.
Also on rt.com
Denying kids meals will be BoJo's legacy, but the solution for feeding the poor is community based – and that means proper funding
Today, as it prepares to put the livelihoods of over four million British food industry workers at risk by "ripping up EU labour market rules" – and having dispensed with tens of thousands of former unskilled EU and Eastern European workers – Britain is working on bringing in a new Windrush generation of agricultural workers from Caribbean countries experiencing yet another recession brought about by factors beyond their control.
Johnson can't rustle up a palatable answer to Britain's age-old contempt for food and its discontents by putting some ideas in a microwave. But he could inspire the nation by showing some leadership through policies that allay people's anxieties about increasing numbers of foodbanks, rising post-Brexit food costs and yes, free school meals, that fuels the hearts and minds of our poorest, as well as their bellies. For if an army marches on its stomach, a nation fights for its survival on it. And any nation that cannot or will not feed its most needy is one sorely in need of some guts.
Think your friends would be interested? Share this story!
The statements, views and opinions expressed in this column are solely those of the author and do not necessarily represent those of RT.
You can share this story on social media: