Personal social distancing alarms & 'no jab, no job' show that individual freedoms at work will be the next victims of Covid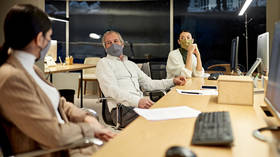 As employers lose faith in governments' attempts to deal with the pandemic, they are increasingly coming up with their own bizarre solutions that make morally dubious demands of workers and ignore basic human liberties.
Across Europe, the coronavirus lockdown screws continue to tighten but that is not enough for some power-crazed bosses, scared out of their wits by this damned bug, deciding to take matters into their own hands – no matter how much they trample over the liberty of others.
French employees of Essity, a maker of hand soaps, tissues and other sanitary products for the global market, have been asked to carry a device that sounds an alarm if they breach social distancing rules in the workplace.
The noise emitted by the alarm is a shrieking 85 decibels, like having a power lawnmower started up next to you, but employees at the Swedish-owned firm have been assured by bosses that the devices are for their own protection. Liberté, égalite… Aaaah! What's that damn noise?
Also on rt.com
Take the jab or lose your job: Medical journal calls for a MANDATORY Covid vaccine, says 'noncompliance should incur a penalty'
It is hard to fathom how the measure bears up against expert advice about noise in the workplace. Researchers have found that exposure over time to noise levels at 85 decibels or higher results in much greater risk of hearing loss. The recommendation would be that workers wear earplugs or earmuffs while on the job, but then they could well render the alarm inaudible. Safety first!
If the device sounds familiar, you are probably thinking of those cruel dog collars that deliver an electric shock to an animal to keep it from straying beyond a property line or barking incessantly. What next? House leads to keep us local?
While the union responsible for these workers could well see the idea binned before it is successfully rolled out, workers at a British plumbing company face having their individual freedoms ignored by new contracts that insist 'no jab no job'.
It's no surprise that this brainwave comes from the almost clinically tone deaf owner of the plumbing business, Charlie Mullins – a Rod Stewart super-fan who sports his idol's hair-do. He said last month that he would rather take another pandemic than go through Brexit, displaying a jaw-dropping disconnect from the reality that 85,000 people have now died from the killer virus in the UK. Just for the record, no one died from Brexit.
Also on rt.com
'Health passports' for air travel mean mandatory Covid-19 vaccines cloaked in the illusion of choice
Legal experts looking at his proposal to include a mandatory vaccination clause in his staff contracts suggest it could well lead to claims of discrimination or unfair dismissal under exisiting legislation, but no one yet knows as it's not been tried elsewhere. Most likely because it's overstepping the mark, morally if not legally, by a good distance.
Mandatory vaccinations by government decree are one thing, but mandatory vaccination by plumbing boss decree is quite something else. I fear this chap has gone round the U-bend.
When bonkers ideas like personal social distancing alarms and plumbers policing immunisation start to bubble up outside the realm of official public policy, one thing is clear: people are frightened.
And that's because they have lost faith in the way that the authorities are dealing with the coronavirus crisis and have decided to take matters into their own hands, without thinking of the consequences. Behaviour has gone haywire.
Until we have sight of life returning to anywhere near normal or at least a path out of lockdown that we can actually make sense of, then the loony ideas will continue to come thick and fast.
Gird your loins and grit your teeth, there's no end to them in sight. Yet.
Think your friends would be interested? Share this story!
The statements, views and opinions expressed in this column are solely those of the author and do not necessarily represent those of RT.
You can share this story on social media: