White charlatans faking Hispanic heritage are the vanguard of a new wave of cultural con artists cashing in on identity politics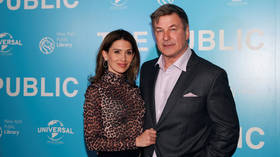 Celebrities, lawyers and academics have all recently been outed for allowing people to assume they are non-white as a cynical tactic to boost their status. These frauds are recklessly undermining racial equality for personal gain.
For better or worse, labels matter. Your race, gender, nationality, politics, all influence how society views you. Most of the focus is, quite rightly, on removing these barriers, to try to attain equality even if it's an impossible goal.
But there is now a creeping, sinister phenomenon of race-frauds. It began with people pretending to be black, but the growing trend appears to be erroneously playing the Hispanic card. On the surface, it looks no more than an ill-advised stunt; however, it's far more serious and has deep-lying consequences for us all.
Also on rt.com
The manufactured trans storm over Eddie Izzard's pronouns highlights the ignorance destroying young girls' lives
The most recent exposé involved Natasha Lycia Ora Bannan, a prominent human rights lawyer and former president of America's National Lawyers Guild. She had been trading on being Latina, claiming Puerto Rican and Colombian heritage. However, in reality, she was born in Georgia and had no link to either of those places. That didn't stop her becoming senior counsel at the LatinoJustice Puerto Rican Legal Defense & Education Fund. There's even a video of her on Voice Latina TV telling the world that she's a "cultural mix of Puerto Rican, Colombian, Italian, and some other."
Since then, Bannan has posted on Facebook to clarify…"I am racially white, and have always said that. However my cultural identity was formed as a result of my family, both chosen and chosen for me, and that has always been Latinx."
The term Latinx is the gender neutral version of Latino or Latina, but that's about the only part of her statement that borders on making sense. In 2016, she can be seen on Democracy Now! accepting condolences on behalf of the Puerto Rican community as 23 of the 49 victims of the Orlando nightclub massacre were from there. Then she was back on TV in 2018 speaking about the relief effort for the devastating hurricane in Puerto Rico, again giving the impression she was connected to there.
Another who's been caught in the act is Hilary Baldwin, who had been passing herself off as Hilaria.
She is married to actor Alec Baldwin who once said on David Letterman's late night chat show…"my wife is from Spain." There's excruciating footage of Hilary claiming to have forgotten the English word for cucumber on a cooking show and even a repulsive Instagram video where she asks her daughter (Carmen) to compare her white skin to Hilary's darker skin. This clip was from Martin Luther King Day 2019, as Carmen was off school and wondered why.
The image crumbled when it was revealed that Hilary was born in Boston and her parents were also born in the US – she cleverly spoke of coming to New York aged 19, but didn't mention it was only from 190 miles away. Her references to her family back in Spain were in fact really an exaggeration, her parents simply retired to Majorca in 2011. The Spanish accent that she used on TV was flagged up by old schoolmates who said Hilary never spoke like that – one wrote online: "Genuinely lovely person, I recall, but fully a white girl from Cambridge." Since the scandal, toy maker American Girl and clothing label Cuties Baby Care have ended partnerships with Hilary.
Kelly Kean Sharp has also been outed and had to resign from her role as assistant professor of African American studies at Furman University in South Carolina. She came from Encinitas near San Diego and is white, but had been identifying as "Chicana" – an American woman of Mexican descent.
A spokesman for Furman said: "We expect members of our community to be honest in the way they represent themselves to others."
Wisconsin University was also caught up in this racial skullduggery, as one of their staff had to resign. CV Vitolo-Haddad is non-binary and was a teaching assistant, who let colleagues think they were black or Latino. They admitted: "I have let people make assumptions when I should have corrected them."
Worryingly, Vitolo-Haddad was a PhD candidate at the university's school of Journalism and Mass Communication and could have gone on to become an influential voice in that sector.
And that's the motivation for all these frauds. They are pulling off a daring and seemingly illogical move, that is in fact deeply cynical and calculated. Generally, no one would question an individual claiming to be in a minority, as in Western nations that often means being part of a lower socio-economic bracket. In the same way turkeys don't vote for Christmas, it seems perverse for anyone to wish to place themselves in a position where their opportunities would be limited due to societal barriers. The flip-side is white privilege, that anyone who is white doesn't have to smash through a series of glass ceilings to progress. So why force yourself to face a myriad of problems unnecessarily?
These charlatans have deduced that being the 'right' sort of oppressed minority can actually give you a boost. So if you want to be a campaigning lawyer and be invited onto boards or panels, then it's better not to be seen as white. The same if you're a celebrity, there's so many white people on social media trying to gain a bigger audience and lucrative endorsements, so if you can be viewed as something else then you have less competition. They are also relying on the integrity and sense of fairness that most of the population want to see offered to everyone. So the good-minded folks don't question a person's race, they accept it and allow them to benefit from the help that should be reserved for those who genuinely need it.
Also on rt.com
No sex please, we're locked down: Plunging global birth rate shows long-term effects of Covid on society will be DEVASTATING
All of the women mentioned here who have been caught are betraying the legacy of the entire Latin/Hispanic community, who have suffered discrimination in America via the white-dominated system. But now they find out four of their representatives who were supposedly ploughing the furrow of enlightenment, are actually barefaced liars. Their actions to fatten their wallets, increase their Instagram followers and inflate their professional profile is killing the momentum that will deliver genuine equality. It will now lead to question marks and the cancel culture threat to anyone who now says they are Latin or Hispanic, but looks a little bit too white.
It's simply horrendous and should not be dismissed as a prank; this type of behaviour damages everyone. Nothing about this leaves anything but a bitter aftertaste. Those who have lived without prejudice are using it as an evil currency to boost their own status on the back of other people's genuine suffering.
Subscribe to RT newsletter to get stories the mainstream media won't tell you.
The statements, views and opinions expressed in this column are solely those of the author and do not necessarily represent those of RT.
You can share this story on social media: