Trump's last-ditch attempt to intimidate China by app ban is a sign of weakness rather than a show of strength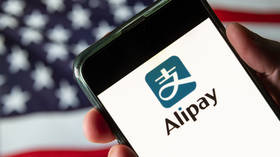 Donald Trump's administration has continued its assault on Beijing with a new ban on eight Chinese apps. But it's an illogical move that smacks of desperation and seems destined to fail.
There are now just two weeks left of the Trump administration, but is it done on its China policy? Not yet. On Tuesday evening, the White House announced a new executive order banning eight Chinese apps, including, most prominently, the popular digital payment service Alipay.
The order suggested the apps represent a threat to US national security and claimed they were giving the personal data of Americans to the Chinese Communist Party, despite the fact the apps are hardly used in the US at all.
The move mirrors Trump's previous, and failed, attempts to ban WeChat and popular video sharing app TikTok last year, both of which were undermined by legal challenges that successfully argued the move constituted an abuse of executive power and freedom of speech.
This makes the timing of the latest maneuver bizarre, not least because the media reports the president has given the Commerce Department 45 days to implement it, when it leaves office in 14. And it comes only a day after the New York Stock Exchange refused to comply with a demand to delist three major Chinese telecommunications firms which had been blacklisted by the White House.
Also on rt.com
Trump turns up the heat on Beijing banning Alipay & seven other Chinese apps
As a result, this latest executive order seems random, impulsive and pointless. Its strategic intent is as seemingly weak as the logic behind it, and the odds are that it won't succeed. It resembles a last throw of the dice by an administration desperate to enact a tough legacy on China, but seemingly losing that fight.
While Alipay is meaningless in America, it is an essential part of economic life in China and so – as with the attempt to delist stocks – major businesses will probably resist it, and Biden isn't likely to follow through.
Alipay is by far the most significant of the apps on the list. This digital payment system, as well as its rival WePay – also being targeted by this order – has engineered a cashless revolution in China that is unparalleled anywhere else in the world. A user connects it to their personal bank account and is able to digitally withdraw funds on it, which can then be spent almost anywhere via the simple scanning of a barcode. Never has retail been so convenient and straightforward in China.
So why is Trump targeting it? In the US, Alipay is used only by a few select high-profile retailers that seek to court Chinese tourists. So, the claim that Americans' data could be exposed to the Communist Party is nonsense and groundless. Targeting China in this manner is lazy, and thanks to the uncritical parroting of the mainstream media, is taken far more seriously than it deserves. Alipay is obviously not a threat to US national security.
Also on rt.com
The US' fury over the China-Europe investment deal shows how rattled & isolated they are. It's clear who's been 2020's big winner
Instead, the move, like so many others from the Trump administration, is symbolic and serves as another attempt to cement a tough legacy on China. However, it is pushing against a tide, as the New York Stock Exchange's U-turn demonstrated.
American investors, and Wall Street in particular, are anxious that moves to invest in Chinese firms will hurt them more than they ultimately hurt China. With over 200 Chinese firms listed on the New York Stock Exchange, the consequences of an effort to remove them will be wholly damaging to US inbound investment and competitiveness, resulting in American exchanges losing out to both Hong Kong and Shanghai.
Thus, the attempt to ban Alipay is a swift distraction from this news and an attempt to stop their narrative falling apart. It's short-termist thinking which lacks a coherent purpose, as the ban isn't likely to succeed in practice.
Firstly, the timescale which the administration has to implement it is limited. The Biden administration is set to cancel all unfinished Trump executive orders on its first day, which means if this ban is not fully operational before January 20, it's automatically annulled.
Also on rt.com
War on Chinese tech is a way for the US to continue spying on YOU and the rest of the world unchallenged
But even if it was to be rushed through in just two weeks, it would inevitably face immediate legal challenges – just like what happened TikTok and WeChat – with the argument put forward that the move is unconstitutional and without evidence. Legal precedent is on Alipay's side.
Similarly, the Biden administration would be unlikely to challenge such a ruling. Big businesses are likely to lobby against such a ban, given the app is essential to continuing their day-to-day activities in China itself.
Given this, the odds are stacked against the current White House that this ban will achieve anything. But then perhaps it's not supposed to. At best, this is a last-minute publicity stunt – all style and no substance.
This pointless assault on Alipay is just another attempt by Trump to isolate China based on a fundamental inability to come to terms with the realism that the country is an economic and business giant. This, more than anything, is why his administration is finishing up by clutching at straws in such a sorry manner.
Think your friends would be interested? Share this story!
The statements, views and opinions expressed in this column are solely those of the author and do not necessarily represent those of RT.
You can share this story on social media: