Has China's Jack Ma really gone 'missing,' or is Beijing simply showing the iconic billionaire who's boss?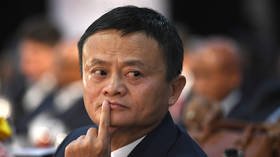 The need to crackdown on the power and influence of Big Tech is not just a concern for the West. This episode with the Alibaba founder cannot be portrayed as the Communist Party just wielding its power for power's sake.
The mainstream media are claiming that Chinese e-commerce tycoon Jack Ma, one of the country's richest men and famous for the online retail outlet Alibaba, is "missing" or, in less sensational terms, he hasn't been seen in public for a number of months now.
Things haven't been going too well for the billionaire lately. Late last year, Chinese regulators pulled the plug on his planned initial public offering for Ant Financial, the company which oversees the popular payment app "Alipay."
Soon after, they proceeded to open up an antitrust investigation into his business, accusing it of "monopolistic practices, such as restricting vendors from selling merchandise on other platforms" – not dissimilar to how 'Big Tech' companies such as Amazon and Facebook have been criticized in the US.
Of course, coverage wise, the comparison ends there. The mainstream media have been quick to orchestrate the narrative that the apparent "downfall" or "lying low" of Ma is inherently political and authoritarian in nature, with China's system hitting back at him for becoming "too big for his boots." CNN highlighted the fact that, weeks before the saga began in October, he criticized Chinese regulators.
Also on rt.com
Jack Ma loses nearly $11 billion as China tightens scrutiny on his business empire
Even if we weave through the media hysteria and the ideological contrasts, it seems pretty clear that to some extent, China is "cracking down on Big Tech." However, the overemphasis on the vices of China's system seem to cloud people's judgement as to whether this is a good thing or not.
Ma is arguably China's most iconic billionaire, and he's also a cultural ambassador for the country around the world. On a personal level, he's not finished, nor are his businesses, but he is definitely being shown who is boss. Critics will insist Beijing's power overreaches and this is all about the party, but arguably Big Tech monopolies are something that need to be tamed everywhere – and few would disagree with this process if it was being done in America.
In China, e-commerce and Big Tech is far more entrenched in everyday life than in the West. We may marvel at the likes of Amazon and such, but in Beijing it goes so much further. Digital payments are in fact the norm in this country through popular applications such as Alipay (linked to Ma) and WeChat Pay. Didi Chuxing far outweighs Uber for its popularity, food delivery apps such as Meituan are booming, whilst Taobao, TMall, JD and, of course, Alibaba, are the e-commerce options. It is a booming and thriving tech market which many Western countries do not even have anything close to matching (especially in the UK). But what happens, of course, if one of these organizations becomes too big, too influential and too much of a political liability?
Also on rt.com
America's fantasy that China will soon collapse like the Soviet Union did is based on arrogance and ideology, not facts and reason
Of course, the obvious answer many will give you is that nothing can challenge the authority of the Communist Party, but drawing focus towards China's political culture overlooks the fact that this is not really an authoritarianism-v-democracy problem.
All throughout the West, political struggles are emerging between regulators and increasingly powerful Big Tech monopolies. The European Union for one is tightening the screws on a number of firms, including Google and Amazon. Whilst in the United States, how many times has Mark Zuckerberg been summoned to Congress, or been the target of never-ending controversies owing to a host of issues including monopoly practices, unfair treatment of competitors, misinformation on social media, perceived bias, etc.?
Given this, in China Jack Ma has been an extraordinarily successful man. However, it might be said that he is far too dominant. The Ant Financial IPO was set to be the largest in history. Its valuation was measured in the trillions, bigger even than the economy of the United Kingdom.
Had that been left to go ahead, this would have meant that one single company would gain disproportionate control over China's entire payments and personal loans system, and wouldn't have any competitors. That wouldn't just be a problem for China's Communist Party, that would arguably be a problem for any government in the world. In fact, the situation seems strikingly similar to the downfall of Facebook's Libra currency experiment. Why did it fail? The coverage talked about Facebook controlling everyone's financial data, becoming a haven for tax evasion, and seemingly having more power than governments themselves.
Also on rt.com
War on Chinese tech is a way for the US to continue spying on YOU and the rest of the world unchallenged
In this case, China or no China, should Big Tech companies wield disproportionate political power? The answer is no, and that isn't just a consensus in Beijing – it's increasingly the consensus in Washington and Brussels, too. Of course, while China's system is more heavy-handed and uncompromising in what it can potentially do to these companies, is anyone seriously going to argue this is a bad thing?
The zero-sum narrative focusing on "power" in China's ruling party makes it easy to overlook the fact that the state can and does often make decisions in the public interest, and that ultimately while China has embraced market reform and economic liberalization, it is officially still a "socialist market economy," and not a "capitalist" society in the full sense of the world. Ma's achievements are incredible, but they are not beyond the realm of public interest and accountable to nobody.
Ultimately, if Mark Zuckerberg was brought to kneel by US regulators in the way Jack Ma has been, it would be celebrated. China's government is showing Ma who is boss, and that's precisely the way Big Tech companies ought to be managed.
Like this story? Share it with a friend!
The statements, views and opinions expressed in this column are solely those of the author and do not necessarily represent those of RT.
You can share this story on social media: