Watch for flip-flops: Biden might inadvertently expose that Canada's foreign policy on Venezuela is subservient to US'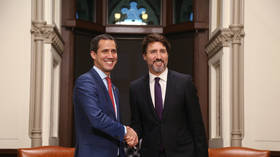 Joe Biden's election win may mean a shift in the current, hardline approach by the US designed to force regime change in Caracas. But will Canada do an embarrassing about-face on the Maduro government to follow suit?
Given the brutal impact of sanctions that the Trump administration has been imposing on it over the last few years, Venezuela is without doubt among the countries anxious to see what a Biden presidency will mean for their fortunes.
On the campaign trail, Biden took to Twitter on several occasions to condemn Venezuela's government and President Nicolas Maduro, attempting to position himself as even more inimical to the Venezuelan leader than Trump.
Trump talks tough on Venezuela, but admires thugs and dictators like Nicolas Maduro. As President, I will stand with the Venezuelan people and for democracy. https://t.co/eUt28UxyXS

— Joe Biden (@JoeBiden) June 22, 2020
However, there are signs that a Biden presidency could take a different approach, according to new reports suggesting his administration may look to reach out to Caracas in order to negotiate measures that could ease the economic stranglehold that the US has on the Latin American country. Biden is also said to be ghosting Juan Guaido, the opposition leader who the Trump administration has been attempting to install as Venezuelan head, one way or another, for close to two years.
Canada was among the first 10 nations to follow Washington's recognition of Guaido as Venezuela's president on January 23, 2019, though Ottawa had been actively engaged in the plot for months prior to that, according to the Canadian Press. Ottawa also followed suit on sanctions, imposing economic measures on Venezuelan political leaders, all the while playing a leading role in the Lima Group, especially since Peru has become mired in political turmoil itself.
The Canadian government even invited Guaido to Canada to meet with Prime Minister Justin Trudeau, who expressed his support for a "Venezuelan-led transition."
Canada stands with the people of Venezuela as they pursue free & fair elections and human rights. In our meeting today, I commended Interim President @jguaido for the leadership he's shown in his efforts to return democracy to Venezuela & offered him our continued support. pic.twitter.com/UPH4Kd2xXG

— Justin Trudeau (@JustinTrudeau) January 28, 2020
While no such transition has taken place in Venezuela, the impending one in Canada's southern neighbor is poised to also have significant implications for Trudeau's government and the policies they have been pursuing in Venezuela and elsewhere.
Biden may very well continue his barbed rhetoric against Maduro, and there is little reason to think that the US will drop the idea to undermine the Bolivarian process as it has for the last 20 years. However, any negotiations with Venezuela's actual government would imply a recognition of Maduro and spell the end of Guaido's 'administration', especially given he no longer holds a legislative post after his boycott of National Assembly elections.
If Biden does as these reports suggest, Canada's government will find it difficult to not walk back their support for Guaido.
But this isn't the only potential embarrassment that awaits Trudeau with the advent of a new commander-in-chief in the US.
Earlier in December, it was reported that US prosecutors were negotiating with Chinese authorities on resolving charges levied against Huawei's chief financial officer, Meng Wanzhou. These talks apparently intensified after the presidential election in America and could see the Chinese executive return home after more than two years under house arrest in Canada awaiting extradition.
Also on rt.com
Biden ignores calls from Venezuela's self-styled president Guaido, eyes talks with Maduro – reports
Again, any agreement between Washington and Beijing would put Ottawa in the awkward position of allowing Meng to return to China, which would also potentially mean two Canadians currently imprisoned in China might return to Canada.
There will be some attempts to save face, but many will see these events as acknowledgement of what Trudeau's government has repeatedly tried to deny – that Meng's detention and extradition process was not merely a legal matter, but a political one carried out at the behest of the United States.
Increasingly, successive governments in Ottawa have obediently played a role in furthering US foreign policy objectives, with Canada positioning itself as a more benign actor. As former Foreign Minister and now Deputy Prime Minister Chrystia Freeland put it in her letter to Canada's Senate regarding sanctions on Venezuela, "our hemispheric partners are looking to Canada to take the lead given our unique profile as an honest broker without any legacy of interventionist policies."
Most people in Canada don't want to think of their government as acting in this way, and no leader, least of all Trudeau, is keen on admitting that Canada's foreign policy is closely aligned, if not subservient to, that of Washington's, even if Ottawa has its own interests.
Ironically, it may well be Joe Biden who unwittingly sets in motion this series of events that will clearly illustrate this fact to the Canadian public.
Think your friends would be interested? Share this story!
The statements, views and opinions expressed in this column are solely those of the author and do not necessarily represent those of RT.
You can share this story on social media: