Teachers should be at the front of the queue for Covid vaccine… if UK schools shut again it will be a national disgrace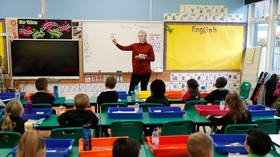 With 40 million doses of the Pfizer vaccine in Britain and half a million teachers, giving them a jab now would cut the risk of further disruption to kids' education – even if it means they take priority over 'vulnerable' people.
It may be uplifting to see beloved British octogenarians receiving the first of the Covid-19 vaccine jabs, but surely immunising teachers and school children would be far more effective in drastically cutting infection rates across the country?
If we can just get to grips with containing the spread of the virus among these inarguably high-contact individuals, then maybe we can avoid the worst-case scenario of schools failing to reopen before the official nationwide restart on January 11.
Noises from the government, including Home Secretary Priti Patel today, are failing to reassure parents that schools will open on time after Christmas. January could be a complete washout.
That, I'm afraid, is not acceptable. We have seen this coming for weeks. How can it be that mass testing in schools is still only something we are talking about, without having implemented it already? Now, introducing a testing regime will have to wait until schools return. If they return. It is a disgrace.
Of course, it is right that we prioritise those in vulnerable groups to receive the vaccine first. But the most recent evidence seems to suggest that children are not as bulletproof as we first thought, so maybe we should reassess those we currently consider high-priority.
Children may be more susceptible to this damned nuisance mutant variant of coronavirus, according to government advisor Professor Neil Ferguson, an epidemiologist at Imperial College London. But the vaccine currently in use should still work.
Rather than wait and test this idea on our children, like guinea pigs, let's move now. We should redirect that proportion of the 40 million doses currently slated for those in the bottom three high-priority groups – 50, 55 and 60-year-olds and over – towards the 550,000 teachers and as many of the 10 million full and part-time school pupils we can reach across the UK as soon as possible.
As one of those designated high priority – over 55 – I don't mind stepping aside to allow a harried teacher to jump the queue, particularly if it means my kids can return to school safely.
Keep testing all those in the high-risk groups by all means, and vaccinate when needed. But let's share the 40 million Pfizer/BioNTech doses around with a bit more thought to avoid a repeat of the last three months.
Kids may have been back at school since September, but it's been chaos ever since. Almost daily, an email pings in from the school head teacher advising of yet another Covid-19 infection, and that if our children show any symptoms then they must be kept at home. That's if they haven't already been given their marching orders.
Also on rt.com
No reason to worry? WHO says new Covid-19 strain found in UK is no deadlier & only slightly more infectious than others
And that is happening across the country. Teachers, teaching assistants and those who are in close contact with them – let's call them pupils – can have the plug pulled at a moment's notice on their stop-start education, and they are sent home for 10 days. No arguments.
Parents still recovering from the strain of extended home-schooling while trying to work from home – if indeed they still have a job – have Zoom calls cancelled and routines blown out of the water as the quarantine clock ticks down and they wait for their kids to shrug off an attack of the sniffles.
So potentially you have the teacher and maybe support staff off school, any number of pupils and, if symptoms do appear, their families, work colleagues and so on as the virus does what viruses do.
Once the quarantine period has passed, it is back to school. But for a teacher with a class of 30 pupils, it can be just a few days before they go into the whole cycle yet again, when another of their charges starts to feel unwell. This is not teaching. This is torture.
So let's vaccinate the UK's half a million teachers as a national priority, if possible before the school gates open again at the start of January, and show a little forward planning, a bit of urgency, so short in supply over the last year. Remember all those COBRA meetings that Boris Johnson chose to skip? They were all about preparing for the unthinkable. And look where we find ourselves.
If we start to vaccinate our teachers and school children now, as a matter of urgency, then school will start on time and we can forget what the National Education Union says about moving lessons online for a fortnight. That must be avoided at all costs. Because despite the image the union might wish to conjure up of diligent students applying themselves to maths and history lessons via online video, this is not a shared experience for most parents.
To call for a fortnight's delay before schools reopen is to admit defeat and would send the wrong message to disenchanted teachers, primary school children and secondary students already facing tremendous setbacks to their education by having the 2020/21 school calendars shredded like poor homework.
So let's get rolling. Now!
Think your friends would be interested? Share this story!
The statements, views and opinions expressed in this column are solely those of the author and do not necessarily represent those of RT.
You can share this story on social media: