Charlie Hebdo attack accomplices trial finds all 14 guilty, but France is a long way off solving its Islamist terrorism problem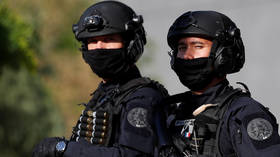 The accessories to the gunmen who killed 17 people over two days in 2015 were all found guilty, but far from drawing a line under the problem of French Islamic fundamentalism, the trial revealed how deeply the virus is embedded.
Having left a trail of carnage in their wake, the three Islamist terrorists who slaughtered 12 people in the Paris offices of satirical magazine Charlie Hebdo, then a policewoman in the street and four more at the Hyper Cacher kosher supermarket in separate attacks over two days, issued a chilling demand to their accomplices as they sought to evade capture: Promise us you will never confess.
By honouring that pledge, 14 associates of murderous brothers Said and Cherif Kouachi and Amedy Coulibaly have today been found guilty of assisting in those murders that shook France to the core on January 7, 2015, and which signalled the beginning of a series of atrocities that have left hundreds dead in the years since.
Also on rt.com
14 convicted over Charlie Hebdo & Paris terrorist attacks in 2015, key suspect sentenced to 30 years in prison
The gunmen were on the loose for nearly three days before French police killed the trio in almost simultaneous raids on the evening of January 9.
In the days and weeks that followed, investigators picked up their associates, determined that justice must be seen to be done. Now, with the guilty verdicts handed down, the French people will be hoping, as a Charlie Hebdo editorial puts it, that "The cycle of violence, which began almost six years ago at the premises of Charlie Hebdo, will have finally closed."
The blood-chilling thought is that among those facing trial – three people were tried in absentia – are two accomplices thought to have planned to join Coulibaly in an armed assault on a Jewish primary school in the Montrouge district of the French capital, which would have resulted in a massacre of unspeakable horror.
Prosecutors believe that attack was called off after the killers became caught up in busy Paris traffic. When his two accomplices failed to show, Coulibaly was left to attack the Hyper Cacher supermarket alone, armed with his own gun and the extra ones he had brought for his helpers. Those two accomplices have never been identified.
Of the 14 on trial, three suspects missing from court are said to have fled to Syria – one of them being Coulibaly's girlfriend Hayat Boumeddiene – where two are believed to have died.
Identity has been key to this three-month stop-start trial, which was both delayed and prolonged after key defendant Ali Riza Polat contracted Covid-19. The evil radicals convicted of providing weapons and logistical support to the killers tried to convince the court that, far from being radical Islamists, they were simple, middling gangsters unwittingly caught up in the mayhem.
Polat admitted that he had pursued a life of crime since his early teenage years but insisted his involvement in petty crime and "scams" had nothing to do with terrorism. Charlie Hebdo observed Polat had tried to pass himself off "as a brave guy lost in a case too big for him and … presented his conversion to Islam as a whim." Two of Polat's co-accused had spent time in prison alongside Coulibaly, but they denied anything to do with the attacks or allegations of being radicalised.
They fooled no one.
Also on rt.com
French effort to tackle 'radical Islamism' is doomed if SPINELESS Macron no longer dares to mention it by name in new law
However, in their efforts to convince the judge by distancing himself from terrorism, Polat and his fellow extremists shone a light on why the battle against radical Islamism in France is proving so difficult to win.
There is no doubt that these killers and their accomplices were in thrall to the twisted ideology that insists they are in the midst of a war on secular French society – the enemy of Islam – but they are not finding indoctrination in their local mosques or Muslim community centres. They are turning to radical jihad after meeting like-minded, marginalised, disaffected fellow French immigrants among their own relatives, in low-level criminal gangs or in the prison yards in which they all too often find themselves.
That's why President Emmanuel Macron's attempts to combat what he sees as Islamic separatism – which he believes gives rise to radicalism – by focusing on foreign funding of French mosques, insisting on signed declarations promising adherence to the "values of the Republic," and putting the squeeze on home-schooling will prove ultimately futile in this ongoing battle against radical Islamism. He's looking for solutions in the wrong places.
In welcoming the end of the trial, Charlie Hebdo's editors lauded a win for freedom of speech, pointing out that despite the murder of its celebrated supporters, the employees of the magazine, in their own offices, "you do not kill an idea."
Unfortunately for those fighting extremism, that is all too true.
Think your friends would be interested? Share this story!
The statements, views and opinions expressed in this column are solely those of the author and do not necessarily represent those of RT.
You can share this story on social media: