Trump would LOVE to spite US Deep State by pardoning Snowden… and that's why it might just happen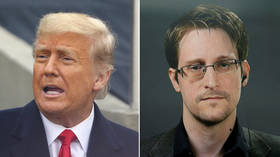 Whistleblower Edward Snowden has been exiled from America since 2013. But there's growing speculation that Donald Trump might pardon him in a provocative move that would be guaranteed to appal the US establishment.
The president stripped an American of their citizenship for standing against human rights abuses. He childishly cancelled a meeting with the world leader who offered the stateless individual refuge. And as his stay in the White House came to an end, he lied about the reason he was unable to offer a pardon to the former American.
Sounds like classic Donald Trump, right? Wrong. It was actually Barack Obama, and the owner of the cancelled passport is Edward Snowden.
But in Washington, there's now a growing feeling that Trump might have one joker left to play before the end of his presidency.
In 2014, he labelled Snowden "a traitor," "a disgrace," and "a coward," and said, "make no mistake, he is no hero."
So, offering Snowden a pardon would be a serious U-turn, but Trump consistently adopts a contradictory scattergun approach. On that, he is the real deal.
Snowden has been in Russia since June 2013, and he has been granted permanent residency there. He was en route to Latin America, but was unable to board the connecting flight out of Moscow because his US passport had been cancelled.
Progressive, liberal Obama authorised the cancellation, knowingly leaving the whistleblower in limbo in a foreign country. In a recreation of the movie 'The Terminal', Snowden spent 39 days living at Moscow's Sheremetyevo International Airport before the Russian government gave him temporary asylum.
Obama was incensed by Vladimir Putin's decision and cancelled a scheduled meeting between the leaders. And before he passed the baton on to Trump, he was encouraged to grant Snowden a pardon. But he refused, explaining, "I can't pardon somebody who hasn't gone before a court and presented themselves, so that's not something that I would comment on at this point."
Either he was lying, or he was misinformed. Because as the US Supreme Court case Ex parte Garland (1866) states, "The power of pardon conferred by the Constitution upon the President is unlimited except in cases of impeachment. It extends to every offence known to the law, and may be exercised at any time after its commission, either before legal proceedings are taken or during their pendency, or after conviction and judgment."
Also on rt.com
'CNN badly misreported this': Edward Snowden debunks news story reporting he 'agreed' to give money from his book to US government
Now, four years on, Trump is in the same position as Obama, but looks like he may well do it. It would be incredibly naive to think that the Republican demi-god is motivated by humanitarian reasons. He isn't that type of person. But he is the type of politician who thrives on disruption.
Trump knows what many people think of him. So, it would be a real poke in the eye to his detractors if he showed clemency for a libertarian hero, after Obama threw him to the wolves. And then there is Joe Biden to consider.
He has ridden high on his stint as Obama's vice president, and was indebted to his old boss for coming out to speak in his favour ahead of last month's election. So there would be real satisfaction in giving Snowden a pardon, as Biden has in the past dissuaded other governments from offering him asylum.
Trump would be able to give both of the big-hearted and caring Democrats red faces, by doing something they didn't and don't have the chutzpah to.
The other half of the trade would allow Trump to settle scores with the Deep State. That's the CIA, FBI, NSA, and the other government agencies that endure while the commander-in-chief changes. Trump is no fan of the Deep State, and accused it of delaying the Covid-19 vaccine in order to damage his re-election bid.
He went a step further in the controversy around his impeachment, as he compared America to Hitler's Germany, tweeting that "intelligence agencies should never have allowed this fake news to 'leak' into the public. One last shot at me. Are we living in Nazi Germany?"
This Deep State mistrust stems back to his election win in 2016, when Trump became convinced the FBI had planted fake evidence of Russian collusion to discredit him. The president accused it of placing spies in his campaign.
And if the Deep State has someone it hates, it's Snowden. He was once part of it, and became aghast at the wilful abuse of surveillance and how the data of American people was being harvested. Snowden's disclosures ignited a discussion about national security and privacy which still rages to this day.
His actions did irrefutable damage to the government agencies involved. They will never forgive him and would relish seeing him spend the rest of his life in Russian exile. But Trump could give them a vengeful sucker punch.
It would be extremely hard for the spooks and spymasters to stomach seeing the man who uncovered their top-secret transgressions swagger back onto American soil as a free man, where he would be feted by many as a hero.
That's borne out by Susan Rice, whose background includes spells at the National Security Council, foreign policy think tank the Brookings Institution, and as United Nations ambassador for the US. She's cemented in the establishment and has repeatedly voiced her opposition to a Snowden pardon.
Joining her is the House Republican Conference chair, Liz Cheney. Born into the elite, her dad is Dick, regarded as the most powerful ever VP. Liz held roles in George W. Bush's administration and co-founded Keep America Safe, an organisation concerned with national security. She made her feelings clear when she tweeted, "Edward Snowden is a traitor ... Pardoning him would be unconscionable."
What both don't seem to understand is that their objections will only spur Trump on. He wants to teach them a lesson.
Plus it's almost comical that Trump's final act would be one of Bernie Sanders' polices, as the left-wing veteran is a staunch Snowden backer. Who would have predicted those two would end up as bedfellows?
And the devilish sting is, Trump could take it a stage further and really make himself a hero to many in a way Obama never did. What if he was to take Snowden's advice? The whistleblower recently tweeted: "Mr. President, if you grant only one act of clemency during your time in office, please: free Julian Assange. You alone can save his life."
With rumours escalating that this might be on the cards, too, that really would be a box-office way to bow out.
Think your friends would be interested? Share this story!
The statements, views and opinions expressed in this column are solely those of the author and do not necessarily represent those of RT.
You can share this story on social media: