UK boast of winning 'race' to greenlight Covid-19 vaccine jeopardises pandemic strategy if public is put off by world-first claims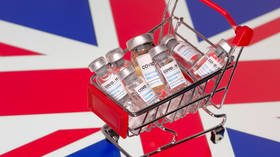 Unable to control themselves, UK politicians are bragging about approving a coronavirus vaccine in record time, but experts elsewhere remind us the tough job of convincing 85 percent of the population to take it is far from done
It is hard to determine exactly at what point the hardworking scientists from Pfizer, BioNtech, AstraZeneca, Moderna and Oxford University found themselves in a 'race' to find a vaccine, but that is the narrative we've been asked to adopt by politicians since the Covid-19 virus seized the world in a chokehold.
What's missing is an understanding that the vaccine battle is one fought on two fronts: first, finding a vaccine that will do the job, and, second, convincing everyone to take it. Having cracked the first problem, the second suddenly seems like a mountain to climb.
Also on rt.com
'World-beating jingoism': Gavin Williamson sparks Twitter fury by calling UK 'much better' than US & EU due to Pfizer jab approval
Hugely respected US immunologist Dr. Anthony Fauci has joined the EU in suggesting that the speed with which Britain won approval from the Medical and Healthcare Products Regulatory Agency for the Pfizer/BioNtech vaccine may deter people from taking up the offer of immunisation.
"If you go quickly and you do it superficially, people are not going to want to get vaccinated," was how he put it. That would be a disaster.
All along, the narrative around the hunt for a silver bullet has been that this is all some sort of race. Only, within that narrative, the winners and losers are not the virus and its vaccine, but politicians from nations who see themselves in a competition to be the first to claim bragging rights.
It may be a race in one sense, against the virus itself, and it's spread through the population. But scientists working day and night on a solution that requires expertise in biology and virology of a level few around the world share should not find themselves unwittingly taking part into a competition between nations. It's not an Olympic event. It's science.
But that's not how British politicians see it. They've been unleashed to strut their stuff on the television and brag on Twitter, proclaiming a UK 'first' in the 'race'.
Also on rt.com
'The day UK led humanity's charge against Covid': Tory MP Sharma mocked for over-the-top cheer as London approves foreign vaccine
Bojo kicked it off by announcing the "biological jiu jitsu" of the vaccine meant we'd be over the virus by spring.
Education Secretary Gavin Williamson said, "We've obviously got the best medical regulator, much better than the French have, much better than the Belgians have, much better than the Americans have... we're a much better country than every single one of them."
Senior MP Jacob Rees-Mogg told the Parliament, "The UK should be really proud that our regulator got in first. And we notice that the European regulator is a bit sniffy about it, wishes we hadn't done it, and that Germany and France and other European countries haven't managed to do the same thing."
Business Secretary Alok Sharma came over all misty-eyed, claiming, "In years to come, we will remember this moment as the day the UK led humanity's charge against this disease."
The UK was the first country to sign a deal with Pfizer/BioNTech - now we will be the first to deploy their vaccineTo everyone involved in this breakthrough: thank youIn years to come, we will remember this moment as the day the UK led humanity's charge against this disease

— Alok Sharma (@AlokSharma_RDG) December 2, 2020
But, beating them all for jingoism, is Health Secretary Matt Hancock, who says he will have the vaccine jab live on TV.
Germany's ambassador to the UK wasn't impressed, tweeting, "Why is it so difficult to recognise this important step forward as a great international effort and success?" Who knows, Mr Ambassador, but these chumps are our leaders!
Why is it so difficult to recognize this important step forward as a great international effort and success. I really don't think this is a national story. In spite of the German company BioNTech having made a crucial contribution this is European and transatlantic. https://t.co/SE4XDG4P0o

— Andreas Michaelis (@GermanAmbUK) December 2, 2020
The European Union, which is looking for a fully co-ordinated rollout itself, is taking a guarded view, not of the vaccine but of the haste with which it has been approved in the UK.
Maybe they're right. If we take just one country, and remember, this virus began in a single location, then we should heed Dr Fauci's warnings on uptake. To stop the pandemic, he believes three out of every four people would need to take the vaccine. He'd be happier if that figure was 85 per cent.
A Gallup poll released in the United States last month had that figure at just 58 per cent.
For my part, I'll take the vaccine at the first opportunity I have, but I understand not everyone agrees. Getting people to change their minds is the hard part. If our leaders don't manage that then we have a big problem.
Maybe that's what they should have been focusing on all this time. Not lockdowns and traffic light systems or finding creative ways to empty the Treasury coffers, but a simple unambiguous campaign to reassure everyone that when a vaccine was unearthed, it would be in their best interests to sign up for a jab and encourage everyone they know to do likewise. It could save their life.
Also on rt.com
UK wants to use literal army to fight 'anti-vaccine propaganda' online. Are we in a budding totalitarian state?
Instead, we've had to endure this parade of chest-beating politicians trumpeting victory, and demonstrating a jaw-dropping lack of awareness about how the public sees them. They're selling triumphalism when they should be building trust around the case for a large-scale vaccination programme, maybe even in consultation with top experts from other nations. Who knows? It might even work.
Somehow, it seems they're going about this backwards. And the tragic price the rest of us will pay will be in yet more avoidable deaths.
Like this story? Share it with a friend!
The statements, views and opinions expressed in this column are solely those of the author and do not necessarily represent those of RT.
You can share this story on social media: