China's image of an Aussie soldier slitting a child's throat was BRUTAL, but why shouldn't Beijing highlight Western war crimes?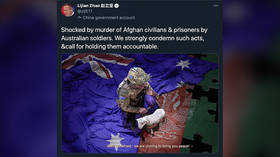 Australia has reacted with fury to a tweet from a Chinese official depicting a child being murdered by a soldier in Afghanistan. Highlighting the West's atrocities is, it seems, still considered unacceptable.
China and Australia continue to be at loggerheads. Following the recent announcement that China would be imposing an anti-dumping tariff of up to 200 percent on Australian wine imports, Foreign Ministry spokesman Zhao Lijian ignited controversy by tweeting a graphic satirical image of an Australian soldier cutting the throat of an Afghan child, a jibe relating to the country's own inquiry into war crimes committed by troops in the Central Asian country.
Prime Minister Scott Morrison was not impressed and said Beijing should be "utterly ashamed" of the image, calling it repugnant and demanding an apology. However Foreign Ministry spokeswoman Hua Chungying defended the tweet, stating "they said the Chinese government should feel ashamed but it is Australian soldiers who committed such cruel crimes" and urging Canberra to do "some soul searching."
A number of news outlets, including the BBC, have branded the image misinformation or "fake." This is false. The Brereton Report itself states that young boys had their "throats slit" in specified incidents. So, while it is arguably undiplomatic for Zhao Lijian to post something so graphic, it is not misleading.
This incident did not happen in a vacuum, but in the context of the rapidly deteriorating relations between Canberra and Beijing. Who's responsible? Australia and the Western media at large depict their country as an innocent victim of 'Chinese bullying', 'coercion' and 'aggression'.
But this is a one-sided narrative which, owing to the nature of liberal ideology, depicts those in the West as the sole advocates of a universal moral truth, and therefore unable to do anything wrong. It ignores the fact that Australia's society has become increasingly hostile to and paranoid of Beijing. The Australian media vilify China every day, prompting suspicion and fear across the country, yet they simultaneously expect Beijing to remain their best customer, procuring 40 percent of their exports? The logic is bizarre.
When this context is viewed correctly, China's retaliations against Australia are not irrational and bellicose acts of aggression, but an obvious and measured response towards a country that shows it nothing but hostility and – more concerningly to Beijing – follows American foreign policy in lockstep.
Two weeks ago, Zhao Lijian raised a list of 14 grievances to Australia concerning its conduct towards China that it must correct in order to restore the nations' economic relationship. This list involved things such as bans on Chinese investments, daily hostile rhetoric towards China, following US containment efforts by participating in the 'Quad' initiative, interference in matters such as Hong Kong, and so on. Not surprisingly, Australia was quick to discredit the list and stated it would never capitulate to Chinese aggression.
Given this, China has continued to make its position clear and representatives such as Zhao Lijian have intensified their criticism of Australia's government. Zhao clearly sees the posting of the controversial image as the perfect opportunity to send home a message about what China perceives is the hypocrisy and double standards of Australia and of course its subordination to the US war machine. While the image has obviously been manufactured and is brutal and inappropriate, what can't be forgotten is that what it depicts is not untrue.
And it raises other questions, too. Typically, for example, when Western countries have made offensive comments which they perceive to be 'truths' concerning the Islamic world – as French President Emmanuel Macron did recently – they utilize their right of free speech as a defense and subsequently dismiss those who are 'offended' as authoritarians.
Also on rt.com
Australia demands apology after China urges war crimes probe with meme of 'Aussie soldier slitting Afghan child's throat'
Yet this also reveals a reverse truth; that the Western mind truly believes that the 'non-West', or in this case China, has no legitimate right to criticize it. Because in terms of its own logic, the West can never not 'mean well' in its intentions or what it advocates. Therefore, China is always wrong, and can never do anything right.
Thus, even though Zhao Lijian is revealing, albeit in an explicit way, painful truths, it is automatically deemed that they must be false because they are from China, even by so-called 'impartial' media. Because nothing China says that is critical of the Australian system can ever be considered legitimate.
So, while the West reserves its right to criticize others because of 'freedom of speech', China must apologize for daring to insult Australia and highlighting war crimes which it itself had in fact reported on. China of course will not to do so, because this isn't misinformation. From its perspective, Australia has burnt its bridges with Beijing, then proclaimed itself a victim. But the reality is that it is not.
Think your friends would be interested? Share this story!
The statements, views and opinions expressed in this column are solely those of the author and do not necessarily represent those of RT.
You can share this story on social media: