Comment is free? Not if The Guardian is hounding out Suzanne Moore for her opinions, it isn't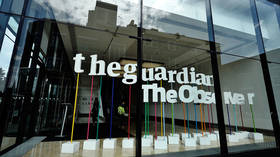 The Orwell Prize-winning writer Suzanne Moore announced she had left the influential newspaper after more than 300 of her 'comrades' publicly denounced her over a column she wrote about gender. So much for 'solidarity.'
Remember the halcyon days when having an honest opinion and articulating it well was celebrated? Well, we have no choice but to remember, of course, as they are long gone.
There have been various scandals resulting in high-profile casualties having to fall on their swords and, as a result, lose their employment. But the pendulum has swung so far in one direction, it's no longer coming back.
Also on rt.com
Labour MP attacked online after saying she got death threats for 'transphobic' view that 'only women have cervixes'
Suzanne Moore has walked out of The Guardian for not being "liberal" enough. For non-readers of the newspaper, it's a left-wing bastion and Moore has written for it on and off for 25 years, the last ten as a regular contributor. The Guardian espouses tolerance, inclusivity and reasoned debate. It's as far as you can get from those notoriously "nasty" and "reactionary" British red-top tabloids.
A row kicked off back in March when Moore penned a column that was hailed as "transphobic" by her dissenters. In the piece, she wrote: "Sex is not a feeling. Female is a biological classification that applies to all living species. If you produce large immobile gametes, you are female."

A public letter attacking Moore's words was issued shortly afterwards, signed by the Green party's co-leader Sian Berry, Members of Parliament Zarah Sultana and Nadia Whittome, UK Black Pride founder Lady Phyll, and Kate Allen, director of Amnesty International UK. More than 200 figures added their names to the document, which stated: "Moore's column does not represent the views of the public, nor is it representative of the views of most women."
And that's where society has cannibalised itself.
Moore's views are as valid as anyone else's. You can disagree or agree, but there needs to be a fundamental level of respect for a person's right to express an opinion. These campaigners have completely undermined that.
Also on rt.com
Trans activist praised for 'shutting down' woke critic on air, as she defends JK Rowling's upcoming 'transvestite-killer' book
Even worse, 338 fellow members of staff at The Guardian complained to their editor about the column. These sanctimonious fools earn their living at an organisation that lives by the words of its founder CP Scott..."Comment is free, but facts are sacred." How you judge someone's change of gender is not a fact, it's subjective and encompasses many things but mainly your social attitudes.
Moore discovered that her colleagues were not able to afford her that privilege. So after a quarter of a century, she has left The Guardian. While not manhandled out of the building, the furore of the public letter decrying her column amounted to bullying and a witch-hunt. In an eerie premonition, Moore's piece also contained the line..."I feel a huge sadness when I look at the fragmentation of the landscape, where endless fighting, cancellations and no-platformings have obscured our understanding of who the real enemies are."
That's what happened to Moore; she was hunted as prey for expressing an opinion. The hypocrisy stings even further when the Guardian Foundation is considered an independent charity which supports media under threat. The letter was followed by online death and rape threats to her, and her children. As many of the signatories were media professionals, they would have been aware of the social media vermin who would seize upon their letter and take it further, forcing Moore to call in the police.
It's diabolical that members of the media are instigating "lynchings" if anyone, colleague or not, digresses from their agenda. And it's unforgivable that hundreds do it under the protection of The Guardian's 'peace and love' image.
Workers at The New York Times pulled the same trick, revolting against senator Tom Cotton's Op-Ed, which advised Donald Trump to deploy troops. That saw opinion editor James Bennet tender his resignation and his deputy transferred to another department.
Also on rt.com
Turmoil within Labour: Starmer blocks reinstated Corbyn from rejoining party ranks in Parliament
JK Rowling also ended up coming under heavy fire when she aired her own views on the trans debate. Petulant staff at her publishing house Hachette were told they could not refuse to work on Rowling's new children's book because of objections to her opinions. And at The Blair Partnership, Rowling's agency, four other authors announced they could no longer work with the company due to the offensive nature of Rowling's views. Rowling was left virtually unscathed due to her enormous power and wealth, but Moore isn't in that bracket.
How many aspiring writers and unique voices could be left unheard because they don't sing from the same hymn sheet as the "chosen ones"? The double-standards are rampant and we're now at a point where you're free to comment - as long it's the comment they agree with. The inside of your head is sacrosanct and so is the right to express what's in there. We have to force the pendulum back in the other direction - and fast.
Think your friends would be interested? Share this story!
The statements, views and opinions expressed in this column are solely those of the author and do not necessarily represent those of RT.
You can share this story on social media: