As the German lockdown movement continues to grow, wild claims of Nazi-era laws and Anne Frank comparisons undermine its efforts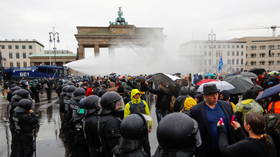 With Covid-lockdown sceptics well represented in Germany, far-right agitators, Querdenkers, QAnon nut jobs and conspiracy theorists are joining their ranks for their own ends – and threatening the future of legitimate protest.
German police firing water cannons at several thousand people protesting outside the Reichstag in Berlin over tougher Covid-19 rules is an act that will only intensify the heat of the raging debate, in which efforts to control the virus are likened to actions that enabled the rise of Adolf Hitler.
Chancellor Angela Merkel's new Infection Protection Law has been repeatedly compared by far-right Alternative For Germany politicians to the law that paved the way for the Nazis in 1933, as a poisonous soup of nutters, weirdos and extremists, under cover of coronavirus protests, air their whacked-out views.
Foreign Minister Heiko Maas was having none of it. "Completely independent of whether one considers them to be correct, the coronavirus measures that we decide on have nothing to do with the Enabling Act. Whoever makes such opprobrious comparisons mocks the victims of National Socialism and shows that he learns nothing from history," he tweeted.
Meanwhile at a weekend demonstration by the Querdenker (Lateral Thinkers) movement in the southwestern city of Karlsruhe, an 11-year-old caused uproar when she compared her birthday party under partial lockdown rules to the life of Anne Frank during the Second World War.
Speaking from a stage, she told a rally she had to celebrate in secret in case nosy neighbours tipped off the authorities. "I felt like I was with Anne Frank, where they had to be as quiet as a mouse to avoid getting caught," she said.
Karlsruhe police called the girl's remarks "morally reprehensible," but it shockingly portrays how the toxic brew of protest from the tin-foil hat wearers of Querdenker, the growing German QAnon following and those on the far right is now drawing even children into the fray.
Back in July, pollsters Allensbach found 20 per cent of those surveyed believed the government was exaggerating the danger of the coronavirus in order to deceive the public, showing a consistent scepticism in the public debate. Now those people are taking to the streets, which is what you would expect after all this time, but they are attracting some undesirable hangers-on.
And that is a cause for some concern. Because it's creating an unholy alliance between ordinary middle-class Germans who believe the pandemic is being exaggerated and restricting their freedom when all they want to do is go out for a beer or a bite to eat, and those who, like QAnon, believe global elites are kidnapping children and keeping them in underground prisons to extract a life-prolonging substance from their blood.
We even have these looney ideas repeated by people who should know better, such as pop star Xavier Naidoo, whose tearful YouTube video describing these alleged goings-on is laughable because he's so patently gullible and thick.
If some of these outlandish conspiracies sound a touch anti-Semitic to you, then you're not alone. Miro Dittrich, an expert on far-right extremism at Berlin's Amadeu Antonio Foundation, told one news outlet that, "The idea of a bloodsucking, rootless elite that abuses and even eats children is reminiscent of medieval propaganda about Jews drinking the blood of Christian babies."
While such claims are total madness, the worrying reality for frustrated, freedom-loving Germans wanting to express their discontent outside the Reichstag or in cities across the nation, is that those QAnon supporters among their number are actually part of an estimated 200,000 followers of the conspiracy outfit across the country, which is the largest base for its wild mix of ideas outside the English-speaking world.
That says more about German society than a bit of upset in Leipzig or Berlin over coronavirus rules. While the pandemic is the focus of most people's attention, there are those on the sidelines who are keeping a close watch on these shifts in public discourse. And that's a good thing.
Also on rt.com
Anti-lockdown protesters are becoming 'TERRORISTS,' claims head of German state of Thuringia
Meanwhile, here's a thought for the crackpots, the flat-earthers and the grassy-knollers. Maybe they should simply look on the bright side of Chancellor Merkel's new laws. Because, along with the restrictions on social contact, the rules on mask-wearing and drinking alcohol in public, and the closure of shops, there will be no more sporting events for the foreseeable future.
With the national team having last night suffered its worst defeat since 1931 in a humiliating 6-0 loss to Spain, no German in their right mind will be making a fuss about that particular decision.
Think your friends would be interested? Share this story!
The statements, views and opinions expressed in this column are solely those of the author and do not necessarily represent those of RT.
You can share this story on social media: