French move to outlaw images of police at work is a clumsy attempt to hide the everyday brutality that passes as law enforcement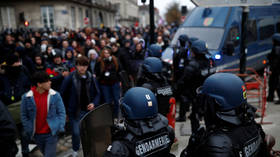 Police violence is routine as they deal with youths in the banlieues, asylum seekers, and Yellow Vests. The solution according to Macron? Ban the publishing of images of the officers, so no one can see. It's the act of a despot.
The French government has stepped into a pile of steaming merde with its push to ban the publication of images of police on duty in the name of protecting the officers from harm, but it's really for a far more sinister motive.
If it passes, the controversial legislation would mean up to a year in prison and a €45,000 fine for those "broadcasting, by any means and through any medium, with the intention of causing physical or psychological harm, an image of the face or any other element to identify a police officer".
Also on rt.com
French police forcibly evict 2,000 illegal migrants from camp in Paris suburbs over Covid health threat
The question to be asked is not how to protect those who are meant to be protecting French citizens – it's why they feel the need for a media blackout while they go about their role.
Not everyone buys the claim from Interior Minister Gérald Darmanin that the new law was necessary because police officers "are under constant threat in their personal lives" after being identified, and because there are "calls for female officers to be raped".
Even if we accept this as a contributing factor, it is not the full reason for the move. We have to look back only to the start of the year to find a more obvious explanation. The weekly battles between gilet jaune (Yellow Vest) protesters and the police made for uncomfortable viewing on television and across social media.
More than 200 separate complaints of police brutality in 2019 alone were being investigated, and videos went viral of heavily armed officers beating demonstrators and even firing rubber bullets at them from point-blank range as they fought pitched battles.
What the police couldn't do, the coronavirus pandemic and ensuing lockdown did manage: putting on hold the gilets jaunes' campaign.
Having viral videos of police brutality thrust under his nose, President Macron declared in January, "I expect the highest ethical standards from our police officers. I have asked the interior minister to make some proposals in this regard."
Now we know what he had in mind.
Also on rt.com
'Founding principles HAVE BEEN LOST': Macron blasts US media for legitimizing Islamist violence after wave of terrorist attacks
Because, in the lull of that storm, Macron's government has identified an opportunity to make it that much more difficult for future protestations of overzealous policing to be successfully documented.
As the philosophers might have it, 'If a demonstrator falls on a street after being beaten by a police officer, and there's nobody around to film it, does it make a sound?'
Post-pandemic, the return of the gilets jaunes protests is a certainty – there have already been signs of an encore – and, having spent most of 2020 living under draconian restrictions, when the protesters do re-emerge in force, they will be re-invigorated and more determined than ever to show l'Empereur Macron how damned furious they are with him, his government, the handling of the pandemic, and the direction the Republic is heading.
But if the president thinks the best way to deal with that pent-up fury is to have police operating in the shadows, locking up anyone who dares to try to film or photograph them, then no one should be surprised when it turns into an uncontrollable volcano of social media videos and citizen journalism that portrays the excesses of the law in a particularly unflattering light.
And it's not just the gilets jaunes with whom the police face difficulty.
Videos of their clumsy brutality and panic in the face of unrest among young, disaffected immigrants in the banlieues do not show a tolerant society at ease with itself, but a nation beset by cultural divisions that seem to be widening ever further in the face of increasing violence.
Then there are the frequent and forcible evictions of illegal migrants from the makeshift camps set up in the suburbs of northern Paris, near Calais and elsewhere. Police routinely resort to tear gas to break up the camps and, just yesterday, fired canisters into a crowd of 2,000 illegal migrants from conflict zones in Somalia and Afghanistan, who had made temporary shelter on land adjacent to the national football stadium, the Stade de France.
Firing tear gas into crowds of unarmed asylum seekers is not what anyone would call an edifying spectacle.
Yet all these confrontations with the police – the gilets jaunes protests, the young migrant gangs throwing bottles and rocks, and the desperate asylum seekers forcibly evicted from their miserable camps – when caught on film and photo to be shared with the rest of the world in the blink of an eye, display a side of France that the government would prefer was not on show.
The country has also had a couple of high-profile race cases involving the deaths of young migrant men while in police custody. In January, Cédric Chouviat, a delivery driver in Paris, suffered a heart attack and died after police put him in a chokehold. Back in 2016, Adama Traoré died while handcuffed in the back of a police van.
Neither of these deaths were caught on film, but just one passerby with a smartphone could turn the next incident into France's very own 'George Floyd' moment. And that would surely set things off, because that was where the mood was heading during protests demanding answers in both cases.
With social tumult raging across France and police brutality persisting – both a cause and effect – it can be only a matter of time before social media catches alight with yet another brutal spectacle.
Also on rt.com
No end in sight for lockdown even as France brings coronavirus under control, French minister warns
Macron knows this, and the legislation now under consideration is clearly his reaction. He might be attempting to sell it as a means of protecting the police – winning the support of their unions in the process, in a strategic move to help his next presidential campaign in less than 18 months.
But everyone knows, in France and abroad, that this is really a calculated attack on press freedom and the public's right to know what the police who supposedly serve them and are paid by them, get up to. All so the government can go about its dirty work without fear of censure.It is the action of a totalitarian, not a democrat – a cynical attack on liberté that must be stopped.
Think your friends would be interested? Share this story!
The statements, views and opinions expressed in this column are solely those of the author and do not necessarily represent those of RT.
You can share this story on social media: