Cummings and goings: the resignation of the UK PM's top adviser may be big news, but he always said he'd leave 'within the year'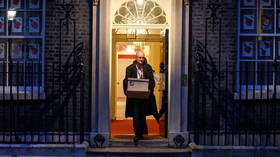 Sensationalist reports are circulating that claim revelations about Boris Johnson's most senior adviser's demise, but he told everyone about his plans on a blog nearly a year ago. So, what's all the fuss about?
Personal animosity is masquerading as serious journalism in the UK. Orchestrated by the BBC's political editor Laura Kuenssberg, it's been proclaimed that Dominic Cummings has been banished from 10 Downing Street. For anyone unaware, he's Boris Johnson's confidant and policy guru. Many feel he actually wields the upper hand and Johnson follows his lead.
The "news" that he was stepping down was regarded by the BBC as a huge scoop. Kuenssberg described it as "a political explosion". The Guardian poured more fuel on the fire by leading its coverage with claims that it was a signal of "a major change of direction for the government". The shocking development also featured on the front pages of the Daily Telegraph and the Financial Times.
Also on rt.com
Britain's Johnson is bowing & scraping to Washington and that's something for the world to dread
The general tone across the mainstream media was that the world should now be on the alert for some unexpected moves from the PM. The EU should change tack, as a hard Brexit was no longer an option. Policies would change to appease America's likely president-elect, Joe Biden, who's no fancier of the Internal Market Bill currently going through Parliament.
We were told Johnson had seen how Trump had lost the plot and realised he had to change course. There was speculation of a power struggle, with the prime minister's fiancée, Carrie Symonds – who holds no governmental role – purported to be the power behind the throne, and suggestions it was her idea to remove Cummings.
But all this talk is only being bandied about to make the media seem more powerful than they really are. Cummings is leaving just as he said he would: "before the end of the year". And how can we be sure it was his own doing? Well, he wrote in his blog back in January: "We want to improve performance and make me much less important – and, within a year, largely redundant."
The idea was to instigate a search for people with different skills and backgrounds to work at Downing Street. Data scientists, economists, researchers and communication experts were sought, along with the now infamous "weirdos and misfits with odd skills". Cummings explained how he was making decisions out of "my circle of competence", and that individuals with expertise were needed to support the prime minister and the Cabinet.
Like most spin doctors and shadowy advisers, he has never been well liked. That's partly down to the optics of being so close to the seat of power, without any democratic endorsement, and partly because he goes around in tracksuit trousers, baggy sports shirts and his trademark knitted beanie hat, and the formally attired correspondents hate that.
Then, of course, he was embroiled in the scandal of the summer, when it transpired he'd driven 260 miles to his parents' home during lockdown. His explanation – that he suspected he had Covid and was worried about childcare – failed to appease most of the public. And even fewer accepted the claim that, while there, he undertook a 52-mile round trip to Barnard Castle with his family to "test his eyesight" before attempting a return to London. That made him public enemy number one, with protesters even demonstrating outside his home. The debacle finally ended with a 90-minute live press conference in the rose garden of Downing Street, as Cummings explained his actions and Johnson refused to countenance removing him.
Kuenssberg seemingly attempted to square the circle by jumping from that point to the "shocking" news that Cummings was to leave. But six months has elapsed. Even though Johnson doesn't always have the best initial instincts, he isn't foolhardy. The Conservatives were torched during the summer because of their failure to adopt a cohesive approach to tackling the pandemic. A simple move to get an immediate boost would have been to send Cummings packing back then. Johnson actually lost even more credibility by protecting him. Since then, the Brexit negotiations with the EU have continued, and Cummings – who was at the helm of the Vote Leave campaign – was able to play a part. But he was never the lead negotiator – that is David Frost, who remains very much in that role.
So, why is the BBC and its mainstream cronies inventing a conspiracy, as if Johnson is executing him like Henry VIII did Cromwell? It was purely out of bitterness. Cummings was unwilling to play ball and they didn't like his disdain for cosy chats with them in the corridors of Westminster. As a result, they're redeeming their pride and claiming him as a scalp.
3. 'My position hasn't changed since my January blog' - when he planned to make himself 'redundant' by the end of 2020 - he's off

— Laura Kuenssberg (@bbclaurak) November 12, 2020
Also on rt.com
Britain died for me this week. It's become a Covid-obsessed police state, and I don't understand what it stands for anymore
The sham narrative was revealed in all its glory when Kuenssberg reported that Cummings confirmed his "position hasn't changed since January". Governments will make mistakes, that can't be denied, but when the media begins to construct narratives to give itself more importance and simultaneously dupe the public, then we're really in trouble.
The news outlets may have got their front-page photo of him shuffling off bearing a box of his belongings this evening, but he's staying on till mid-December. So, it wasn't quite the dramatic storming off into the sunset we were initially led to believe. If there's one thing we all know from the referendum, it's that Cummings is always happy to leave, and will do so on his own terms.
Think your friends would be interested? Share this story!
The statements, views and opinions expressed in this column are solely those of the author and do not necessarily represent those of RT.
You can share this story on social media: