Stocks get Trumped then dumped, but you ain't seen nothing yet, America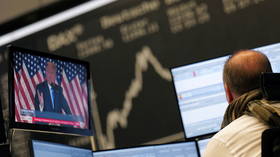 The topsy turvy US election resulted in markets soaring at one point, only to come crashing down at another. Investors face weeks or months of volatility caused by all the political turmoil.
Stock futures soared as soon as it looked like Donald Trump would have a clear claim to a second term as president early Tuesday evening. While both conservative and liberal media showed Biden ahead, vital swing states, which the media had not projected for one candidate or the other, were leaning strongly toward Trump.
The overly optimistic market leaped to the conclusion the numbers would keep moving to Trump, even though Biden gave a speech saying it looked like he was going to win, but we'd all have to wait to see how the remaining count came in, and even though both Fox and CNN – America's two largest networks – said it was too early to call those states.
The rocket ride in futures exploded so quickly on pent-up optimism and a likely short squeeze that the NASDAQ hit a circuit breaker at a four-percent gain, which suspended futures trading for a couple of minutes. The rapid rise suggested pressure relief in the market based on hope the US would not have a contested election.
It also meant, Bloomberg claimed, that a Democratic panel that was proposing to break up tech giants might not have a clear path to success. It meant Biden tax increases just became less likely while another Trump tax cut became more likely, and it meant things could go on for the market as they have.
S&P futures climbed almost a hundred points to 3,417.
The market, however, does not like uncertainty, so my thought was that the market was not too smart. It was firing off prematurely. As soon as futures soared, I thought, 'This could easily flip on its head by morning. How much are these traders drinking on election night? Can't they foresee the obvious – that President Trump is going to contest the election, even if he is ahead? It won't even take him until morning to make that clear.'
Sure enough, it didn't. Trump went on television in the wee hours of the morning at his party to make a big preemptive victory speech to the sounds of 'Hail to the Chief', promising legal action: "Millions and millions of people voted for us tonight, and a very sad group of people is trying to disenfranchise that group of people, and we won't stand for it… They knew they couldn't win, so they said, 'Let's go to court.' This is a fraud on the American public… Frankly, we did win this election… This is a major fraud on our nation… So, we'll be going to the US Supreme Court. We want all voting to stop. We don't want them to find any ballots at 4:00 in the morning and add them to the list."
Sudden clarification that the election was most certainly going to be contested in every way possible caused the NASDAQ and S&P futures to plummet by half and Dow futures to fall almost 500 points, eventually recovering to slightly negative positions as of 4:20am EST. All fell as quickly as it had risen.
Yet, that's the small stuff. The big test will be what happens on the streets as soon as Trump starts his legal battles contesting results, or if Biden loses by a small margin and all those who have loathed Donald Trump for four years realize they have lost by the tiniest of contested margins all over again? The market is foolish if it thinks this is going to settle easily or maybe even to think it will settle at all.
No sooner had I written all of the above than Wisconsin, where Trump had a three-percent lead, just flipped and went to Biden. Wisconsin, a state Trump proclaimed in his speech he had undoubtedly won based on his lead! This is exactly why the networks were refusing to show Trump as the victor and why Biden was shown having the lead even when Trump was speaking. The last votes still to be counted were expected to skew strongly toward Biden, and they did.
So, here we are where Trump has given his 'victory' speech, yet still promised to contest the election, and then a state where Trump was ahead by 109,000 votes flipped just an hour or so later because Milwaukee County, which is heavily Democrat, came in solidly for Biden, giving him a mere 8,000 vote advantage in Wisconsin. That's fighting ground!
How can any rational person think this is going to become anything other than chaos, given how intensely worked up Democrat and Republican voters have been for weeks and how we are already in overtime compared to when we usually know election results? Yet, the delirious market is trying again as I now get ready for bed early in the morning to float upward, having likely not yet received the word about Wisconsin.
I expect to wake to find that the market has flipped on its head and is falling off a cliff. If not in the morning, then in the days of chaos that certainly lie ahead.
Think your friends would be interested? Share this story!
The statements, views and opinions expressed in this column are solely those of the author and do not necessarily represent those of RT.
You can share this story on social media: