If Trump declares himself the early winner, the toughest choices will be on the media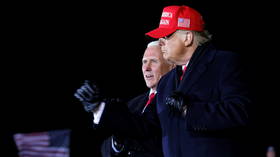 Donald Trump could be planning to call an early electoral victory if it looks like he's in the lead on election day – and then claim Biden stole it as mail-in ballots are counted. The media has a role in containing the chaos.
Trump's alleged plan to declare himself victor prematurely was revealed in a scoop by Axios, citing close Trump confidants. This is significant because the results of the election in many states, including key states like Pennsylvania, are unlikely to be certified on the night of election day due to an uptick in mail-in ballots this election cycle because of the Covid-19 pandemic.
Analysts predict that election day results will likely skew in favor of Trump, believing that his supporters are distrustful of this year's augmented voting process and prefer to vote in person on November 3.
Trump denied the fact that he would declare an early victory, but he told reporters on Sunday in typical fashion, "I think it's a terrible thing when ballots can be collected after an election. I think it's a terrible thing when states are allowed to tabulate ballots for a long period of time after the election is over."
He added: "I think it's terrible that we can't know the results of an election the night of the election. ... We're going to go in the night of, as soon as that election's over, we're going in with our lawyers."
Make no mistake, the president will make this announcement if it suits his interests and falls in line with his campaign's strategy up to this point, aimed at delegitimizing mail-in ballots. If it appears that a "leftist coup" is taking place in the country, as Trump is painting his probable electoral defeat, it is likely to spark serious conflict in the country.
A recent study by the Armed Conflict Location and Event Data Project (ACLED) and MilitiaWatch determined that Georgia, Michigan, Pennsylvania, Wisconsin and Oregon – most of them key swing states – face a 'high risk' of militia activity during the election and post-election period. North Carolina, Texas, Virginia, California and New Mexico also face medium risk.
These are some of the same groups that have already begun attacking and killing protesters across the country, harassed the president's political opponents and made kidnapping and assassination plots against Democratic politicians, including a recent one against Michigan Governor Gretchen Whitmer.
In addition to having already told these groups to "stand back and stand by" during the first presidential debate, Trump again on Monday approved of threatening behavior by his supporters against political opponents. This time it was an incident now being investigated by the Federal Bureau of Investigation (FBI), during which his supporters in large trucks tried to stop a Biden-Harris campaign bus on an interstate in Texas.
"In my opinion, these patriots did nothing wrong. Instead, the FBI & Justice should be investigating the terrorists, anarchists, and agitators of ANTIFA, who run around burning down our Democrat run cities and hurting our people!" Trump tweeted on Monday.
In plain English: Trump's supporters get a free pass to commit political violence, but those that protest against him are terrorists and anarchists. To be sure, if Trump wins, or even just declares that he did early, there will be protests against him – probably large ones. Most of the people attending them will obviously not be violent, but surely some violent elements will exist.
Specifically in regards to Antifa, which is not an organized group but rather a general anti-fascist action trend sparked in direct response to Trump and his radical supporters, the ACLED and MilitiaWatch report says, "Antifa-affiliated activists are also rarely armed and do not exhibit a pattern of recruitment, training, and integration into a chain-of-command, like most militia and armed groups."
There is no serious armed resistance to Trump that will take to the streets, carry out terrorist plots and attempt to seize political power. The militias supported by the president, however, certainly have these ambitions and maybe even the capability to seriously try – that is at least the assessment of the ACLED/MilitiaWatch report, the FBI and the Department of Homeland Security.
All they really need in order to launch these attacks is a nod from the president, which is exactly what will take place if he declares an early victory later to be "stolen" from him by "the left," which would actually just be officials counting legitimate votes.
Enormous responsibility falls on the shoulders of the media on election day as they decide what to do with Trump's claims. Assuming, as some are, that he is "going to come out and lie and sow dangerous disinformation about the election," it is up to them to provide adequate context and commentary, or even refuse to air Trump entirely – having weighed the risk of being accused of censorship by himself and his fervent base.
Social media, such as Twitter, that have already taken heat from the president and his supporters will also need to soul-search before election day to see how they plan to approach this dilemma.
But there may be no satisfying solution here. On the one hand, the media that airs Trump unadulterated could be seen as complicit in the potential destruction of the country resulting from the dangerous (and likely false) claims. On the other, muzzling Trump won't help the already deep-seated belief that there's a 'fake news media' conspiracy against him.
The statements, views and opinions expressed in this column are solely those of the author and do not necessarily represent those of RT.
You can share this story on social media: