Don't kid yourself, Europe: Trump changed the way you deal with the US in a way Biden could only dream of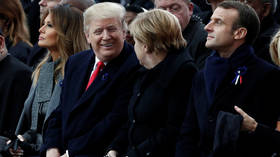 Polls suggest Joe Biden would win easily if Europeans could vote in the US election. But the effect of Donald Trump on the EU will be remembered for years to come, thanks to the major reset the president brought about.
If Europeans were to vote in the US election, then Joe Biden would easily triumph over Donald Trump, according to a number of recent polls. But, frankly, I'm not so sure this would be such a good thing.
Imagine a scenario where we were currently looking at four more years of President Biden. We would have missed out on a helluva ride – one on which we've learnt a thing or two about ourselves. Because, despite his wild addiction to Twitter, his pumpkin-orange tan, crazy comb-over and all-round recklessness, Donald Trump has been good for Europe.
He's made us sit up and take notice, question ourselves and the way we've done things ever since the end of World War II. Instead of just saying 'Yes', we've started to ask 'Why?' A new world order was set in place after 1945, and has been pootling along without too much introspection ever since.
Also on rt.com
After 4 years of chaos, many Euro leaders want rid of Trump… but President Biden could make life very difficult for some
Trump turned the EU-USA relationship on its head. As leader of the world's largest economy, he felt he wasn't getting enough bang for his buck and it was about time the rest of the world realised that dealing with the USA was all about business. As the Corleone family would have it, nothing was personal – it was all about business.
And that showed. He wasn't fussed about building long-term relationships with most of the European leaders – Angela Merkel was "stupid", Theresa May "a fool" – and certainly not interested in pussy-footing around them when irritated. Brussels, in particular, represented the sort of elite political club of establishment lifers he'd attacked in Washington with resounding electoral success. His "drain the swamp" mantra chilled DC insiders like former Vice President Joe Biden.
He was encouraged by the wave of populism that seemed to be washing over the continent and was happy to be part of a global political zeitgeist that was new and exciting, giving the time of day to Britain's Nigel Farage – the first foreign politician invited to Trump's gilded Manhattan tower – and Italy's Matteo Salvini. All good solid citizens and men of the people. And this display of chumminess drove Europe's elite nuts. Which is just what was needed.
The reset was highlighted in the 2019 European elections when, for the first time, neither the leading parties of the establishment left or right held sway. Taking the bulk of the popular vote were new outfits that were broadly declared populist, although that's a bit too simplistic.
Inspired by the outlier image of the American president, Europeans felt the time was right to vote for those prepared to take a risk and to do things differently. Millions turned out to drive home this message, and the EU was left shell-shocked by the election results.
And while Trump took no part in the elections whatsoever, of course, it was his ascendance to the White House that made this shift away from how things had always been done in Europe even possible. People started to believe in politicians again.
The 45th president set the alarm bells ringing very early on when he declared NATO "obsolete" – later backtracking – and badgered Germany, in particular, about the amount it contributed to the military alliance.
OK, so maybe he was a bit bluff, lacked some of the usual fudging and diplomacy usually attached to disagreements in the geopolitical realm, and brought more than a touch of the "You're fired!" theatrics from his 14 years on The Apprentice to the international stage. But so what? The message was unambiguous, and framed the new president's approach.
He managed to niggle and bully China into rethinking its trade relationship, somehow brokered a peace deal between the UAE and Israel, and even developed a bromance with North Korea's oddball dictator Kim Jong-un.
On top of all that Trump's faced countless court battles, accusations of sexual misdemeanours, allegations of bribery, conflicts of interest, and even impeachment. Yet here he is, ready to serve another four years if that's what his people want.
To think there will now be a return to business-as-usual is not something to cheer about. After a lifetime in politics, Joe Biden is much more the smooth handshaker trotting out the platitudes at countless evening receptions to fawning hangers-on. With his sun-bright dental veneers and grandad jogging, he's a paradoxical amalgam of a simultaneously charming and charmless politician – one who says he's listening to you, but somehow you know is damn well not.
He'll fit right into the Oval Office – Lord knows how many times he must have wondered if he would ever take his former boss's seat. Now maybe all that daydreaming about changing the curtains and moving those portraits during particularly boring meetings with Barack Obama might actually prove time not wasted. Who knows?
Joe Biden, Donald Trump, and the rest of the world will very shortly find out.
Like this story? Share it with a friend!
The statements, views and opinions expressed in this column are solely those of the author and do not necessarily represent those of RT.
You can share this story on social media: