Charlie Hebdo's anti-Islamic jokes are getting old and the attention seeking and scandal-mongering is neither big nor clever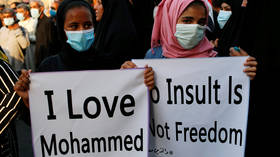 The controversial French magazine has been slammed by Turkish strongman Erdogan, but isn't that what they wanted? Have they become conditioned to create outrage, no matter the consequences?
They're back at it. The men and women of Charlie Hebdo have delivered yet another trademark cover. This one has Turkish President Recep Tayyip Erdogan in his underwear, lifting up the dress of a veiled female, whilst calling out, in reference to the Prophet Mohammed.
The controversial leader hit back: "I don't need to say anything to those scoundrels who insult my beloved prophet on such a scale."
Erdogan is far from everyone's cup of tea thanks to his military interventions and somewhat illiberal policies. He has also been one of the loudest voices encouraging Turks to boycott French goods, amid the row over French President Emmanuel Macron's robust stance on political Islam.
For his part, Macron has reiterated his support for state secularism (laicite) and added that France "will not give up our cartoons." His comments come in the wake of the beheading of teacher Samuel Paty by a radicalised teenager, thought to have been provoked by Paty's decision to show Charlie Hebdo cartoons to his students during a lecture about freedom of speech.
Those were the same depictions of the Prophet Mohammad that resulted in the 2015 Charlie Hebdo terrorist attack that killed 17. The resulting trial sparked another incident last month, when a man wounded two people with a meat cleaver outside the magazine's old offices. It's a lot of bloodshed and anguish for what is supposed to be satire.
Charlie Hebdo seems to have developed a perverse obsession with Islam. They want to spark a reaction and offend on purpose. Down the years, they have listed the Prophet Mohammed as a guest editor with the headline, "100 lashes if you don't die of laughter." Another of their headlines was, "The Quran is crap. It does not stop bullets." Then in 2010, when France invoked the intolerant law of banning face-covering garments, aimed at Muslim women – Charlie's contribution was a naked woman with the headline, "Yes to wearing burqas…on the inside."
There is no justification for violence or attacks, no matter what religion they are in the name of. It's unacceptable, and no society should tolerate it.
Also on rt.com
Muslim boycott threats and politics play out in attacks on 'mentally ill' Macron as he ups the rhetoric against Islamists
But France has an issue.
Its government endorses what Charlie Hebdo does, and what it does is produce religious hatred. There are volumes of satire created daily, in print, digitally and on screen. There is also "a line," where things go from thought-provoking to hate speech.
If you know Muslims regard their prophet's image as sacrosanct, then why do cartoons of him? The same with Muslim women and their modesty, why focus in on that?
This is not about defending Erdogan or those who have committed terrorist attacks – that's a ridiculous position no serious person would hold. Charlie Hebdo is smart enough to know that the Turkish leader isn't bothered in the slightest personally. He has endured criticism and jokes at his expense. The issue is what it reveals about one of Europe's largest countries and its views on Islam.
Large sections of the Muslim population in France feel they don't belong because of the hostile actions of their government. Speaking out, a Paris-born man of Tunisian heritage explained: "When you have millions of people who are already marginalized, disenfranchised, and without community institutions that can give them answers, you create easy targets for extremists."
That's basic logic and will be of no surprise to Charlie Hebdo, but they are perfectly happy to disregard it. They have become adrenaline-junkies who no longer want to satirise the news but become it. They are purposely trying to create scandals.
They now even keep their headquarters secret. Isn't one bastion of a progressive society for the media to be accessible and not hide away?
Their agenda-driven egos hardly do anything for freedom of speech. Genuine satire breaks down walls and allows people to interpret things in new ways. Charlie Hebdo is only digging deeper and deeper, entrenching long-held positions and insulting anything that will bring the spotlight their way.
It's not only Islam, the Jewish and Catholic faiths are also featured in the magazine, along with multiple public figures from the celebrity and political world. Having a go at any of these is not the issue. It's the way it's carried out.
Think your friends would be interested? Share this story!
The statements, views and opinions expressed in this column are solely those of the author and do not necessarily represent those of RT.
You can share this story on social media: