George Galloway: The lynching of John Leslie shows how ruinous false accusations of sexual assault can be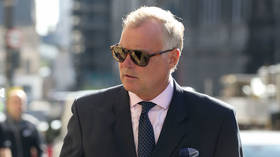 This week a jury took just 23 minutes to clear the former Blue Peter TV presenter of any wrongdoing, but still his life and reputation lies in tatters.
Though he is a Scotsman of a certain age I have never met John Leslie. Our paths just never crossed, his path being a walk on the wild side compared to mine. Not that he had more fun, in fact, his life has been miserable for many years, despite being tall, dark and handsome.
When he wept in the dock of Southwark Crown Court this week, cleared by a jury after just 23 minutes of deliberation of a charge of feeling a woman's clothed breasts for "three seconds" ten years ago at a party, it was difficult not to weep with him.
The Metropolitan Police spent thousands of pounds investigating this "crime" which turns out never to have happened at all. But the justice system spent time and taxpayers' money prosecuting it. This isn't the first time they've done it, it isn't even the first time they've done it to John Leslie.
There were no witnesses to Leslie's alleged crime, even though it was said to have taken place in a club at a party in London's Soho – where I am myself a member of two clubs, the Union Club and the Groucho Club.
I mention that latter, apparently extraneous, fact for this reason. What if someone came forward and claimed that ten years ago in Soho, I had touched their breasts through their clothes for three seconds, but that nobody had witnessed it? Would the police charge me? Would the justice system prosecute me? Would my life be ruined as John Leslie's has been? Where's the justice in that?
Mr Leslie's accuser retains life-long anonymity, of course, but any man so accused is identified immediately, and in lurid retrospective technicolor. During any trial he stands accused and is seen to be accused. Cleared, even in just 23 minutes, the judge tells him he "leaves the court without a stain on his character," but everyone involved knows that's not really true. And John Leslie is living proof.
In 2002, my friend and former colleague Matthew Wright erroneously named John Leslie, on television, as the anonymous man referred to in a rape allegation made in a book by the then party-going television star Ulrika Johnson. Wright subsequently apologised and, very unwisely as it turned out, Leslie accepted the apology.
What happened next was a long trail of stalkers and wannabes falsely claiming that Leslie had sexually offended against them. Each time the police took it seriously, each time the allegations were disproved, discredited and even dropped, on occasion actually in the courtroom!
A dog had been given a bad name – entirely falsely – encouraging other false accusers to come forward. If their allegations had led to conviction, they would have had the right to waive their anonymity and cash in.
With painful irony, a day after John Leslie's latest acquittal, Matthew Wright's stalker was told she might be sent to prison after admitting a six-month campaign of harassment against him.
The radio and TV star had been stalked by a member of his small TV studio audience who felt that the married man had "developed feelings for her." So she followed him home and began to harass his pregnant wife and him. She claimed in court that Wright "looked at (her) in a certain way" and that "it had been a long time since anyone had given me that sort of attention." Later she said that she must have "misinterpreted it."
Of course, that was her fixation talking. No such "looks" ever happened, no "feelings for her" were ever there. They were inventions, just like those faced by John Leslie.
Thank God, Matthew Wright is still a highly paid and successful personality, but John Leslie is ruined and has been going downhill ever since Matthew Wright's false claim about him almost 20 years ago. Leslie was once a big-earning star – bigger than Wright – on BBC. Greatness beckoned. Now he is a DJ in a local Edinburgh pub. If he had been convicted this week he would have lost even that gig.
As another friend and former colleague of mine, Ian Hislop the editor of Private Eye once said, "if that was justice, I'm a banana."
Think your friends would be interested? Share this story!
The statements, views and opinions expressed in this column are solely those of the author and do not necessarily represent those of RT.
You can share this story on social media: