Malala survived being shot by extremists, so why should she care when the Twitter Taliban flame her for having a Tory friend?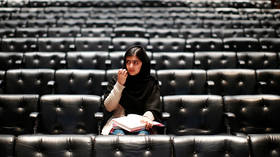 Famed human rights campaigner Malala has been slammed by the Left. Her crime? Being friends with a Conservative. Do these woke morons living in the digital dark ages have no respect at all?
The Taliban don't really go in for a whole lot of freedom of expression, let alone freedom of political choice.
It's either their way, or a bullet to the brain. That stark choice tends to put paid to a lot of dissent, political or otherwise.
It didn't stop Malala Yousafzai.
She started speaking out in a BBC blog when she was only 12 years old. She dared to suggest girls should be allowed to go to school in her native Swat Valley in Pakistan, and the local Taliban didn't want girls going to school – so much so, they blew up over a hundred of them.
Television, music and kite-flying were banned in this Islamic paradise, too, because they were considered a distraction from God, and women were not allowed to go shopping.
Oh, they also chopped off the heads of local policemen and put them on display in the town square. I guess, in their minds, that beats an episode of Friends.
That didn't stop Malala. She became an increasingly well-known activist, which the Taliban didn't like at all. At the age of 15, when she was on her way home from sitting an exam, a Taliban assassin got on her bus and asked, "Which one of you is Malala? Speak up, otherwise I will shoot you all."
He then shot Malala in the head and left her for dead.
She survived, and ended up being treated in a hospital in Birmingham in the UK. Meanwhile, back in Pakistan, the Taliban commanders grumbled that they had every intention of finishing the job, given the chance.
Did that stop Malala? Don't be silly.
She was on a road that led to her becoming an even louder, truly global, human rights campaigner and, at just 17, the youngest ever recipient of the Nobel Peace Prize. She went on to Lady Margaret Hall College at Oxford University, from where she graduated this summer. She's still only 23, her future's bright.
Malala made a lot of friends at Oxford, and at least one of those friends is a Tory. Maybe a few of her pals are also Marxists. Probably one or two are gay, too. Who knows… who cares? But Malala offered her support on Facebook for a friend who was running for a student election at Oxford University ... as a Conservative.
And that's a red – or in this case, blue – flag to a bull for another brutal, mindless group of fundamentalists: the Twitter mob. And the keyboard warriors, true to form, were on to her faster than the Taliban.
"Not the least bit surprised Malala is a Tory," tweeted some guy called Hamza, who will probably never be heard from again. "Had my doubts about her from early. Always suspected she was a disingenuous careerist."
I'm sure there's quite literally no Conservative who would care if Malala was left-wing. So why would the left care so much that she could be a Tory?She's an absolute icon who has done so much for individual liberties and literally won a Nobel Peace Prize.The hate says a lot. pic.twitter.com/O0StGYVESv

— Alastair Thompson (@AlastairJT) October 14, 2020
Righto, Hamza, my friend. It was an obvious 'career' move, that, getting shot in the head. Maybe you should give it a try? And if you'd actually bothered to read her post, she never said she supported her politically – just as a friend. As friends do.
I mean imagine being Malala, eyeballing the Taliban, surviving a murder attempt, settling in a new country, and reaching the standard to get into one of the world's most prestigious universities. Would this spoilt brat even register a flicker on your careometer. pic.twitter.com/JyhnaTgkju

— Mike Shallcross (@Mikey_Health) October 15, 2020
This is Britain, 2020, and Malala can be friends with whoever she chooses. And, for that matter, she can go to bed with whomsoever she goddamn well chooses, too, actually, Hamza. Male or female, that would be her choice. Not yours. She's an adult.
Malala's story is just about the biggest 'up yours' there could possibly be to the twisted Taliban gunmen and that horrific medieval mindset. And yet similar attitudes seem to be drifting into the digital world these days, like poison gas.
You see, Hamza, nobody voted in the Taliban in Pakistan. You can put an X in a box in Britain for the Conservatives or Labour or the Lib Dems or even the Church of the Militant Elvis Party. It's up to you, it's your choice.
The Taliban - which translates as 'the students' - effectively think of themselves as Allah's chosen ones, put on earth to enforce God's will with an AK-47 and a blunt sword.
Yet they are so weak a political and religious creed that they feel so threatened by a teenage girl, they sentence her to death. Your average Taliban has absolute faith he is absolutely right, just the same as today's Twitter mob.
Malala could well be Pakistan's prime minister one day. Why not? The Taliban couldn't stop her, and neither will the Twitter mob.
As one Twitter user, Rose of Dawn, responded: "Malala Yousafzai has done far more for the world than anyone whining about her having a Tory friend. And I think they know it."
Malala Yousafzai has done far more for the world than anyone whining about her having a Tory friend. And I think they know it. https://t.co/EJ661CvgxM

— Rose of Dawn (@Rose_Of_Dawn) October 15, 2020
Exactly.
Malala survived a bullet to the head. I dare say she couldn't give a stuff what a bunch of brats with an internet connection say about her, or her choice of friends.
Think your friends would be interested? Share this story!
The statements, views and opinions expressed in this column are solely those of the author and do not necessarily represent those of RT.
You can share this story on social media: