Wayne Dupree: Dem lawmakers should be ashamed of the hate fest they turned the SCOTUS nomination into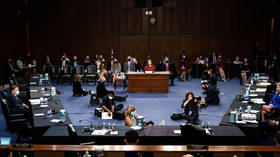 From the few minutes I watched, Judge Amy Coney Barrett (ACB) did not even need to attend these Supreme Court confirmation hearings.
It was a whole day of Democrats grinding their axes while proposing nothing new. How did she stay awake? Did she have a stash of Red Bull in the anteroom? It was an awful TV. It's rather disgusting that the entire first day was taken up with people making statements. No questions asked or answered, no information was brought forward – an incredible waste of time. Putting cameras in the House and Senate was an astonishing waste of time and money, and perverted the process.
Democrats preened and railed for the cameras but didn't land a punch. Heck, they talked about everything but ACB. All they did is reaffirm that they are the same nasty people who tried and failed to take out then-Judge Brett Kavanaugh. Democrats have to understand that lame ideology presented by balding Washington Post Senate ideologues and retweeted by third-rate actresses protecting an expensive and unnecessary wealth-transfer program isn't riveting TV. Ditto the Joe Biden press events at the local Starbucks.
Until the DNC hires the producers of the Jerry Springer Show or Dr. Phil, Diane Feinstein is not getting any ratings. Americans want to hear from ACB, not Maxine Waters, for God's sake. Democrats and Barack Obama could and should have fixed 90 percent of the problems with ObamaCare, but they chose not to, and thanks to John McCain, that albatross is still around their neck. Millions of folks are still without health insurance, no thanks to Democrats.
I guess I kind of worried about how her kids were feeling, being forced to sit through a reasonably uncomfortable, hostile, grown-up event. Those reaching their teen years may have some difficult questions to answer as they get older and start thinking things through a bit. It may not help the parent-child relationships in that family, that they were/are obliged to play such a highly visible role in this event.
If roles were reversed and the Dems were in this position, they wouldn't hesitate to push and fill the SCOTUS seat with another uber-liberal judge like Ruth Bader Ginsburg. Nobody knows when anyone is going to die. Now that Trump and the GOP have a chance to confirm Barrett, it's unconstitutional and rushed? ACB would be a worthy successor for Antonin Scalia (for whom she once worked as a clerk), who was a great but conservative judge. These Dem senators have made themselves look like hypocrites, but I don't expect they will let up or back off – even if their handling of ACB threatens to cause irreversible damage to their own political credibility.
Also on rt.com
Senate Democrats' leader Schumer slams idea of virtual hearing for SCOTUS pick – but not all the other virtual Senate hearings
Some of us remember Chuck Schumer's role in the denial of hearing notion: "Sen. Chuck Schumer (D-N.Y.) said in 2007 that President George W. Bush shouldn't get to pick any more Supreme Court justices because Schumer was afraid the bench leaned too far Right. Schumer made this remark a whole 19 months before the next president was inaugurated. 'We should not confirm any Bush nominee to the Supreme Court, except in extraordinary circumstances,' Schumer said in a speech to the liberal American Constitution Society," writes The Federalist.
In 2007, Schumer made it clear that the game was hardball, not softball. Nobody should be shocked when Senate Majority Leader Mitch McConnell says, "OK, I know how to play that game."
This was possible because "elections have consequences," as a former president once said. The vicious nomination process started with the attack Ted Kennedy led against Robert Bork in 1987. This "changed everything, maybe forever."
Live by the sword, die by the sword.
The Democrats sloppily wrote and passed massive health care legislation, and now they are criticizing a judge capable of actually reading it and interpreting it as written. One thing we know for sure is that the irony of the Democrats threatening to pack the court to get passage of poorly written laws or judgments without a law at all, to further their political and social agenda, is sad.
The court is not in crisis; the legislative branch from both parties is failing. Compromise is gone…
As Americans, we can do much better. For our kids and grandkids, we have to.
Think your friends would be interested? Share this story!
The statements, views and opinions expressed in this column are solely those of the author and do not necessarily represent those of RT.