Yelp's accusation-based 'racism warning' on restaurants encourages mob thuggery in the name of social justice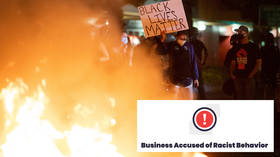 User-generated review directory Yelp has made it easier for cancel-culture enthusiasts to wreak havoc on businesses, rolling out a scarlet letter for companies "accused of racism" that practically cries out to be abused.
"Review-bombing" has long been a tactic of social-media intimidation on review sites like Yelp – an angry mob (or a competitor) targets a restaurant's page by claiming they've all found dead cockroaches or hair in their food, or insists a store-owner called them nasty names. To Yelp's credit, it eventually caught on to this practice and began freezing pages experiencing an unusually high amount of traffic with a "Public Attention Alert" warning users some reviews are likely not based on actual customer experiences and preventing new ones from being added.
But while the "Public Attention Alert" was an all-purpose freeze, serving to paralyze the pages of businesses both targeted by and accused of racist behavior and other scandals, Yelp has apparently decided that didn't go far enough in separating the perpetrators from the victims. The new "Business Accused of Racist Behavior Alert" makes it clear that the owner of any page bearing the warning is guilty of the worst offense one can commit in 2020 – never mind the presumption of innocence.
Also on rt.com
Boston prof, who got $10mn for anti-racism research from Twitter's Dorsey, catches flak after saying term 'not racist' is RACIST
In a blog post announcing the feature on Thursday, Yelp stated it will be including a link to a news article with every "racist behavior alert," implying the site needs more than just a few upset customers to apply the scarlet letter (actually a scarlet exclamation point). But the credulousness of most mainstream media outlets with regard to racist incidents – despite countlesshoaxes in recent years – means even the most spurious allegations will likely find a taker somewhere.
Social media is full of gullible joiners, people who can be persuaded to flood a business' Yelp page with hate (ironically in the name of combating hate) by nothing more than an out-of-context photo and an emotional story. Armed with that rise in review activity and a news article confirming the claim, Yelp is free to act as judge, jury and executioner, slapping their racist behavior alert on a business that is likely already struggling due to the pandemic economic shutdowns still strangling the US economy. Any right-thinking individual who was contemplating eating or shopping there will probably reconsider – after all, no one wants to give their money to a bunch of racists.
To believe that this won't be abused by not only amoral attention-seekers and race grifters but also by economic competitors is absurdly naive. With fewer consumer dollars than ever floating around, businesses may find the easiest way to boost their own customer base is to destroy someone else's. When a large corporation like Home Depot or Goya is 'unmasked' as a supporter of President Donald Trump, for example, calls to boycott inevitably follow, and their competitors see a surge in business – a phenomenon experienced by small or regional establishments as well.
The racist behavior label still freezes reviews, so vengeful Yelpers can't slag off the business on the internet. However, while the wanton destruction of commercial establishments seen across the US during the riots of the past five months has simmered down, periodic outbreaks are still leaving businesses in tatters. While the targets may not be planned, it's not unreasonable to imagine that an establishment tagged as racist on Yelp might be specifically preyed on during the next riot. The Wendy's where an Atlanta cop shot Rayshard Brooks in the parking lot was burned to the ground by rioters in June, not long after the killing, apparently because employees had called police to remove the unconscious Brooks, who had passed out in his car in the drive-through lane.
Even if the reported racist incident is wholly accurate, the ethics of consigning a business to commercial death for what might be the actions of a single employee, especially during a recession, are dubious. If a restaurant is forced to close following a racism scandal amplified by Yelp, it's vanishingly unlikely everyone who loses their jobs is also a racist – many will no doubt be people of color. Some 450 businesses have had warnings placed on them since the killing of George Floyd in Minneapolis reanimated Black Lives Matter, and the number is only growing. With unemployment at record levels in the US, what restitution does Yelp offer those who lose their jobs because its labels scared customers away?
Perhaps with 60 percent of temporary business closures on the platform due to Covid-19 recently found to be permanent, Yelp has decided protecting the reputations of the businesses that use their platform is no longer a growth industry. But if this social-justice bullying continues, proprietors may find it's more worth their while to stay off Yelp altogether.
Also on rt.com
'Please pass the guilt': SJW grifters running woke dinner scam on wealthy whites are amplifying the racism they claim to fight
Possibly positioning itself for just such an outcome, the platform has also partnered with "Open to All," a group that charges $10 for window decals marking a business as a no-discrimination zone, to create a diversity-training package for small businesses that can't afford to hire a real "diversity consultant" to personally lambaste them for their racial sins. Small businesses may be dying, but race-grifting is a bull market.
Just as the smearing of lamb's blood on one's door during Passover was supposed to protect the ancient Israelites from having their first-born sons slaughtered by an angry God, these "Open to All" signs and the "Black-Owned Business" labels Yelp adopted in June as a search feature may function as a silent plea to be spared during the next riot. But the bat-wielding sociopaths destroying property under cover of BLM don't actually care about black lives or any other social justice cause. Yelp may be aligning itself with the mob, but do businesses really think that rioters will heed their trendy talismans?
Like this story? Share it with a friend!
The statements, views and opinions expressed in this column are solely those of the author and do not necessarily represent those of RT.
You can share this story on social media: