The US military is NOT a feminist organization: It can't protect women's rights abroad as it can't protect its own female soldiers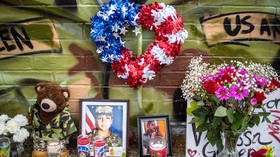 The assertion that the US military would ever fight for the rights of women abroad is absurd considering it doesn't even protect its own female soldiers from their male comrades.
One could be forgiven if they have been led to believe that the US military is a force for women's rights around the world.
Indeed, we are often told that the US should be careful, for example, in withdrawing its troops from Afghanistan lest women there be left to fend for themselves in a hostile environment without their protection. This message came through loud and clear from Democratic lawmakers who recently grilled the Trump Administration about its peace efforts in Afghanistan and its decision to withdraw all American troops by May 2021.
As NBC News put it, "President Donald Trump's envoy to Afghanistan faced tough questioning... by Democratic lawmakers who accused the administration of jeopardizing the rights of Afghan women in pursuit of a peace deal."
The assumption of the Democrats, just as that of many pundits, is that the US has somehow advanced the cause of women in Afghanistan since the US began intervening in that country in 1979.
For example, in a recent op-ed, Ved Nanda, University Professor and director of the Ved Nanda Center for International Law at the University of Denver Sturm College of Law, also urged the US to tread carefully in withdrawing from Afghanistan because, in his words, "Afghanistan is at a crossroads – people there are thirsting for peace and stability, of which they have dreamt for 40 years. It wants to keep the progress it has made on human and minority rights, media freedom, and building democratic institutions. The future remains uncertain, but the U.S. must not abandon the country once again, which it did after helping the Mujahideen to repel the Russians from its territory." Nanda's assumption is that progress, including in women's rights, is advanced by US intervention in Afghanistan, and is somehow threatened by its withdrawal.
Such assumptions ignore key facts about the history of US intervention in Afghanistan, and about the nature of the US military in general.
First of all, the US did not, as Nanda claims, support the Mujahideen in order to repel the Russians from Afghanistan. Rather, as the architect of US's intervention in Afghanistan at that time, Zbigniew Brzezinski later admitted, the US began supporting the Mujahideen in Afghanistan six months before the Soviet Union invaded that country, and the US did so, moreover, in order to draw the USSR into a protracted war there. Brzezinski's explicit goal was to give the USSR its own Vietnam war so as to undermine the Soviet Union.
The fate of the Afghans in that conflict, and of women in particular, was of little concern; indeed, they were nothing but collateral damage in Brzezinski's cynical "chess game" with the Soviet Union. And, damaged they were. At the time the US began supporting the radical, misogynist jihadists in Afghanistan (one of whose leaders was Osama bin Laden), Afghanistan was being led by the secular Taraki government which had been doing much to advance women's rights.
The US intervention destroyed that progress for decades to come; it did not advance it.
As history scholar Michael Parenti explains, "the government . . . continued a campaign begun by the king to emancipate women from their age-old tribal bondage. It provided public education for girls and for the children of various tribes. A report in the San Francisco Chronicle (17 November 2001) noted that under the Taraki regime Kabul had been 'a cosmopolitan city. Artists and hippies flocked to the capital. Women studied agriculture, engineering and business at the city's university. Afghan women held government jobs -- in the 1980s, there were seven female members of parliament. Women drove cars, traveled and went on dates. Fifty percent of university students were women.'"
All of this was shattered with the rise and conquest of the US-backed Mujahideen. Thus, as Parenti explains, when the US' jihadist friends eventually came to power, "they ravaged the cities, terrorized civilian populations, looted, staged mass executions, closed schools, raped thousands of women and girls, and reduced half of Kabul to rubble. In 2001 Amnesty International reported that the Mujahideen used sexual assault as 'a method of intimidating vanquished populations and rewarding soldiers.'" So much for advancing women's rights!
Also on rt.com
The murder of a female soldier has shown just how bad sexual violence is in the US military. As a soldier who was raped, I know
And, what has been the consequence of the US invasion of Afghanistan in 2001 and its subsequent, nearly two-decade occupation? More suffering for the Afghan population, men, women and children alike.
First, we must start from the fact that, after the US's long occupation of Afghanistan, that country is ranked at the very bottom of all countries in the world for women's rights – this, according to a piece in Time magazine, citing a report from Amnesty International, and lamenting how this possibly could be given that the US "war was billed, in part, as 'a fight for the rights and dignity of women.'"
Of course, the assertion that the US military would ever fight for the rights of women simply miscomprehends the goals and nature of that military. Thus, the American military does not even protect its own female soldiers from their male comrades. The incidence of sexual harassment and sexual assault within the US military is high and climbing, with 13,000 female soldiers in fiscal year 2018 (the last year for which complete data is available) reporting that they were sexually assaulted or raped. A staggering 38% of female veterans and active military personnel have been treated for "Military Sexual Trauma"; nearly a quarter of all female military personnel have reported being sexually harassed, and one-fifth of those report being raped thereafter.
These terrible statistics were highlighted by the murder this year of Army Spc. Vanessa Guillen, a female soldier at Fort Hood in Texas. She was brutally killed and dismembered by a fellow, male soldier after she shared allegations of sexual harassment with her family. One-third of the female soldiers at this base have officially reported being sexually harassed by soldiers.
Meanwhile, US forces are guilty of abusing, harassing and sexually assaulting women in virtually every country it has a presence. In the US war on Vietnam, for example, soldiers reported that the rape of Vietnamese women and girls was "standard operating procedure" for American infantrymen. And the Vietnam War was not unique in this regard, with a Duke Law Review article explaining that rape and sexual violence has been perpetrated on a significant scale by the US military in every conflict it has been engaged in since at least WWII, and including during WWII. What's more, this is not just during wartime, but also during peacetime at nearly every all of the US's 800 global military bases, where US troops are serviced by prostitutes and trafficked persons with a limited degree of consent. As feminist commentator, Elizabeth Mesok, explains, "US imperialism [is] dependent on sexual torture."
Indeed, all imperial intervention is dependent upon the abuse of women. This is why the main legal instrument purporting to advance women's rights, the Convention on the Elimination of all Forms of Discrimination Against Women (CEDAW) makes it clear in the preamble "that the eradication of . . . colonialism, neo-colonialism, aggression, foreign occupation and domination and interference in the internal affairs of States is essential to the full enjoyment of the rights of men and women." That is, the very idea that US intervention in other nations will advance women's rights is anathema to the main international treaty created to protect such rights. It is no surprise then that the US is one of only a handful of nations which has refused to ratify this Convention – but another reason to doubt the US's bona fides in claiming to protect women's rights abroad.
Think your friends would be interested? Share this story!
The statements, views and opinions expressed in this column are solely those of the author and do not necessarily represent those of RT.
You can share this story on social media: