Trailer for 'girl power' spy movie 'The 355' wraps the same tired old CIA propaganda in a feminist woke cloak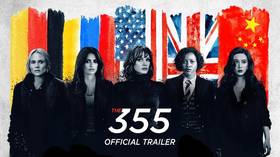 The long-running CIA-Hollywood partnership is at it again, trying to fool audiences with a female-driven action movie set for release in January 2021.
Hollywood is churning out yet another feminist action flick for the cinema-going public to ignore.
'The 355,' directed by Simon Kinberg and starring Jessica Chastain, tells the story of five female intelligence agents from different nations – the US, UK, Columbia, Germany and China – who come together to recover a top secret weapon.
Besides Chastain, the film stars Lupita Nyong'o, Penelope Cruz, Diane Kruger and Fan Bingbing.
The trailer features eye-rolling of dialogue such as "Now we have a common enemy… and if we don't stop them, they'll start World War III;" and "We put ourselves in danger, so others aren't."
If the final film is as dreadfully absurd as the trailer, then it's sure to be an odious piece of cinematic garbage.
What is most interesting to me about 'The 355'though is that, while I don't know this for sure, it certainly appears to be the latest in a long line of pro-intelligence-agency Hollywood products that propagates America's nefarious global agenda under the ruse of promoting female empowerment.
For example, in 2001, America's sweetheart Jennifer Garner starred as CIA super-agent Sydney Bristow on the hit tv show Alias (2001-2006). On top of the show being a fawning CIA propaganda piece, Garner went the extra mile and filmed a recruitment video for the agency. The CIA's press release announcing that video is insightful.
"Ms Garner was excited to participate in the video after being asked by the Office of Public Affairs. The CIA's Film Industry Liaison worked with the writers of Alias during the first season to educate them on fundamental tradecraft. Although the show Alias is fictional, the character Jennifer Garner plays embodies the integrity, patriotism, and intelligence the CIA looks for in its officers."
Also on rt.com
Oscars' new diversity & inclusion rules do not do enough to purge Hollywood of the evil of straight white men
Anyone who unironically claims the CIA is filled with integrity, patriotism and intelligence either is completely historically illiterate or actually works for the CIA.
Garner's ex-husband, movie star Ben Affleck, is also no stranger to working with the agency as evidenced by the films 'The Sum of All Fears' and 'Argo.' In 2012, Affleck said, "Probably Hollywood is filled with CIA agents." I wonder if he was referencing himself or his ex-wife in that statement?
Another pro-CIA, female-driven narrative was Showtime's award-winning Homeland (2011-2020). The producers of Homeland reached out to the CIA early in the making of the show and agency hands are all over it. The CIA even had consultants on set to make sure the depictions of the agency were "realistic."
The star and producer of 'The 355,' Jessica Chastain, is also no stranger to collaborating with the CIA, as she starred in the infamous agency propaganda piece 'Zero Dark Thirty'(2012).
On that film, which claimed to show the true story of the CIA hunt for Bin Laden, the agency went to great lengths to control and falsify the narrative. The CIA granted remarkable access to the filmmakers, including classified briefings, in exchange for control over what went on screen. The agency took full advantage of that control and made the CIA out to be heroes and torture to be highly beneficial in finding and killing Bin Laden.
Intriguingly enough, it was Chastain herself who pitched the idea for a female James Bond-Mission Impossible type of spy movie which became 'The 355.' Is it possible that Chastain is one of the CIA people in Hollywood that Ben Affleck mentioned? Unlikely, but it certainly seems like she is more than happy to make projects that uncritically show the CIA as the good guys as long as it garners her money and prestige.
Also on rt.com
Cursed, Netflix's girl-power-infused retelling of King Arthur legend, is more proof that wokeness ruins everything it touches
The CIA eagerly uses Hollywood to promote the notion of intelligence agency women as American Jane Bonds, and that has real-world consequences. Feminists cheer that the agency is now headed by torture enthusiast Gina Haspel, and has women leading three of its top directorates. The pussyhat brigade also embraced former female CIA personnel, Democrats Abigail Spanberger and Elissa Slotkin, as they ran and won congressional seats in 2018 by touting their background as CIA 'badasses.'
Sadly, by co-opting vociferous feminist voices like Chastain and 'Captain Marvel' star Brie Larson – as well as the feminist movement which has historically been anti-war and pro-peace (think Jane Fonda), the CIA not only has no opposition from famous women, but actually has their endorsement.
Progressive women, like Chastain and Larson, say they care about women's issues, but by making a Devil's bargain with the military and intelligence community, they are selling their souls and moral authority to promote predatory power. Their silence in the face of America's violent militarism and imperialism, which murders and maims countless women and children worldwide, is shameful and damning.
Also on rt.com
In the Pentagon and China's propaganda wars, greedy Hollywood is a happy helper for both – the people and art are the victims
Thankfully, from the looks of its atrocious trailer, 'The 355' will probably face the same box office fate as the cavalcade of recent busts like 'Ghostbusters' (2016), 'Ocean's 8,' 'Charlie's Angels' (2019) and 'Birds of Prey' that put feminism first and quality filmmaking second.
Sadly though, that won't stop the CIA and Hollywood from continuing to use gullible and ambitious women to mendaciously sell the agency as a beacon of all that is patriotic and progressive – when in reality it is the antithesis of both. As Ben Affleck once astutely observed, "Hollywood and the clandestine services both spend most of their time convincing people that something that is not true is, in fact, true."
Think your friends would be interested? Share this story!
The statements, views and opinions expressed in this column are solely those of the author and do not necessarily represent those of RT.
You can share this story on social media: