Thousands of the world's top scientists are finally speaking out against lockdowns. Let's pray it's not too little, too late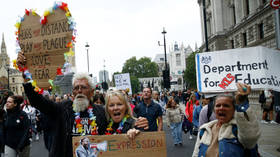 More than 7,000 top scientists and doctors have signed a declaration calling for politicians to reconsider their entire approach to Covid, and to adopt a herd immunity strategy. Why didn't this happen seven months ago?
In its first few days, almost 3,000 medical and public health scientists, over 4,000 medical practitioners, and an astonishing 65,000 members of the public have added their names to a backlash against government state-sanctioned Covid restrictions. If you wish to sign yourself, you can do so here.
The declaration was co-written by Professor Sunetra Gupta of the University of Oxford, whose level-minded and wise counsel on Covid I have been plugging for months. The other two authors are American: the illustrious Dr Jay Bhattacharya of Stanford and Dr Martin Kulldorff of Harvard. Hardly bug-eyed risk takers (although they may well be presented as such in the mainstream media).
But despite a recent invitation to advise the UK parliament, Gupta's words have thus far gone completely unheeded. In fact, it has been suggested that she and other ardent anti-establishment voices were brought in only as a ruse to placate the significant faction of the scientific community that has refused to blindly follow 'the science'. If that was Boris and co's plan, however, it has backfired, because Gupta and her colleagues are not giving up that easily.
Too big to ignore
Make no mistake: this is no half-cocked social media petition that politicians can comfortably ignore, regardless of the number of signatories. This is an official document with a title, the Great Barrington Declaration, after the town in Massachusetts where Gupta travelled to write it up.
Its arguments will not be new to anyone familiar with the statements of Gupta and others on the lockdowns. "Current lockdown policies are producing devastating effects on short- and long-term public health," it begins, adding that waiting for a vaccine "will cause irreparable damage." Instead, it calls for "focused protection" – essentially, letting the healthy out as normal to develop herd immunity while cocooning the elderly.
But herd immunity is wrongthink to much of the public; they associate it with "letting the virus rip," and infer that it will involve the bovine culling of an entire demographic. There are two things to remember about this. First, the body of evidence strongly suggests that the virus has long since reached endemic status pretty much everywhere, and people already have herd immunity anyway. Why else have Covid deaths essentially flatlined ever since the April peak?
Second, since there is not a scrap of evidence that any restrictions slow or stop the virus, haven't we been "letting the virus rip" anyway? It is called Covid-19 for a reason – it was spreading freely around the world well before Christmas of last year. How slow do people think this virus is? The reason Covid deaths fell as quickly as they rose back in spring is because the disease had all but run its course. The Great Barrington Declaration does not engage with this model of the virus (the only one I have seen that fits the facts) and so I fear that, in not being adamant enough, it could alienate both sides.
Also on rt.com
As Boris Johnson announces Britain's 'great reset', were the Covid 'conspiracy theorists' right all along?
Between two stools?
For instance, the declaration lists a series of preventative measures that vulnerable people "should use" to avoid infection. Again, in my opinion only a hazmat suit and full laboratory quarantine can protect a person from an endemic respiratory virus. Nevertheless, the "think of Granny!" brigade should be satisfied with this part.
Establishment quacks are already being wheeled out to finger-wag about the "dangerous idea" of herd immunity, and also to throw about the newly coined phrase "long Covid", referring to lasting fatigue and other effects some people are claiming after surviving the virus.
These commentators, along with moronic social media commentators, often describe herd immunity as "genocidal". This hyperbole was especially prevalent when Sweden was said to be aiming for herd immunity (it never was). You may have noticed, though, that when the issue of mandatory vaccines comes up, herd immunity suddenly becomes very important. Strange…
Of course, herd immunity is far from genocidal. In fact, as one Twitter user with a good memory pointed out, wasn't the UK's plan from the very beginning about reaching it?
When the history of this outbreak is written, one hopes that the Great Barrington Declaration will be an important moment when the tide turned away from the lockdown evangelists and towards the interests of the common people. One thing is certain: it is not before time.
The statements, views and opinions expressed in this column are solely those of the author and do not necessarily represent those of RT.
You can share this story on social media: