Canada's attempted escalation of cold war against China only illustrates how impotent Trudeau really is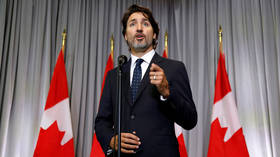 Canadians are starting to question Prime Minister Justin Trudeau's ongoing hostility towards China. In trying to play tough with Beijing and keep his allies happy, he's only making Canada look weak.
Flag-raising ceremonies, like hundreds of other similar events that take place at the legislature of the Canadian province of Ontario, are generally treated as routine and innocuous. Raise the country's flag, have a diplomat say a few words, call it a day…
Rarely do they garner any significant attention, from the media or otherwise. This was certainly the expectation for a commemoration of the 71st anniversary of the founding of the People's Republic of China, with whom Canada has had formal diplomatic relations since the 1970s.
But with ties between the two countries worsening by the day, even something as routine as a flag- raising ceremony couldn't fly under the radar. Under pressure from politicians and others, the October 1 ceremony was cancelled, in Canada's latest petty salvo against the world's most populous country.
The downward spiral began almost two years ago when Meng Wanzhou, the chief financial officer for Huawei, was detained by Canadian officials after arriving at Vancouver International Airport for a connecting flight to Mexico. The telecommunications executive has been held in Canada ever since, with a pending possible extradition to the United States where she is being charged with breaking US sanctions on Iran.
At the time, few people in Canada had heard of Huawei, which only held just over two percent of the cellphone market in the country. Many in Canada – including Chinese Canadians – were left scratching their heads over Meng's detention, especially considering that what she was being accused of was not a crime in Canada.
The name of the company and the executive are now very well known in the country, and not only because Huawei has overtaken Samsung as the world's largest smartphone manufacturer, with eight percent of the Canadian market. Meng's arrest precipitated an in-kind response from China, which detained two Canadians – former diplomat Michael Kovrig and consultant Michael Spavor.
Ottawa has blasted their arrests as "arbitrary," and Prime Minister Justin Trudeau even mentioned them in his recent throne speech, while China accused Canada of "adopting double standards" and displaying "Western egotism and white supremacy" in Meng's detention.
Also on rt.com
As scandal-hit charity linked to Justin Trudeau shuts up shop in Canada, the silence of the woke brigade is deafening
The arrest of the two Canadians was among the reasons the flag-raising ceremony was called off, but it is also part of a much larger, global dynamic taking place.
It should now be clear that Meng's arrest had little to do with Huawei's phones or its dealings with Iran, but rather the company's moves to access and provide equipment for 5G networks, especially in Europe and North America. Intelligence and military services, especially those of the so-called Five Eyes, moved frantically and concertedly to freeze the Chinese out of those markets, citing security concerns.
As much as Trudeau and his government might claim they had no involvement in the Huawei executive's arrest, there is broad recognition that her detention is a part of this geopolitical struggle.
So, like Meng, Kovrig and Spavor have now become collateral damage in this seething war for the economy of the future, where data and communications are key.
Part of stemming the continued growth of what is now the second largest economy on the planet, it seems, is the vilification of anything Chinese – something which has only intensified since the outbreak of the Covid-19 pandemic.
This message has been constant and multi-faceted but, predictably, impossible to contain only to the country itself and the products that come from it. In Canada, reports of racist attacks against Chinese Canadians have increased significantly as a result.
Still, in spite of these efforts to demonize China, a significant number of people in Canada want the ongoing escalation in hostility to stop.
While recent polls on Canadian attitudes towards China show that a large majority think the country should be less reliant on trade with the Asian powerhouse – which certainly makes sense, given the renewed focus on supporting local and national production – 42 percent of people in Canada think the prime minister is not managing relations with China well.
No doubt there are also those who would prefer Trudeau went for the Chinese even harder, but for decades, Canadians have constructed an identity as good global citizens who don't want to get mixed up in other people's affairs. Ironically, this ideal was institutionalized into state policy under Prime Minister Pierre Trudeau, who also normalized relations with the People's Republic.
Canada hasn't always adhered to that vision, especially under the current Liberal leadership. Its role in trying to oust Venezuela's government, the arrest of the Huawei exec and other subsequent aggressions have an increasing number of people pushing back against the foreign policy direction under Justin Trudeau and now his deputy prime minister, Chrystia Freeland.
Also on rt.com
Look who's talking! Pompeo slams China's 'politically motivated' charges against 2 Canadians nabbed after Huawei CFO arrest
A parliamentary petition, launched in the last week of September and sponsored by a sitting member of parliament, is calling for the release of Meng Wanzhou, while another from the Canadian Foreign Policy Institute and signed by numerous prominent artists, as well as current and former politicians, challenges the government to "fundamentally reassess Canadian foreign policy."
Beyond the lack of public appetite for it, these events have also shown that Canada's political leadership doesn't have the stomach or wherewithal for the severity of this type of play. China's response, including its curbing of Canadian imports, has Ottawa looking impotent and disjointed as it simultaneously scrambles to mitigate damage with China while looking to keep onside with Washington and the Five Eyes.
So, while the cancelling of a vapid ceremony is a remarkably Canadian form of being passive-aggressive, and perfectly in line with the rest of this imperialist fail, it is hardly how we, as a country, save face.
Think your friends would be interested? Share this story!
The statements, views and opinions expressed in this column are solely those of the author and do not necessarily represent those of RT.
You can share this story on social media: