New Travellers Lives Matter movement is absolutely necessary – they have been discriminated against in Britain for too long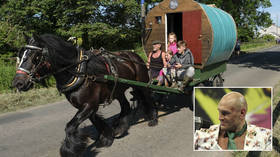 After decades of facing bigotry and intolerance, the travelling community, led by boxer Tyson Fury, are mobilising to fight for their rights. And they've every right to, because the discrimination they face is shocking.
It seems everyone who could protest has done so of late. And the latest group to mobilise are the travelling community.
They made their public debut earlier this week in the town of Morecambe in Lancashire, North West England. The seemingly obscure location and copycat TLM (Travellers Lives Matter) slogan shouldn't diminish the cause.
As has been documented previously, travellers suffer rampant discrimination in the UK. Research has shown the police have a bias against them, they have problems registering with GPs and one study revealed 91 percent had experienced discrimination.
But the straw that broke the camel's back was footage of two men being refused entry to a pub, The Hurley Flyer. The doorman explained that bosses had instructed him to turn away any travellers.
For the record, the pub has denied this is true and said: "Under the circumstances a member of the appointed door security team believed they were acting with the best intentions of preserving the safety of our employees and guests, but was wrong to suggest there is a specific ban on any social group."
World heavyweight boxing champion Tyson Fury was enraged by the incident, however, and reposted it to his millions of fans on social media.
Fury was the focal point of the TLM protest, leading a crowd of hundreds as they marched to The Hurley Flyer.
After that they headed off to another pub which allegedly refuses travellers entry too, The William Mitchell. It has been approached for comment but is yet to respond.
Fury ranted,"It's ok to be racist in 2020, it's ok to persecute my people, it seems to be accepted... it's about time we stand up and be counted like everybody else."
As a world-famous boxer, Fury is adept at attracting attention and making wild claims. Nevertheless, he is predicting a massive event is in the works, as he claimed, "I will be calling on maybe a million gypsies and travellers across Britain and Ireland to march in London very, very shortly…we shall have equal rights like everybody else."
Maybe we have all been anaesthetised by the recent movements such as #MeToo and BLM, but travellers are in a truly dire situation.
To have a doorman shamefully say that a single ethnic group is not allowed entry is a mirror image of black activist Rosa Parks being told to stand to allow a white person to sit down on a bus in Alabama back in the 50s.
According to the travelling community, their kids are not welcome in some cinemas and one protester even accused a local garage of refusing to work on their cars.
Also on rt.com
If the UK is serious about tackling racism, it needs to address its unchecked bigotry towards travellers and gypsies
Part of the issue is that for too long a lazy stereotype has been allowed to build of travellers being layabouts, who steal things and disrupt local communities.
There's no question that they are responsible for some crime and anti-social behaviour. What ethnic group isn't? But does this excuse the bigotry they face on a daily basis?
For example, while there has been a concerted effort in recent times to use correct language and avoid stereotypes involving skin colour or religion, that hasn't happened with travellers.
They've been forgotten and there's been no pressure from anywhere to correct that.
This month a young man was fined in court for anonymously ordering a banana to a black man's table in a pub. If a similar tasteless prank was played on a traveller, it simply wouldn't be given the same treatment.
There are also commonly used slurs which never face the same backlash as homophobic or racial jibes.
And has an MP ever stood up in the House of Commons and called for the injustice to end?
Also on rt.com
British politicians and the MSM have sent a clear message to the white working class for decades: 'You don't matter'
Since July, three Conservative MPs (Robert Syms, Mark Jenkinson and Robert Halfon) have spoken to the media about the need to issue authorities with greater powers over travellers. In contrast, there appears to be no evidence of anyone in authority pleading the case for the travelling community.
And while there have been briefing papers and reports issued by the government listing the issues facing travellers, these kinds of studies are produced regularly, seemingly to little effect.
Indeed, the issue of badger culling has been given more attention by the British government and media. When a member of the weasel family is deemed more worthy of consideration than an entire group of people, the scale of the problem is evident.
TLM has to be nurtured and supported. Role models are key. Like Fury, a lot of well-known boxers are travellers. Another contemporary figure is pop star Cher Lloyd. Because the community isn't represented like others in the rest of society, this adds to the burden on high-profile figures to shoulder the load.
There has to be a push to see them given more consideration in our judicial, education and medical systems. And has, for example, a traveller ever taken a seat in the House of Commons? Some form of representation is necessary.
One protester speaking at the Morecambe march nailed it when he said, "If we don't stand up for our rights, nobody else will do it." That should not be the case. TLM is something we should all get behind; it's a cause worth fighting for.
Think your friends would be interested? Share this story!
The statements, views and opinions expressed in this column are solely those of the author and do not necessarily represent those of RT.
You can share this story on social media: