Kim Jong-Dan's draconian Covid-19 crackdown in Australia exposes some deep-seated corruption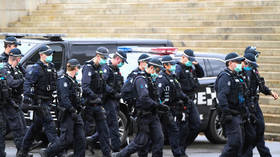 The crisis over the pandemic has been made worse by the egregious incompetence and dishonesty of Victorian Premier Dan Andrews.
The draconian Covid-19 lockdown measures recently imposed by Labor Premier Andrews – dubbed Kim Jong-Dan by critics – have understandably attracted widespread media criticism. Social distancing is necessary, but how can the nighttime curfew or Andrews' attempt to impose a 12-month state of emergency be justified?
It is now clear that the second wave of Covid-19 in Victoria (which saw new cases reaching 1,000 a day) occurred because of the appalling incompetence of the Andrews government and public service agencies in their handling of the hotel quarantine and contact tracing regimes.
Andrews, however, simply refuses to accept this, and since the second wave emerged he has told a series of lies in a pathetic attempt to avoid responsibility for the debacle he created.
First, Andrews alleged that Prime Minister Scott Morrison did not offer Victoria federal government assistance to establish and run its hotel quarantine and contact tracing regimes. The allegation was untrue. Federal assistance was offered, but Andrews refused it.
Also on rt.com
Aussie minister warns foreign journos against 'slanted view' in spy row with Beijing, as cops crush lockdown dissent at home
The premier then blamed health officials and the police for the all-encompassing draconian lockdown regime instituted by his government. This has also been shown to be completely untrue. Andrews and his government were the architects of the regime.
Andrews' transparent dishonesty should come as no surprise.
The recent Adem Somyurek branch stacking scandal exposed the organisational corruption at the heart of the Victorian Labor Party. Somyurek was a friend of Andrews, who personally appointed him to cabinet. Somyurek engaged in extensive branch stacking in order to ensure that candidates acceptable to power-brokers within the Labor Party were preselected for federal and state parliament.
What was Andrews' response when the media exposed this? He said he was completely unaware of Somyurek's activities, and an internal Labor Party enquiry into the matter was established. Meanwhile, corruptly preselected Labor politicians continue to sit on the government benches in Victoria.
Andrews has also established a judicial enquiry into the monumental failure of the hotel quarantine and contact tracing regimes that caused the second wave in Victoria.
No enquiry is needed, however, to discover the fundamental reason for those failures.
They occurred because in Victoria, under the Andrews government, public service departments have been corrupted by ideologies of identity politics, "social inclusion," "gender equality" and "diversity." The dictates of ideological purity have supplanted traditional public service goals of competence and achieved rational outcomes.
This is not an abstract criticism.
When the Victorian Departments of Health and Human Services and Jobs, Precincts and Regions put a private security firm in charge of the hotel quarantine regime, the firm was selected because it fulfilled the government's "social inclusion" hiring requirements. The fact that the firm has no experience in quarantine matters was not thought to be a relevant consideration – hence the ensuing debacle.
As academic and political commentator Bella D'Abrera noted recently: "The government of Daniel Andrews appears to be operating in a different kind of reality in which it is blatantly more concerned with social engineering than it is healthcare".
Also on rt.com
Australia's totalitarian-style lockdown has set a precedent other countries may be tempted to follow
Andrews has been premier since 2014, and he has politicized the Victorian public service to a degree previously unimaginable. And he is definitely not for turning.
Just this week, amidst the current crisis, his government proudly announced the appointment of a Public Sector Equality Commissioner whose well-paid task it will be to draw up gender equality "action plans." The hundreds of Victorians who have been infected during the second wave will no doubt find this wonderfully comforting.
Unfortunately, corruption in Victoria extends beyond the government and the public service. As an ongoing Royal Commission has made clear, the stench of corruption also permeates the Victorian police force.
Evidence has shown that the Victoria Police used a barrister specialising in criminal law as a police informant for years. While representing numerous Victorian crime figures, she gave information about their activities to the police. Many who were convicted are now seeking to have their guilty verdicts overturned.
High-ranking police officers, some still serving in the force, condoned and encouraged this completely improper scheme. Their actions make the Chicago police force during the Capone era look like a model of ethical rectitude.
When the Melbourne Herald-Sun newspaper tried to expose the scandal, the police obtained suppression orders from the courts that prevented the paper from reporting on the matter for two years.
Only when the Australian High Court intervened and put an end to this farce were the facts able to be disclosed to the Victorian public.
After the High Court ruling, Andrews reluctantly established a Royal Commission into the affair, but he has not yet taken any action against serving police officers who were involved.
This, of course, is the same police force that recently made Gestapo-type arrests of ordinary Victorians for breaching Andrews' heavy-handed lockdown regulations.
Also on rt.com
'Like dog eating own vomit': Top Victoria cop erupts in anger as he repeats warning against joining Melbourne anti-lockdown rally
What then, if anything, can be done to hold Andrews and his government to account?
Business owners whose livelihoods have been destroyed by the recent lockdown have foreshadowed a class action against the government. That, however, will not hurt Andrews or his political cronies. Even if the action is successful, Victorian taxpayers will foot the bill.
Legal proceedings under Victoria's industrial manslaughter legislation have also been mooted, but such proceedings will face legal difficulties.
Nor is political retribution likely. An election is not due until late 2022, and the opposition Liberal Party in Victoria is faction-ridden, ineffective and without a credible leader. That is why, before the Covid-19 crisis hit, Andrews was one of the most popular politicians in Australia.
Much like former UK leader Tony Blair (who he very much resembles), Andrews is extremely adept at dealing with the media. He refuses to speak to journalists who are critical of him, and his daily Covid-19 press conferences are master classes in obfuscation and evasion.
The most likely scenario is that Victoria will limp on towards failed state status (collapsing economy, incompetent and/or corrupt government, no effective political opposition and increasing social instability) under Andrews' tutelage – and that some time in the next two years (as has been suggested in the media this week), he will retire from politics.
In other words, Andrews will get off scot-free.
Think your friends would be interested? Share this story!
The statements, views and opinions expressed in this column are solely those of the author and do not necessarily represent those of RT.
You can share this story on social media: