Time to inhale: Democrats seek to gain an electoral high in the US presidential race by legalizing cannabis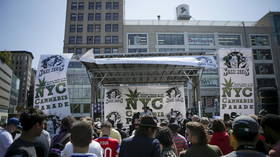 A bill allowing the use of marijuana is due to be voted into law later this month. Democrats hope the move – backed by VP candidate Kamala Harris – will boost their support in November's election. But might the gamble backfire?
The pursuit of marijuana legalization will hit a new high this month, when the Democrat-controlled US House of Representatives is expected to give it a thumbs up.
The bill – sponsored in the Senate by the party's vice-presidential candidate Kamala Harris – removes marijuana from the federal list of controlled substances, which has prevented aspiring entrepreneurs from getting the finance they need to grow cannabis businesses.
Supporters say it is also about racial justice – according to the American Civil Liberties Union, black people are 3.6 times more likely to get arrested for possessing pot than white people – and fits in nicely with their backing for the Black Lives Matter movement.
"Marijuana laws are enforced more heavily on people of color and disenfranchised communities," said Morgan Fox, spokesman for the National Cannabis Industry Association (NCIA), in an interview with RT. "The bill would change federal law. But the vast majority of arrests are taking place at the state and local levels."
Beyond legalizing pot, the MORE act would also make it easier to expunge arrests for marijuana possession as well as any past criminal convictions. That eases the path to a college education and to finding a job and getting housing.
Democrats calculate that legalizing cannabis is a political winner and something that promotes equal justice and economic opportunity. By removing federal penalties, there will be fewer arrests and a better chance for many to succeed in life – especially in an industry that will reinvest much of its profits into communities devastated by the war on drugs.
It's all a far cry from the time back in 1992 when the then Democratic presidential candidate, Bill Clinton, infamously admitted to having "experimented with marijuana" once or twice but added, "I didn't inhale it." The comedian Johnny Carson later quipped: "That's the trouble with the Democrats. Even when they do something wrong, they don't do it right."
These days, such wimpiness about smoking a spliff might do a candidate more harm than good. A 2019 Gallup poll found that 66 percent of Americans support legalization of the drug, including three-quarters of Democrats and about half of all Republicans. Which is a big turnaround in sentiment: back in 1969, when Gallup first asked the question, just 12% were in favor.
So what implications might this all have on the presidential race this November?
Most senior Democrats clearly feel it can be a vote-winning position, but others – including Joe Biden – are a little more wary. The presidential candidate opposes outright legalization, although he supports decriminalization and the use of marijuana for medical purposes. His position may be a result of his son Hunter's battles with cocaine, and a fear that cannabis use can lead to the use of more dangerous drugs.
Also on rt.com
US states seek BILLIONS from drug 'KINGPIN' Johnson & Johnson and its distributors for causing opioid crisis
NCIA spokesman Fox says that the so-called "gateway" link between marijuana and more addictive drugs has been debunked, and that legalization would ensure users would buy from well-regulated stores – not from drug dealers trying to up-sell them.
He believes Biden, if elected, would eventually back the bill. "Regardless of Biden's position, Senator Harris is the lead sponsor, and it is unlikely that Biden would stand in the way of more comprehensive legislation," he said. "This issue is more popular than any politician, and one that could swing this election."
But others believe that the push might muddle the Democrats' message with just weeks to go before Election Day. "You're harming your ability to defeat Donald Trump," Jon McHenry, a Republican pollster with North Star Opinion Research, told Politico. "He and his Republican allies get to say, 'See, Joe Biden's not going to be in control. Nancy Pelosi and Alexandria Ocasio-Cortez are in control.'"
So, what might President Trump do? He has opposed legalization, but he is also a political opportunist who may be tempted to jump in ahead of the 66 percent who favor legalization. He also understands business – and cannabis is rapidly becoming big business.
Fourteen states have so far legalized recreational use, while a further 33 have done so for medical purposes, and marijuana legalization is on the ballot in five states this November – measures that range from allowing adult use to permitting it for medical purposes.
Marijuana Biz Daily says that retail sales of the drug in the US will be $15 billion this year – and will rise as high as $37 billion by 2023. The number working full time in the industry is likely to hit 385,000 next year.
Colorado, the first state to legalize marijuana in 2014, now gets $1 billion of its $30 billion budget from the cannabis industry. It has almost 3,000 licensed marijuana businesses, who employ more than 41,000 people.
Marijuana-related tourism is one of the big hits, with cannabis tours, wellness retreats, cooking classes and private smoking lounges catering to out-of-state visitors. Around 25% of people who traveled to Colorado between 2013 and 2018 listed cannabis as one of the reasons they chose to visit the state.
The state, furthermore, had a 2.5 percent unemployment rate before Covid-19 hit. All of which adds up to the sort of economic boost both presidential candidates would dearly love.
Like this story? Share it with a friend!
The statements, views and opinions expressed in this column are solely those of the author and do not necessarily represent those of RT.