The Kaepernick conundrum: The supposed social value of the former quarterback turned poster boy for BLM is a myth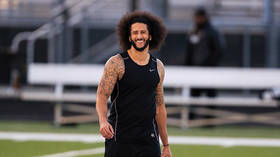 The importance of Colin Kaepernick seems to have been inflated since the kneeling protester walked out of the game four years ago. Though he's back in the latest version of a virtual gridiron game, no team wants him in real life.
Colin Kaepernick has become an odd case in American sports. Were you to talk to someone who works for a left-leaning website, they'd likely tell you that the former San Francisco 49ers quarterback is an important sports figure for the modern day.
His controversial kneeling protest during the national anthem, which he began in 2016, has been widely adopted following the death of George Floyd. The NFL leadership has admitted Kaepernick had been right all along about the need for social justice, Nike's renewed its substantial sponsorship deal with him, Netflix and Disney have signed him up to make docuseries, and this week he was back as a virtual player in the next Madden Football game from EA Sports. There's just one thing that clashes with that apparent importance: it doesn't look like any club in the NFL wants him on their real team.
According to a report by NBC Sports, any interest that was expressed about a Kaepernick return recently was fake. It was out of sympathy after the death of Floyd. Kaepernick himself has flirted with the idea, but he's hardly put himself out in the process. When he was recently invited to a tryout by the NFL at an event that many teams were attending, he no-showed, and then held his own while wearing a Kunta Kinte shirt (the fictional slave from the 1970s TV series 'Roots'). I can't imagine that many scouts wanted to hire someone who compares a million-dollar opportunity to slavery. Even Stephen A. Smith, a supporter of Kaepernick, called out his behavior.
This is a continuous struggle with Kaepernick and his supporters. Even the writer of the NBC Sports article suggests that, for some reason, Kaepernick has some sort of value to the NFL. He doesn't, though. Neither for being a face of social justice, nor, especially, for his sporting prowess. The fact of the matter is that the 32-year-old was on the downside of his career when he started his protests in 2016.
After the San Francisco 49ers had reached the NFC Championship in 2014, his career went downhill. This was after he signed a six-year contract worth $126 million. By 2015, he was no longer a starter for the team. By the following year, the 49ers were looking to get rid of him anyway.
When you look at Kaepernick's actual history in football without any sort of politics, he comes across as a middle-of-the road second- or third-string quarterback. There was nothing really special about him, aside from the few times he got fined for his temper on the field or wearing headphones he wasn't supposed to because of sponsor obligation. Then, suddenly, he began to pick out his Afro and became more political.
The fact is that Kaepernick is a walking, talking publicity stunt. He fits the right politics for certain media outlets and personalities, and as such they use him as an idol, which is why both Netflix and Disney have signed him up.
He's not going back into Madden's virtual gridiron because he's a great football player. The truth is that, particularly after four years out of the game, he's not even good enough to be re-signed. No one in the NFL wants him. He's only back in the virtual game because EA Games thinks that he should be for social justice, or they like the publicity that's going to come from picking him.
What social justice is there in putting a mediocre quarterback on a team that wouldn't, in the real world, want him in the first place? The fact is that Kaepernick is a pampered millionaire who grew up in an adoptive family and had a good life. He knows as much about suffering and police brutality as a member of the Kennedy dynasty. The only suffering he's had in his life is self-inflicted.
If Colin Kaepernick's value is to be measured, it's in his own privilege, as opposed to anything earned.
The statements, views and opinions expressed in this column are solely those of the author and do not necessarily represent those of RT.
You can share this story on social media: