Women leering over Kamala Harris' husband & hailing him as a 'Hot Jewish Dad'? Further proof that feminism is fraudulent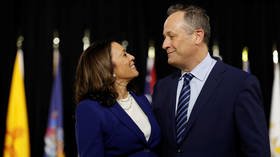 It's apparently fine for female journalists to sexually objectify the vice-presidential candidate's spouse, labeling him the Democractic Party's 'DILF'. But imagine if men did this to a male candidate's wife.
If it weren't for double-standards, the left wouldn't have any standards at all.
That's the sort of politically-motivated joke we can expect to hear much more of in the run-up to America's 2020 election, which reaches fever pitch on November 3.
And, to be fair, it's hardly unjustified...
When footage appeared of Canadian Prime Minister Justin Trudeau attending a party in black face, he wasn't canceled by die-hard progressives who believe black lives matter.
He simply carried on regardless.
Also on rt.com
'Joe and the Hoe': Rush Limbaugh's mockery of Kamala Harris' sex life triggers outrage & accusations of skewed priorities
Then, when Elizabeth Warren fraudulently self-identified as a Native American, earning herself the nickname Pocahontas, she was duly forgiven and even protected by fellow comrades, who described any valid criticism of her as sexist.
More recently, liberals barely batted an eyelid when America's favourite lesbian, Ellen DeGeneres, faced accusations of tolerating a toxic work environment on her daily talk show.
She too survived the wrath of the pitchfork mob, who – in their bid to end discrimination – seem to, err, discriminate against their targets whenever it's expedient.
So it's perhaps not surprising that feminists are the latest to indulge in double standards by sexually objectifying Kamala Harris' husband, Doug Emhoff.
That's right, people – the election coverage has already sunk to a new low and we still have three months to go!
Forget whatever we're supposed to have learnt from the MeToo movement, the Guardian's Poopy Noor said that she's "obsessed" with the high-profile entertainment lawyer and devoted father-of-two, hailing him as the "DILF" of the Democratic party's inner circle.
According to her, it's not only acceptable to leer at him, but it's an act of girl power.
"It is feminist to obsess," Noor says. "Emhoff does, after all, give off the opposite of toxic masculine energy. While it is commonplace in some quarters to pejoratively refer to men who like women too much as 'simps'; here is a man who's proudly a fan of his wife on Instagram!"
Meanwhile, Jenny Singer at Forward.com described Emhoff as "a Hot Jewish Dad."
"I cannot stress this enough: you have the option to skip debating Kamala Harris' appearance and choose instead to objectify her husband Doug Emhoff, a Hot Jewish Dad," she wrote on Twitter.
She added: "If Bernie Sanders is a Zayde [a Jewish grandfather], then Doug Emhoff is a Zaddy. ('Zaddy' is a slang term for a mature man who has raw sex appeal and possibly, a mortgage.)"
Also on rt.com
Radical? Inspirational? A token choice? What's the truth about Kamala Harris?
Hilariously, these crass comments come just days after Hillary Clinton urged the media not to indulge in 'sexist' journalism during the election process.
The ex-Democratic Party leader, who famously lost both of her high-profile bids in 2008 and 2016, demanded an end to the cat-calling of candidates; something that's pretty rich when you consider no leader in history has ever suffered more scathing scrutiny than Donald Trump.
In the past four years he's been ridiculed over everything from his hair to the (alleged) size of his penis.
But, of course, none of this matters to feminist activists who masquerade as journalists. Their sole motivation is to oust Republicans from the White House at any cost – even if that means betraying other women.
After all, Joe Biden remains accused of inappropriate behavior by several alleged victims. The very same women who had the public support of Kamala Harris... until she was announced as Biden's running mate, when all of her loyalty vanished.
How convenient.
Like this story? Share it with a friend!
The statements, views and opinions expressed in this column are solely those of the author and do not necessarily represent those of RT.
You can share this story on social media: