Lukashenko may be a dictator, but his departure will mean the end of Belarus as a sovereign state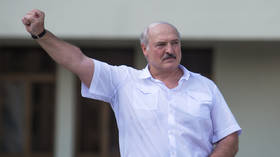 President Alexander Lukashenko has managed to keep Belarus fully sovereign after the Soviet Union collapsed, creating a sort of European North Korea. When he falls, that independence is over.
The man called Europe's last dictator, Alexander Lukashenko of Belarus, may be nearing the finale of his rule that has continued uninterrupted since 1994. So far defiant in the face of huge opposition rallies and workers' strikes, Lukashenko shows no intention to go and looks determined to fight to the end, but given the scale of protests, his eventual departure seems almost inevitable. His only remaining hope now lies with Moscow, which could prop up his crumbling power by military force and money.
Over the weekend, Lukashenko had two phone calls with Vladimir Putin, with the Russian president vaguely promising"necessary assistance." No one knows what is on Putin's mind – and the Russian leader has demonstrated repeatedly, most notably in Crimea and Syria, his knack for delivering strategic surprises. Yet it is unlikely Putin would directly intervene in Belarus to save Lukashenko. Albeit seen by many as two fellow authoritarians, there is no love lost between Vladimir and Alexander, given Lukashenko's long record of reneging on the commitments to bring Belarus into closer integration with 'Mother Russia'. And moving Russian troops into Belarus carries all sorts of risks for the Kremlin, such as massive Western sanctions, the prospect of an anti-Russia insurgency in Belarus, and a backlash inside Russia.
If Putin does not act now, Lukashenko's own act will be over pretty soon. However, there is a catch which few seem to notice in the euphoria over a brutal dictator's imminent downfall. The moment Lukashenko goes, the Belarusian state as a sovereign polity may end, too. For Lukashenko is the man who created the Belarusian state out of the post-Soviet mess. It is under Lukashenko that Belarus, for the first time in its modern history, developed full-fledged statehood, albeit one with a despotic tinge. Thanks to Lukashenko's strongman rule, Belarus has avoided the fate of other post-Soviet neighbors, such as Ukraine, Moldavia, and Georgia, that have lost chunks of territory and experienced prolonged periods of chaos and war.
In a sense, Lukashenko's Belarus is Europe's North Korea, a relatively small and poor country, but one that has succeeded in building from scratch a fully sovereign statehood in a tough geopolitical environment. Remove the Kim dynasty and North Korea will likely collapse. Destroy the Lukashenko regime and Belarus will at best continue as a state with nominal sovereignty, becoming like most European states that are de jure sovereign but de facto are little more than self-governing provinces of an empire ruled from Washington, Brussels, and London – the real seats of power. There are just a handful of countries in the world that enjoy actual, rather than titular, sovereignty. They are mostly great powers such as the US, Russia, and China. But there are also smaller states, such as Israel, Iran, and North Korea. Thanks to Alexander Lukashenko's cunning diplomacy, mercantilist economic policies, and iron fist rule, Belarus has been part of this exclusive club. For more than a quarter century, Lukashenko has successfully resisted the attempts from both the West and Moscow to 'integrate' Belarus in what would mean in effect the country's loss of independence. The problem is, of course, that Lukashenko's personalist regime is now inseparable from the Belarusian state. They are one organism, designed and nurtured by the same man.
Also on rt.com
The Belarusian protests are not a 'color revolution' – they're the result of Lukashenko repeating Soviet mistakes
After the demise of the Lukashenko regime, the most likely future for Belarus is to be absorbed by 'Europe', with Warsaw acting as Minsk's elder brother and guardian. The less likely scenario is to come under the sway of Putin's Russia, something that Lukashenko has always resisted despite his constant appeals to 'brotherly' ties with Moscow. Although Russian is still the prevailing language in Belarus (both Lukashenko and opposition leader Svetlana Tikhanovskaya address the nation in Russian), the impetus will be toward Europe and away from Russia. The basic reason is simple: Belarusians are aware of the standards of living to the west and east of their main borders, those with Poland and Russia's Smolensk Region, with the comparison not in Russia's favor.
When they elected Alexander Lukashenko as their leader back in 1994, the Belarusians made a choice that they only had the opportunity to reverse in 2020. If the Belarusians finish Lukashenko, dismantle his state and join Europe, they, for better or worse, will be making a choice they might never get a second chance to change.
Think your friends would be interested? Share this story!
The statements, views and opinions expressed in this column are solely those of the author and do not necessarily represent those of RT.
You can share this story on social media: