UK's plan to pump billions into broken housing system won't help those weeks away from post-Covid homelessness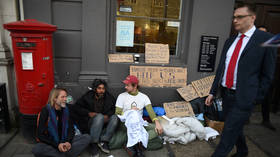 To prop up the housing market after the coronavirus lockdown, Britain plans to spend some £3.8 billion ($5 billion) in tax breaks. But that won't help those who are staring at the abyss of homelessness come late August.
Although the sun is shining, August 2020 will be a dark month for millions of people as companies start to realistically look at their businesses and cut their cloth accordingly. Some employees are being asked to take voluntary wage cuts – a grim process even without a deep economic depression and a pandemic in the background. Yet Rishi Sunak, the chancellor of the exchequer, has chosen to bet our money on a broken housing system that has been failing the working class for 40 years.
The job retention scheme has undoubtedly supported millions of families throughout the country since March to keep their heads just above water, along with a temporary stop on landlords being able to use the courts and bailiffs to evict people from their homes. Those measures, which have been giving people a relative feeling of safety, will end later this month, and those who have struggled to pay the rent, the council tax or to keep up with debt repayments will be at the mercy of landlords, courts and bailiffs – for millions of people today these are terrifying and real scenarios.
Throughout March, April, May, June and July, there was a daily government briefing on the situation which included numbers of Covid-19 tests, deaths, and use of public transport along with announcements of economic, social and medical packages of support coming from the government.
These briefings have now stopped, but the waves of misery caused by this pandemic are still crashing into people's lives. We now have a different set of numbers coming from companies and employers: eye-watering amounts of redundancies and job cuts, businesses being unable to reopen, and behind every number there is a life that has been thrown into precarity. Redundancies are coming thick and fast towards all sections of society – airline pilots and cleaners and everyone in between are all losing their jobs. Some people may have savings, family support or other assets that they will be able to draw upon during a difficult time – but the poorest people, of course, will suffer the most, as always – the people who were struggling to live month to month before lockdown will now be thrown into situations for which the government has offered no solutions and no lifelines.
In the last two decades, housing poverty has been rising as the ability to prevent it through access to public and social housing with genuinely affordable rents has been eroded. Instead, the UK has an increasingly broken, privatized system of allowing the market to decide who can have a roof over their head through an over-reliance on private renting or buying a house. Successive governments have continued this line and over the years have offered every kind of incentive for the buy-to-let landlord and for working-class families to take on mortgages for a home rather than have an opportunity to have an affordable socially-rented property – the various 'help to buy' schemes have been proven to only really 'help' those who already had the resources to buy a property and actually only helped those who didn't need it.
And yet in these times when the poorest – the working class – are about to be thrown into a vortex of pain through the fear and reality of unemployment, a broken housing system continues. Rishi Sunak and the government have decided that a stamp duty break until April 2021 for those buying property worth up to £500,000 ($660,000) is a good method of support – this will cost the country an estimated £3.8 billion in loss of revenue – the question here is who is this going to help? Not the millions who are being asked to take a wage cut, or are being made redundant, or those who were financially struggling even before Covid-19.
Rishi Sunak, Boris Johnson and the Palace of Westminster should continue the daily briefings. And they should include the social economy – how many people today have been made redundant, how many people have signed onto Universal Credit, how many people have been evicted from their homes, how many people are living in housing poverty, how many families used a food bank today?
And then we need to know the measures the government is planning to implement in solving the pandemic of poverty and stolen hope, followed by questions from the public and from journalists – because until we treat poverty like the pandemic that it is, it will always be with us. If those numbers were available for scrutiny daily, perhaps the wider public would start to understand that offering 'a help to buy scheme' or tax relief on the purchase of a £500,000 property cannot help those who are now redundant, and that heating up the broken housing market yet again does more harm than good for those who need a home.
In insecure times, everyone needs a home to feel safe in – yet the working class are the least likely to have one. We need social housing – genuinely affordable rents and secure tenures and social landlords. We need to change the miserable and grim system of welfare that blames the recipient for their claim, and we need to understand that poverty is a disease in our society that also takes lives.
Think your friends would be interested? Share this story!
The statements, views and opinions expressed in this column are solely those of the author and do not necessarily represent those of RT.
You can share this story on social media: