Prince William's laddish laser gag shows he's as out of touch as the rest of Britain's royal family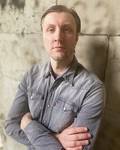 Chris Sweeney
Chris Sweeney is an author and columnist who has written for newspapers such as The Times, Daily Express, The Sun and Daily Record, along with several international-selling magazines. Follow him on Twitter @Writes_Sweeney
Chris Sweeney is an author and columnist who has written for newspapers such as The Times, Daily Express, The Sun and Daily Record, along with several international-selling magazines. Follow him on Twitter @Writes_Sweeney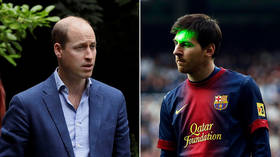 The Duke of Cambridge tried to show his funny side by telling a BBC podcast a supposedly amusing anecdote about laser pens. Predictably, though, he seemed completely unaware of how potentially dangerous they are.
If you ever require a lack of judgement, call the House of Windsor. With the exception of the Queen, the royal family are all predisposed to being perennially clueless – and proud of it. The latest offender is Prince William.
He's clearly learned from his father's disregard for neutrality in lobbying for his pet projects, and brother Harry's embarrassing attempt to transform himself into a global activist.
And, of course, there's Uncle Andrew, who would happily disappear into a black hole if he could find one to escape the Jeffrey Epstein debacle.
Still, William thought he could prove the monarchy had its feet on the ground by appearing on a BBC podcast.
He invited retired footballer Peter Crouch and two BBC reporters to Kensington Palace in an achingly obvious attempt to show how 'normal' he is.
There were gags about not being allowed to use a royal Twitter account to mention football, and the revelation that 'Bohemian Rhapsody' is his karaoke song.
Also on rt.com
Oscar for worst business timing goes to... Prince Harry and Meghan Markle! Here's why
Listeners, many of whom would have been young, might have benefited more from learning what William actually does all day, every day. And does he, for example, feel at all embarrassed about holding court in a palace, while families within a radius of a few miles are struggling to afford food?
Instead, clodhopper William boasted about how he once used his protection officers during a game of football. He recalled how he "got one of my policemen to take a laser pen out with them. And I got him to red mark, red dot one of the players". William added: "I kept saying, 'See, see what happened to you,' 'See, he's following you, following you.'"
The insinuation was the other player would think a sniper was about to assassinate him.
Granted, the incident happened when William was younger and before he had children. But on what grounds did he now – as the man set to become king – think that this was amusing?
On the most basic level, it demonstrates how, after getting everything handed to him on a silver platter, when faced with some real competition he couldn't handle it. That's bad enough.
But to raise it again on a massively popular platform with millions of potential listeners is, at best, unwise.
Football has an underreported issue with lasers.
There has been a rise of people smuggling them into games and shining them at players. And it's not a harmless prank.
Also on rt.com
US authorities have not requested to speak to Prince Andrew over friendship with pedophile Epstein, says PM Johnson
James Orgill, who has tested lasers on his YouTube channel the Action Lab, had some disturbing revelations about a pen he recently saw used during a Napoli v Barcelona match. He said: "This high strength of a laser can start fires and cause instant blindness at close range."
There's also the prospect of other fans turning around in the crowd for any number of reasons and ending up losing their sight.
A quick internet search reveals pictures of the world's greatest player, Lionel Messi, with lasers on his face, dangerously close to his eyes.
Dr Ashley Brissette, assistant professor of ophthalmology at Weill Cornell Medicine and New York Presbyterian Hospital, added: "The natural blink reflex of the eye and natural aversion (head turn) can be protective, but for some highly powered lasers, even a momentary exposure can be damaging."
Even more dangerous is the proliferation of thrill-seekers who enjoy endangering the lives of hundreds of people in the sky.
Airports have clocked up numerous incidents of jets being targeted, with some having to undertake emergency landings.
Fahd Quhill, a consultant ophthalmologist, treated a pilot who was rendered flash blind for 45 minutes whilst in the air. The doctor added: "It was enough to cause injury to the retina. If the angle had been different, it could have left him blind."
Pilots have spoken of how disorientating it can be and how they could easily lose control as a result. One pilot, Janet Alexander, explained: "It's very like a lightning strike in that it's very instantaneous, very bright light, which is dazzling. If it's targeted in exactly the wrong way, you could permanently damage someone's sight."
Also on rt.com
Meghan & Harry shift focus to BLM. Now, does anyone still believe the elite-backed movement challenges the establishment?
According to the latest figures from the UK's Civil Aviation Authority, there were 775 laser incidents at airports in 2018.
Jail sentences are being handed out to offenders like dad of three Michael Bisgrove, who got 32 months after endangering the lives of 180 people on a Boeing 737 last year.
The former Secretary of State for Transport Chris Grayling even increased prison sentences to five years for the misuse of lasers and said: "This kind of dangerous behaviour risks lives and must be stopped."
And earlier this month, 12-year-old Kai Agyepong had a menacing red laser dot on him – only, unlike William's opponent, it was the real thing.
The lad had been playing with a toy gun at home, when a busybody peered through his window and called the police, who soon came crashing through his family's front door.
I wonder if Kai was laughing along with William's anecdote. And that's the rub of all of this; as the prince told the story, the washed-up footballer and his two sidekicks guffawed and slapped their knees in a shameless attempt to curry favour with the future king.
Just like William, they are being paid by ordinary people, in their case via the BBC's licence fee.
So why didn't they say, "actually William, maybe you didn't mean any harm, but we shouldn't be joking about this"?
Also on rt.com
How has C-list actress and A-list money-grabber Meghan Markle become the world's most in-demand speaker?
You can bet they wouldn't have dared crack a gag about driving recklessly, as the media all know William tolerates no mention of his mother, who tragically died in a Paris car crash.
And this is the problem with Britain's royal family. Everything is always on their terms. They seem to act under the misapprehension that self-judgement doesn't apply to them.
So, while William and his team of spin-doctors thought him babbling on about football would show his humble side, it did the complete opposite.
No one is suggesting he can't be light-hearted at times. But if you want to be a figurehead, if you want to be taken seriously as the Duke of Cambridge, if you want to live in a palace with an army of servants, if you want people to line up to listen to what have to say, then take some responsibility.
And think before you speak.
Think your friends would be interested? Share this story!
The statements, views and opinions expressed in this column are solely those of the author and do not necessarily represent those of RT.