As US & other countries suffer punishing economic cost of lockdown, Sweden's Covid strategy seems to be paying off financially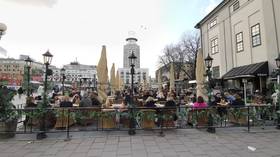 Sweden was an outlier in its handling of coronavirus, attracting global mockery for refusing to impose a lockdown, keeping schools and businesses open… But that approach lessened the economic impact now crippling other nations.
The catastrophic economic effects of the coronavirus pandemic continue to unfold and, while many nations fighting gamely against Covid-19 are paying a heavy price both in lives and in terms of their economy, Sweden – the outlier that forged its own controversial path – looks like bouncing back faster than any of us.
And no one saw that coming.
In its worst quarter on record, the US saw its Gross Domestic Product plunge by 9.5% in the second quarter of 2020 – twice as bad as the first quarter. Add to that the 150,000-plus deaths from Covid-19, which they are still struggling to come to terms with, and the situation looks apocalyptic.
What sits in even starker contrast is the US' approach to dealing with the crisis. While Sweden may have done little, in the States it is chaos. Lockdown on. Lockdown off. Conflicting advice from all corners, a president at odds with his scientific advisers and, most frightening of all, no end in sight or any sign of when things might improve.
Germany, meanwhile, recorded its worst quarter for 50 years as GDP fell by 10.1%, down nine points more than the first quarter. And we can expect more bad news tomorrow as France and Italy announce their figures for the last three months.
But in Scandinavia, things have taken a different turn.
When Sweden state epidemiologist Anders Tegnell announced the strategy he had masterminded to deal with the coronavirus, the world thought he had gone nuts.
What was his big plan? Do nothing.
Common sense was the rule, and while Swedes washed their hands more regularly and kept a respectful distance from one another, there was no national lockdown. Schools and shops stayed open, people went to work, and life was as normal as possible.
Those who chose to work from home benefited from the country's reliable and fast internet and, as they weren't needed to referee fighting children who were kept home from school, they could actually work without interruption and put in a productive day.
Despite the criticism – and there was plenty of that – the Swedes are reaping their reward, as the full effect of what was considered a light-touch strategy starts to become clear: the cost to Swedish business appears not to be as bad as everyone expected.
Also on rt.com
So now Sweden and the UK each think they were WRONG about their Covid-19 approaches. They can't BOTH be right…
Companies like telecom giant Ericsson and home appliance manufacturer Electrolux stayed open and maintained productivity as many workers clocked on as usual, only staying home if they were ill.
Not only did that have a tremendously positive effect on the mental health of the population, but it also showed the benefits of a common sense approach rather than the headfirst plunge into blind panic and isolation experienced by most other nations.
In avoiding the draconian measures of a lockdown, Swedes simply did what they normally do – went to school, worked, shopped and enjoyed themselves, enough to keep the economy ticking over rather than hitting the pause button like so many others – and that seems to have been enough to avoid total economic meltdown.
Sweden has paid an economic price, but its five percent drop in GDP is only half as bad as that of the US and Germany, meaning the hill to climb out of the recession bog is less steep and far more manageable than elsewhere.
Not that everything has been rosy in Scandinavia. Sweden was in no way immune to Covid-19, and so far it has recorded a significantly higher number of deaths than its neighbours in Finland, Denmark and Norway.
Swedish PM Stefan Lofven last month announced an inquiry into his country's handling of the coronavirus outbreak. And while that will no doubt be asking some tough questions, they all boil down to one: was the economic wellbeing of 10 million people worth the lives of 5,700 fellow Swedes?
The architect of the Swedish pandemic strategy, Mr Tegnell, admits that if he had his time again, he'd probably choose a course midway between what everyone else did and Sweden's approach.
So the answer to that big question looks like a "No" from him.
Think your friends would be interested? Share this story!
The statements, views and opinions expressed in this column are solely those of the author and do not necessarily represent those of RT.
You can share this story on social media: